A new generation of Yanmar Compact Equipment's largest mini excavator models has been released.
The ViO80-7 and SV100-7 feature significant improvements to hydraulic efficiency, cab comfort, and ease of maintenance over their predecessors. 
Both models allow for work on tight jobsites and are best suited for utility, construction, demolition, residential, and landscaping projects.
The ViO80-7 features zero tailswing that allows the excavator to rotate next to a structure with less risk of hitting it. The larger SV100-7's ultra-tight tailswing has little overhang.
"These machines are entirely redesigned with the operator and service departments in mind," said Buck Storlie, Yanmar Compact Equipment North America product manager. 
Cab Comfort
Operators will see the biggest differences in the models with the upgraded cabs built for comfort. The excavators include new suspension seats, more foot space, ergonomic foot petals, and a wider overall cab for easier entry and exit.
More glass area provides operators with greater visibility of the jobsite. In addition, the cab includes automatic air conditioning and additional USB ports for phone charging.
Due to the design of the cabins, maintenance and refueling have been simplified. The new excavators include an engine bay designed for easier access. 
Cab hoods open to access the generator, valves, radiator, oil-water separator. The machines also have a water-contamination detection system.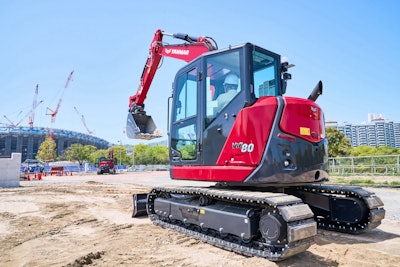 Performance Upgrades
According to Yanmar, both models have increased performance.
The 18,122-pound ViO80-7 features 18% more power than its predecessor with its new 67-horsepower Yanmar Tier 4 Final diesel engine.  Conversely, the 21,385-pound SV100-7 runs off a 72-horsepower Yanmar Tier 4 Final diesel engine. 
Both machines provide operators with increased attachment performance with 20% higher PTO flow rate.
The new standard double locking quick hitch is operable from inside the cab and allows operators to quickly change attachments without leaving their seat. The hydraulic double locking function assures secure attachment retention without the need for manual locks or fasteners.
According to Yanmar, the improved engine output and hydraulics allow for more productivity and greater attachment performance. The excavators get a 15% increase in work speed, a 13% lower fuel consumption rate, and a 25% increase in travel speed on the slope. 
The ViO80-7 achieves a maximum dig depth of 14 feet 3 inches, while the SV100-7 can reach 14 feet 11 inches. 
Both models include a new 2-Pump Load Sensing (2PLS) hydraulic system. The system increases the pump flow rate under high loads to direct power where it's needed. Additionally, the system saves about 13% on fuel consumption as only the necessary amount of flow rate is utilized, the company says.
For grading, the excavators are equipped with a floating blade function.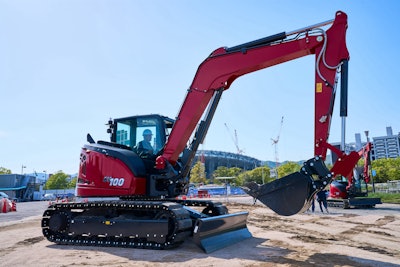 New Technology
Yanmar's ViO80-7 and SV100-7 include several new technologies. 
Operators can see relevant machine information and options at a glance on a new 7-inch color LCD. Options include PTO flow rate adjustment, Auto-Decel mode, a new passcode lockout feature. 
Blindspots are visible with the standard rearview and right-side cameras shown split screen on the display. An optional Surround View feature shows a 360-degree view on the operator's display.
Both machines include Yanmar's SmartAssist Remote telematics system, which is free for five years on qualifying machines. The system provides integrated theft protection, maintenance notifications, real-time operational status updates, and daily work reports. It keeps owners abreast of upcoming maintenance requirements and tracks performance. 
Quick Specs
ViO80-7
Weight: 18,122 lbs.
Engine: 67 hp Yanmar Tier 4 diesel
Dig Depth: 14 ft. 3 in.
Warranty: 4-year/4,000-hour bucket-to-counterweight
Tailswing: zero
SV100-7
Weight: 21,385 lbs.
Engine: 72 hp Yanmar Tier 4 diesel
Dig Depth: 14 ft. 11 in.
Tailswing: ultra-tight
Warranty: 4-year/4,000-hour bucket-to-counterweight