West Side Tractor Sales co-founder Richard W. Benck passed away on May 9th. 
In 1962, Benck and his wife Mary invested their entire savings to start West Side Tractor when there was an opening for a John Deere Construction dealer on the west side of Chicago. At the time, Benck was working for another Deere dealer on the south side of Chicago.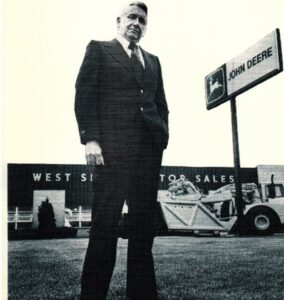 "Rich was aggressive and his determination to succeed drove him to keep buying out neighboring dealers," says the company in the announcement of his passing.
"Rich was very talented at fostering relationships," the company release continues. "The root of his success with others was sincerity and authenticity. He not only had many people early in his life who mentored and coached him to success, but he did the same for others.
"There are dozens of individuals professionally and personally that are grateful for what Rich did to help them get started or change career paths. He had a set of core values that focused on honesty, hard work, common sense and doing the right thing that made him trusted and respected in any circle."
The Bencks established The Benck Family Foundation and have given a large part of their estate to several causes, including The Naper Settlement, Little Friends, and Loaves and Fishes Community Services. A passion project in Benck's later years has been The Naper Settlement's proposed Agricultural Interpretive Center, which will showcase the history and future of farming. Donations can be made in his honor to further the project. 
West Side today is lead by Benck's children, Steven, Diane and Tom Benck, and his grandchildren, Lauren Coffaro, Jen Snow and Brian Benck. Additional grandchildren include Nicole Frlan and Nicholas and Nori Benck.
Opening up a new headquarters in Lisle, Illinois, last year, West Side Tractor now covers 80 counties throughout Illinois and Indiana.