Volvo Penta says it has achieved "breakthrough technology," which combines a traditional internal-combustion diesel engine with a hydrogen injection system, with its partner, Belgium-based CMB.TECH.
The dual-fuel engine, based on Volvo Penta's 8-liter D8, can run on clean hydrogen fuel for reducing emissions, but if hydrogen is not available, it can run on diesel, the company says.
When running on hydrogen, the engine reduces carbon-dioxide emissions by as much as 80% and delivers the same power and torque as diesel fuel would, the companies say. They view it as an intermediate step toward reducing greenhouse gases as the industry still researches electric, hydrogen and other alternative fuels.
"The new Volvo Penta dual-fuel hydrogen engine offers customers a low-carbon interim solution before suitable zero-emissions alternatives become viable," says Anders Wernersson, Volvo Penta product manager for the dual-fuel hydrogen engine. "It delivers the same power and torque curve as a regular diesel engine but with significantly lower CO2 emissions.
"The technology is relatively simple and can be installed with minimal disruption, so we see this as being a cost-effective and robust solution for customers in a variety of applications – including construction and mining – who are looking to transition to net-zero emissions."
The engine is undergoing pilot testing in Europe this year, after which it will go into small-scale production, Volvo Penta says. "It will be a stepwise introduction based on market and customer demand."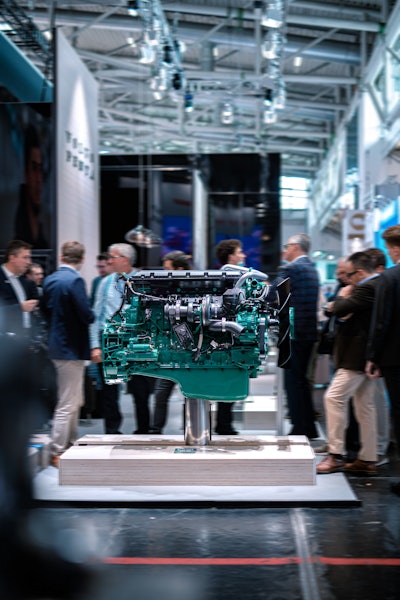 CMB.TECH developed the hydrogen add-on kit and tank for the D8 engine, which meets European Stage V emissions. (Stage V also meets U.S. Tier 4 Final standards and typically uses a diesel particulate filter and diesel oxidation catalyst for aftertreatment.) The company has worked with Volvo Penta since 2017 on developing the dual hydrogen-diesel engine, which was first unveiled at Bauma 2022 in Munich, Germany.
"I believe that this dual-fuel approach will appeal to many of our customers by its ease of installation, maintenance and use," says Heléne Mellquist, president of Volvo Penta. "In addition, it will help accelerate our customers' transition to more sustainable operations."
In the video below, Volvo Penta and CMB.TECH officials discuss the new dual-fuel engine at Bauma 2022: