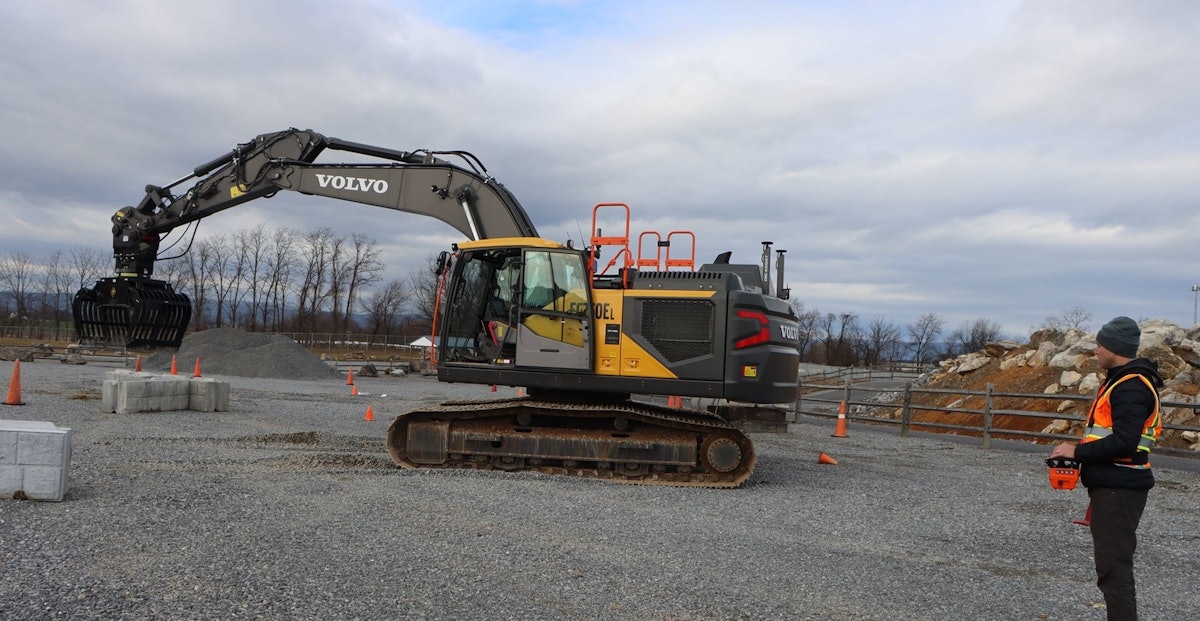 Volvo CE is now offering remote control on three of its large excavators.
The Short Range Remote Control system is available on EC250E, EC300E and EC350E excavators. The system can only be installed on those E series models with electro-hydraulic systems. The remote-control system can be installed at the factory for new excavators and at a dealership for new and for retrofitting previously bought machines.
Volvo launched the system for North America at last month's ConExpo for situations in which it would be safer for operators to not be in the cab or in cases where operators would benefit from a closer view of the task.
The handheld remote control works at a distance of up to 328 feet from the excavator. The system uses a radio receiver and radio transmitter for communication between the remote control and the machine.
It is turned on by a switch in the excavator's cab, which then lights a beacon on the outside of the machine to alert people around it that it is in remote operation. It delivers full machine maneuverability and attachment control, the company says.
Volvo outlined a variety of instances in which the system would be helpful:
Demolition jobs – especially when there is a risk of falling objects or of the excavator rolling over. It also gives operators a better view of the work than from the cab.
Working in poor ground conditions – when there is a risk of dangerous movement of the excavator.
Piling and drilling operations – when operators may need a closer view of the excavator's attachment. This can also replace the need for another worker.
The system was developed by Volvo CE in conjunction with CE Engineering Solutions, which is an independent company and member of the Volvo Group. The system can be customized and adapted to customers' specifications, Volvo says.
The range of excavators able to use the remote control is expected to eventually increase. For now though, it's available upon request in markets where these models are available:
EC250E
Operating weight: 57,342-69,776 lbs.
Engine: 225 hp
Bucket capacity: 0.73-2.3 cu. yds.
EC300E
Operating weight: 66,602-81,240 lbs.
Engine: 253 hp
Bucket capacity: 0.68-2.69 cu. yds.
EC350E
Operating weight: 78,940-92,760 lbs.
Engine: 303 hp
Bucket capacity: 1.1-2.5 cu. yds.