Volvo Construction Equipment has added the ECR50 and ECR58 compact excavator models to its North American line up. 
The 5-ton, zero-tail-swing radius ECR50 is new entry in Volvo CE's 11-model compact excavator offering in North America. The 6-ton short-swing-radius ECR58 adds performance enhancements to the predecessor ECR58D model, and reflects the company's decision to drop letter designations in model updates.
The two models are positioned for both the rental market and for owner/operators working in such applications as utilities, landscaping, road construction and more, Volvo says. Designed for work in confined spaces, the in-track boom swing on each model ensures the swing post and cylinder remain within the track width when digging alongside obstacles.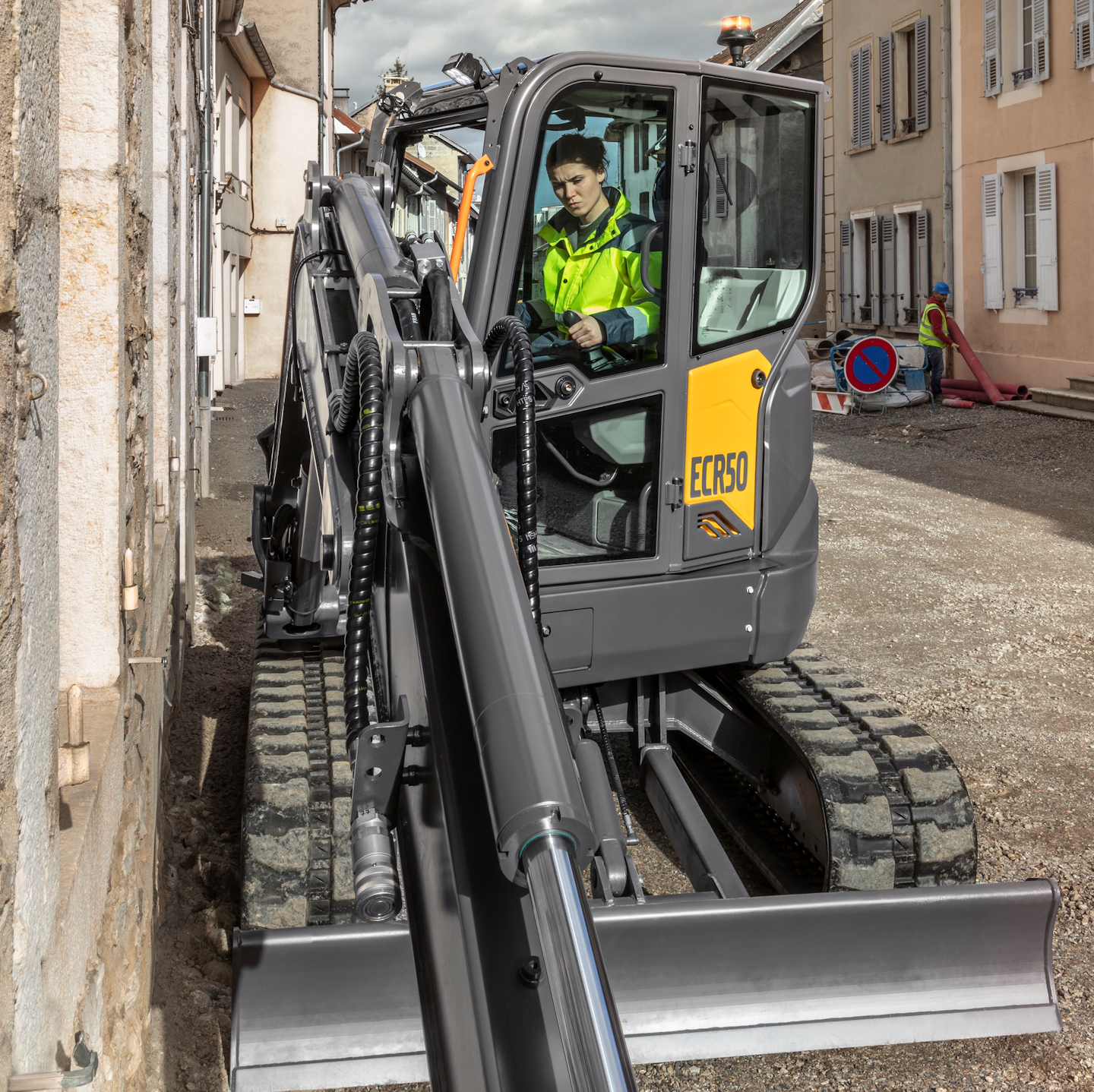 The 5-ton ECR50 is a new size model in the Volvo CE compact excavator lineup.Volvo CE
The ECR50 features a reinforced stick and boom, undercarriage and hood. Maintaining the unit also has gotten easier, with a 50-hour greasing interval, wide-opening engine hood and easily accessible service points.
Volvo says the ECR58 has a 10% increased lifting capacity compared to its predecessor ECR58D. It also has 5% greater bucket breakout force and 7% greater arm tear-out force (or breakout force), giving the machine the ability to use larger attachments in more challenging ground conditions.
The excavators come standard with a fuel-saving ECO mode — which can reduce fuel consumption by up to 10% — engine auto-idle and auto-engine shutdown, Volvo says. Auto-engine shut down is designed to reduce idling, which leads to lowered maintenance costs. Reducing total engine hours by restricting idling can also add resale value and thus reduce the total cost of ownership, Volvo adds.
Inside the cab, the machines have intuitive controls, an automotive-style menu wheel and a 5-inch color display. Volvo says the spacious cabs have plentiful storage, along with 12-volt and USB ports.
Buyers of the two new excavators are eligible for a free year of ActiveCare Direct, Volvo's telematics service that provides 24/7/365 machine monitoring and fleet utilization reporting directly from the manufacturer. In addition, all Volvo excavators are backed by the Volvo Lifetime Frame and Structure Warranty, which covers the frame, boom and arm for the entire initial ownership period.
With the two new units, Volvo now offers compact excavators ranging from 1.8 to 8 tons in North America.
ECR58 drops letter with update
As mentioned, the ECR58 reflects Volvo's earlier-announced move to drop letter designations on its models; instead, model names indicate the product type and size and will not show model series and variant details.  These details are still included in model specifications, PIN plates and marketing materials, however.
Volvo said the move eliminated the need to change the product name for every intergenerational update, especially important now that technology is increasing the number of these updates. Removing the revision status — such as modifications to the cab, operator controls and technological updates — from the machine's external identity creates a "cleaner line of communication for all parties," said Volvo in making the announcement.
Abandoning letter designations to indicate model changes is making its way across the industry. In 2017, Caterpillar dropped the letter designation on most new models; it did the same for its dozer line a few years later. This year, Deere said it would drop generational letters on its mid-size loaders in a new naming strategy it calls "Performance Tiering," in which a G, P or X would denote the level of technology and set of features.