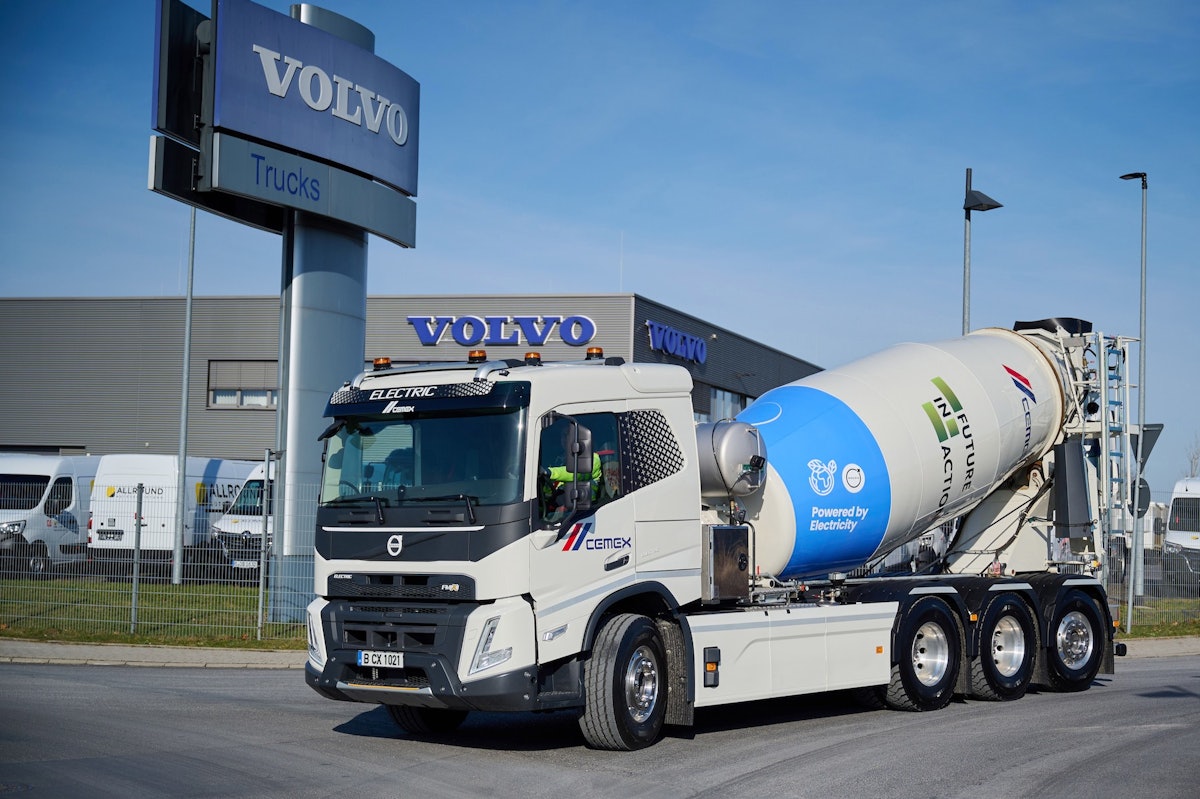 Volvo Trucks reports it has delivered its first fully electric heavy-duty concrete mixer truck.
The Volvo FMX electric four-axle mixer arrived February 9 at a ready-mix concrete plant in Berlin, Germany, owned by global construction materials company Cemex.
Volvo, which recently unveiled its first electric asphalt compactor, says the new electric mixer truck can run for a full workday if it gets a top-up charge during a regular break.  
The concrete mixer is powered by two electric motors of 330 kilowatts. The motors are powered by four batteries of 360 kilowatt hours. The hydraulic mixer body gets its power from a traction battery. The cement mixer's superstructure is 11.8 cubic yards.
Volvo notes that it has been a challenge to electrify concrete trucks because of their "heavy loads and continuous mixing demands."
But both Volvo and Cemex see the challenge as worthwhile in reducing carbon-dioxide emissions.
"Our partnership with Volvo has incredible potential to contribute to the decarbonization of our business," says Fernando A. González, CEO of Cemex. "Rolling out our first fully electric ready-mix truck is a strong progress in that direction." Volvo notes that emission reduction is not the electric truck's only benefit.
"Our electric trucks are zero emissions, and their silent operation also provide a better environment for people working at construction sites, as well as for residents living nearby," says Roger Alm, president of Volvo Trucks. 
Volvo and Cemex began their partnership on carbon reduction in 2021. They both are founding members of the First Movers coalition. The coalition consists of a collaboration between the World Economic Forum with U.S. Special Presidential Envoy for Climate John Kerry. Its goal is to get companies to commit to making purchases that create market demand for low-carbon technologies.
Both companies say they will continue to develop and improve technologies to deliver reduced-carbon concrete transportation.
Volvo has set a goal that half of its total sales of new trucks will be electric by 2030, and it plans to achieve "net-zero greenhouse gas emissions in the value-chain by 2040." Volvo has also been a leader in developing electric construction equipment, with a goal of eliminating 10 diesel models of compact excavators and replacing them with all-electric models.