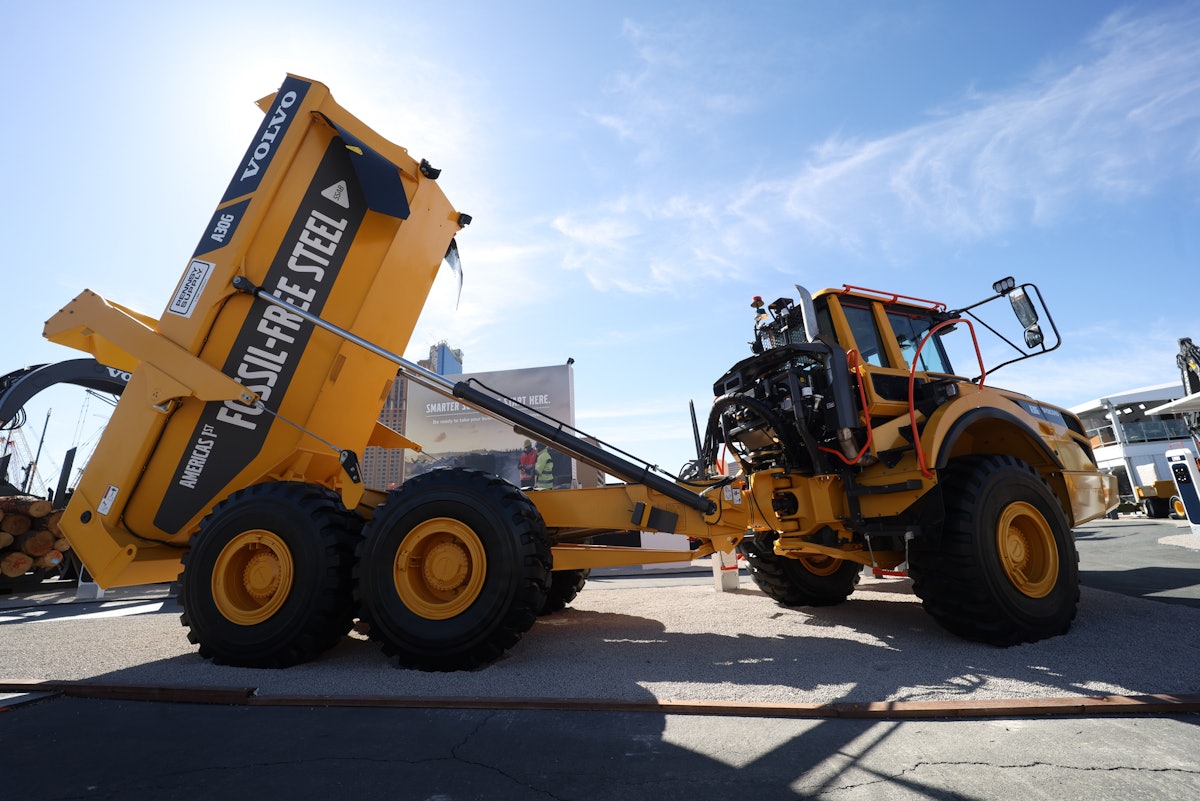 North America got its first piece of construction equipment made from "fossil-free steel" to reduce carbon-dioxide emissions in the steel manufacturing process.
Volvo Construction Equipment presented the A30G articulated dump truck at ConExpo 2023 to Pennsy Supply Inc., a CRH company. The 32-ton truck was produced by steel supplied by SSAB of Sweden.
SSAB used a hydrogen-reduced sponge iron to make the steel for the truck. The truck marks the second piece of Volvo equipment made from the steel. The first fossil-free steel A30G was delivered in June to NCC in Sweden, making Volvo the first manufacturer in the world to deliver a construction machine made with fossil-free steel to a customer.
SSAB says the hydrogen-gas-based steel eliminates 90% of the emissions in steelmaking. The process involves using fossil-free hydrogen gas to reduce iron ore instead of using coal and coke to remove the oxygen. The hydrogen used in the direct reduction process is generated by electrolysis of water with fossil-free electricity and can be used immediately or stored for later use, the company says.
In 2021, the company announced it had become the first to use hydrogen made with fossil-free electricity to reduce iron ore at a pilot scale. The company is testing the process through a pilot program in Sweden and plans to bring it to market in 2026 on an industrial scale.
Volvo sees fossil-free steel as part of its formula for moving toward net-zero carbon emissions in its value chain by 2040. In the official unveiling of the A30G at ConExpo, Volvo CE President Melker Jernberg praised the company's partners, including SSAB and Pennsy Supply.
"At Volvo CE, we believe partnership is the new leadership," he said. "The handover today to Pennsy Supply demonstrates what can be achieved when we work together with like-minded and forward-thinking partners who share our vision and commitment to sustainability and want to lead our industry to change."
Jernberg handed over the hauler's keys to Scott Parson, president Americas Materials at CRH. Pennsy plans to use the hauler at its East Petersburg Quarry in Pennsylvania.
"Volvo and SSAB have converted emerging technology in the steel industry into a working model of what the future will look like," Parson said. "We are delighted to be the first recipient of this technology in the U.S."
CRH plans to be a net-zero business by 2050 and has set a goal of 30% reduction companywide by 2030.
Steel production accounts for 8% of all global carbon-dioxide emissions. And every ton of steel produced leads to 1.9 tons of carbon emissions.
Volvo CE says it will continue to use fossil-free steel on its machines and components, dependent on aspects such as steel availability.