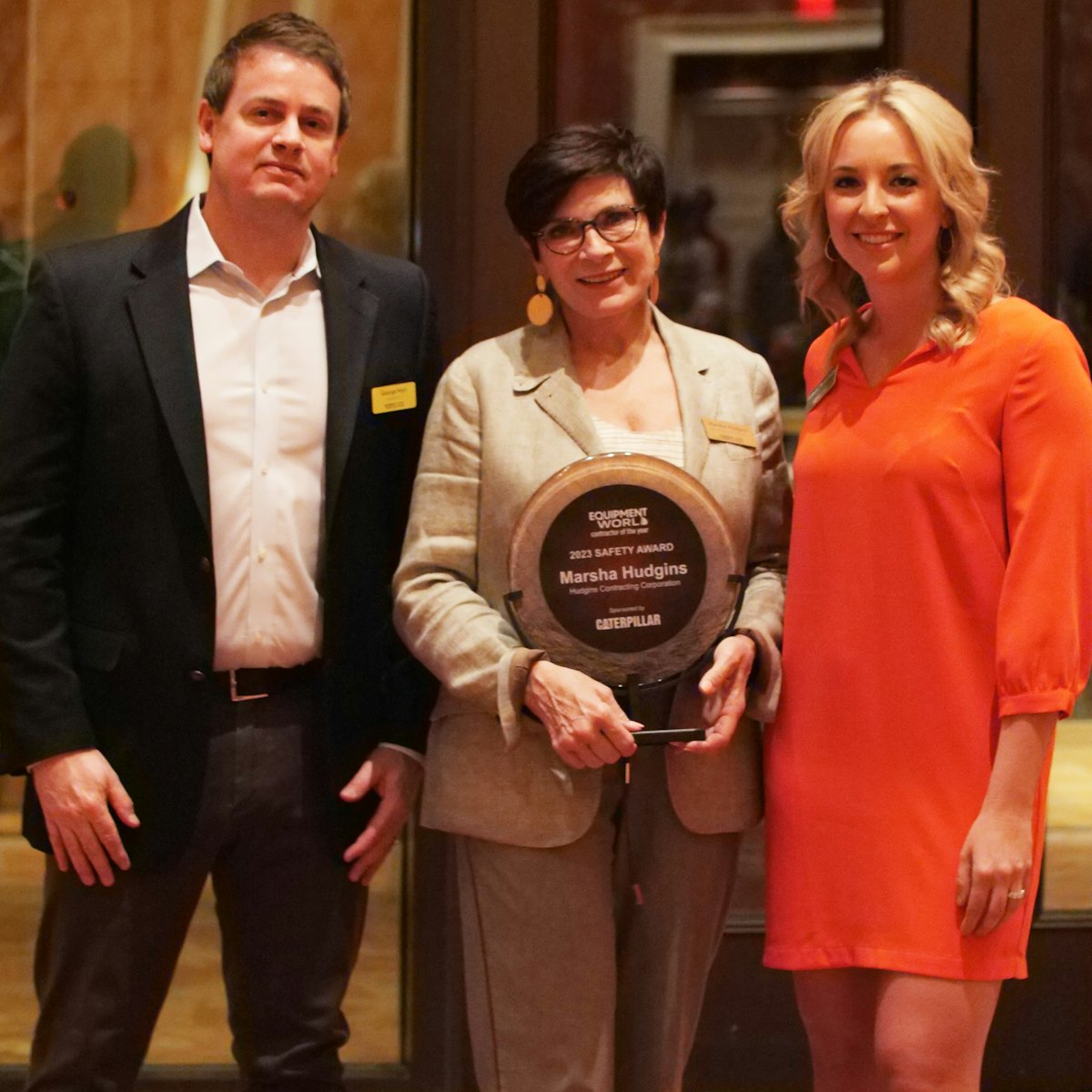 Hudgins Contracting Corporation of Hampton, Virginia, has been named the winner of the 2023 Safety Award, presented annually as part of Equipment World's Contractor of the Year Award program.
Lester Hudgins started Hudgins in 1971 as a general contractor. Today, the $11 million to $13 million firm with 34 employees is run by his wife, Marsha Hudgins. The company now specializes in government and private commercial site preparation and infrastructure construction.
Along with being the Safety Award winner, Hudgins was among 12 finalists for the 2023 Contractor of the Year Award. The awards were presented March 16-18 at ceremonies at the Wynn Las Vegas resort. Presenting the Safety Award along with Equipment World Chief Editor Jordanne Waldschmidt was George Hart, North American product marketing manager at Caterpillar, the sponsor of the Contractor of the Year program for 23 years.
The Safety Award is presented to a Contractor of the Year finalist who exemplifies outstanding safety practices, has a low experience modification rate, and no safety violations by the U.S. Occupational Safety and Health Administration.  Beyond that, the recipient must show demonstrated effort in creating a work culture that focuses on not only jobsite safety but all aspects of human health – mental, physical and emotional.
Hudgins performs work on federal and private commercial projects with stringent safety and personnel rules. All employees must pass a background check dating back to age 18 and drug screening to work on a government site. In addition, the company conducts random quarterly drug tests.
Site superintendents are responsible for enforcing safety best practices daily, and a third-party inspector conducts monthly random site inspections. Any issues are dealt with immediately via education, not punishment.
Annually, all employees undergo OSHA 10 and OSHA 30 training,  whether they are up for renewal or not. Twice a year, the company rents out a hotel ballroom to conduct a companywide networking and safety event. Safety presentations from outside experts and hands-on training – including CPR, OSHA "competent person" and confined space training – are conducted.
Weekly toolbox talks are performed on each jobsite, and some sites have added team calisthenics to the start of each shift.
Beyond jobsite safety, the also company offers an employee assistance program to address mental and emotional well-being.
"If you've got a good employee, a hiccup in their life is temporary," says Pamela Kelly, president of Hudgins. "You will get them back, and you will get them back with a greater sense of loyalty if you take care of them."
"In the long run, it's so much better and healthier to have that relationship with them," CEO Marsha Hudgins adds.
The Equipment World Contractor of the Year program recognizes contractors who display the highest standards of business acumen, equipment management expertise, attention to safety and community involvement. Each year, 12 finalists receive an expense-paid trip to Las Vegas to participate in roundtable discussions and an awards ceremony. Throughout the year, Equipment World will post profile stories and videos of each of the finalists on equipmentworld.com. To see who made the finals, click here.
The nomination period for the 2024 program will open this fall. For more information, visit https://www.equipmentworld.com/contractor-of-the-year.