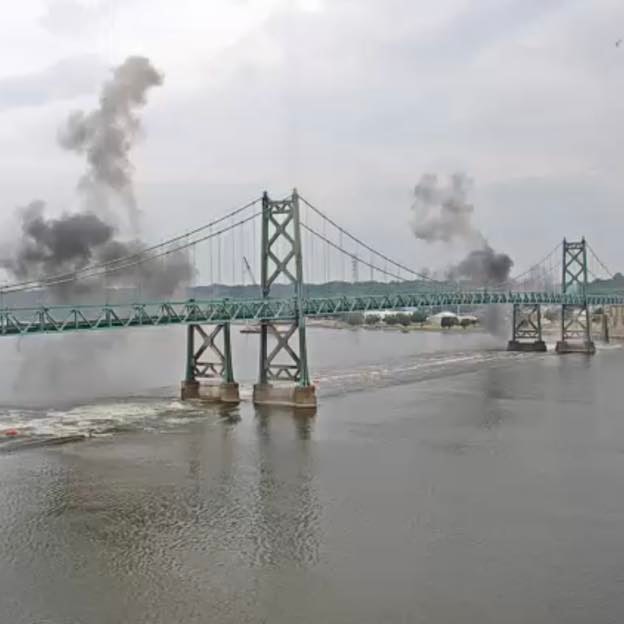 Now that Illinois and Iowa have their beautiful new I-74 bridge over the Mississippi River, it's time to continue taking out the old bridge.
And the Iowa and Illinois departments of transportation are doing it in a grand style with explosives, as can be seen in the video below taken by the Moline Police Department:
Here's another video of the explosion in slow motion posted by the Iowa and Illinois DOT's joint I-74 River Bridge project:
The new bridge, which was completed in December 2021 with two stunning arches, was closed to traffic along with the river for the demolition. The explosion took out the suspension cables and towers for the old eastbound bridge between Bettendorf, Iowa, and Moline, Illinois. Helm Group is the demolition contractor. The river and bridge were opened later that day to traffic.
To see a time-lapse video of the new bridge's construction, click here.
The $1.2 billion new bridge has won awards, with its signature dual 236-foot-high basket-handle arches. Construction on the eight-lane bridge began in 2017 as a collaboration between the Illinois and Iowa departments of transportation. The design team consisted of Alfred Benesch & Company and Modjeski and Masters. Lunda Construction of Wisconsin was the general contractor.
The old bridge had been overcapacity when it was still in use, with an average of 75,000 vehicles a day traveling it. It is estimated the new bridge will see 100,000 vehicles a day by 2035. As with the new bridge, the old bridge had two spans. The westbound bridge was opened in 1935, and the eastbound bridge opened in 1960.