Vermeer has unveiled its next generation of vacuum excavators.
The two machines released at Utility Expo 2023 were the new trailer vacuum excavator the VX75 and the redesigned and larger capacity VXT600.
"The key for you guys is to make sure that you've got the uptime and make sure that you're getting more pipe in the ground and being more productive," said Jake Jeffords, Vermeer MV Solutions director of sales, marketing, and global accounts.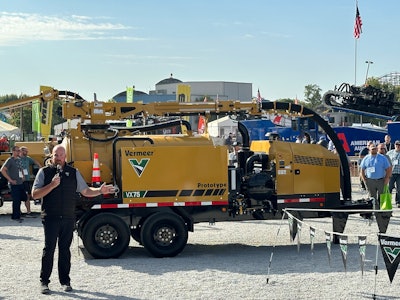 New generation trailer vac for utility work.
Powered by a 74.3-horsepower Kubota diesel engine, the VX75 can be equipped with either a 500-gallon spoil tank with two 125-gallon freshwater tanks or an 800-gallon spoil tank with two 205-galllon freshwater tanks.
With a lightweight base, it is designed for challenging utility work, including potholing, horizontal directional drilling slurry management, and micro trenching dust containment. 
The VX75 will serve as the base platform, with its lower profile and 3-foot shorter trailer length, for the new generation of Vermeer products. At that size, it makes it easier to get into urban jobsites.
"The new VX75 vacuum excavator combines all of the best qualities of the prior McLaughlin and Vac-Tron product lines, as well as many more improvements to create a new generation of Vermeer vacuum excavators," said T.J. Steele, product manager for Vermeer MV Solutions. 
In addition, he said, the machine incorporates a CAN bus control system throughout to simplify wiring, improve reliability with operator-friendly controls, and offer more machine operating information.
The VX75's control panel and full-function remote control allow operators to start and stop the machine and control everything from the boom to the water system and spoil tank. 
According to Vermeer, the remote-control feature is useful for contractors using the excavator for slurry management, as they no longer must manually restart the unit when draining a pit, potentially saving time and fuel.
According to Vermeer, the VX75 is the company's most powerful vacuum excavator in the 75-horsepower class equipped with a 1,500-cfm (42.5-m3/min) vacuum blower capable of generating 15 inches Hg (381 mm Hg) of suction force.
The machine is equipped with a 5-inch boom to reduce clogs and ensure more productivity on the job.
"The great part about this Swiss Army tool of a machine is you can also use air or a sewer jetter if your ground calls for it," Jeffords said, noting that options include a 4-inch hydraulic boom for air and sewer jetter configurations. "This unit hits all the aspects so contractors can have a machine that really gets them out on the job."
An 8-gallon-per-minute, 3,000-psi water system makes it easier for harder ground. Also, the VX75 has a dual cyclone filtration system and a full open cam over the spoil tank door.
The VX75 can be configured with a 180-cfm,110-psi air compressor for dry digging and powering pneumatic tools, an 18-gpm at 2,000-psi jetter for cleaning pipes and culverts up to 12 inches in diameter, and an 8-gallon-per-minute auxiliary hydraulic system for powering tools such as core saws. 
Other optional accessories available on the VX75 include a strong arm, an arrow board, a 300,000 BTU hot box, and an external kerosene tank for the hot box.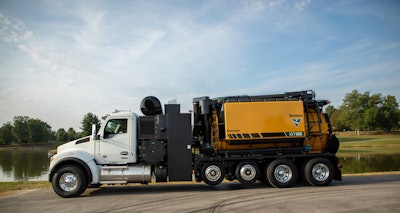 Lightest 12-yard vacuum truck on the market
Designed from the ground up, the load capacity has been increased, performance-enhancing features have been added and component and technology reliability and serviceability have been optimized on Vermeer's new VXT600.
At 40,000 pounds empty, the VXT600 is the lightest vacuum excavator in its size class, Vermeer says.
This new design of the slender 12-cubic-yard spoil tank allows for even weight distribution when traveling while maximizing the volume of material hauled. The freshwater tank capacity is 1,200 gallons. 
It also has a low profile, maintaining a height (with boom) of 12.25 feet, so it can maneuver under trees, power lines, and bridges.
"We have incorporated many features that contractors appreciate about the popular Vermeer VXT300 vacuum excavator to create the larger and more powerful VXT600," Steele said. "We believe this second-generation VXT600 is exactly what the industry is looking for in a high-production vacuum excavator."
The VXT600 features a vacuum system powered by a 6,400-cfm Helical tri-lobe Jurop blower. 
It can dig quickly and deeply with a 23-foot boom, an 8-inch diameter dig hose, a vacuum level of 27 inches Hg, and a water pump that produces 10 gallons per minute of flow at 3,000 psi. Additionally, the boom dig hose can be stowed with the dig tube attached to minimize setup time between digs.
Despite the size, the VXT600 is quiet.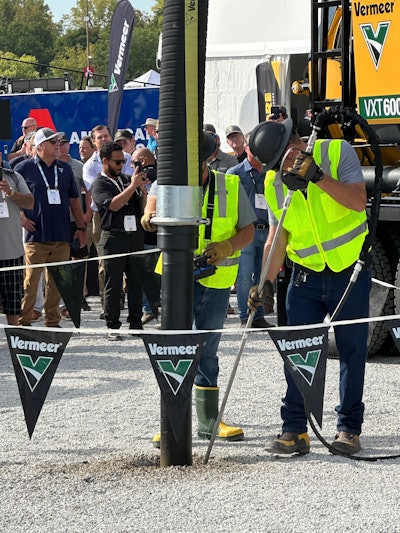 "What you're going to see with the machine is that it is right around that mid-80 decibel level so you're still able to operate and talk and communicate on the job," Jeffords said. "We want to keep you safe on the job so you can communicate."
To empty the spoil tank, crews don't need to unstow the boom before dumping and the tank's cam-over door is easy to operate. Also, the spoil tank can be lifted to a 50-degree angle for quick offloading. An optional tank vibrator is available for even more efficient cleanouts.
"Filtration was one of the key points that we really wanted to focus on," Jeffords said. "Our old generation unit had a smaller tank smaller filtration tank and we wanted to make sure we had a great clean out, so we doubled the overall size of our filters."
Additionally, the VXT600 includes a handwashing station for operator convenience.
The VXT600 has a 7-inch LCD electronic display and a full-function wireless remote with the option of a belly pack or handheld unit.
Two chassis options are available for the VXT600: a Kenworth T880 truck with a 510-horsepower Paccar MX-13 engine and a six-speed Allison transmission; and a Mack Granite truck with a 505-horsepower Mack MP8 engine with a six-speed Allison transmission. 
Both chassis have an 86,000-pound GVWR and two pusher axles.
Additional customization accessories available for the VXT600 include a 180-cfm, 110-psi air compressor for dry digging and powering pneumatic tools, a 20-gallong-per-minute water pump to allow crews to dig with two wands, a 420,000 BTU Dynablast water heater, and a cold weather kit to heat cabinets, water lines and valves.
Quick Specs
VX75
Trailer length 236 in
Height 102 in
Weight 24,000 lbs.
Engine 75 hop Kubota 3307 diesel
Water capacity 410 gallons
Water pump: 8 gpm at 3,000 psi
Spoil capacity: 800 gal
Hose diameter: 5 inch
Boom reach: 14 feet
VXT600
Length with truck: 33.4 ft
Height with boom: 12.25 ft
Empty weight: 40,000 lbs
Spoil tank: 12 cubic yards
Water capacity: 1,200 gallons
Vacuum blower: 6,400 cfm
Water pump: 10 gpm, optional 19.4 gpm at 3,000 psi
Boom reach: 23 feet
Hose diameter: 8 inches
Truck model: Kenworth T880 or Mack Granite