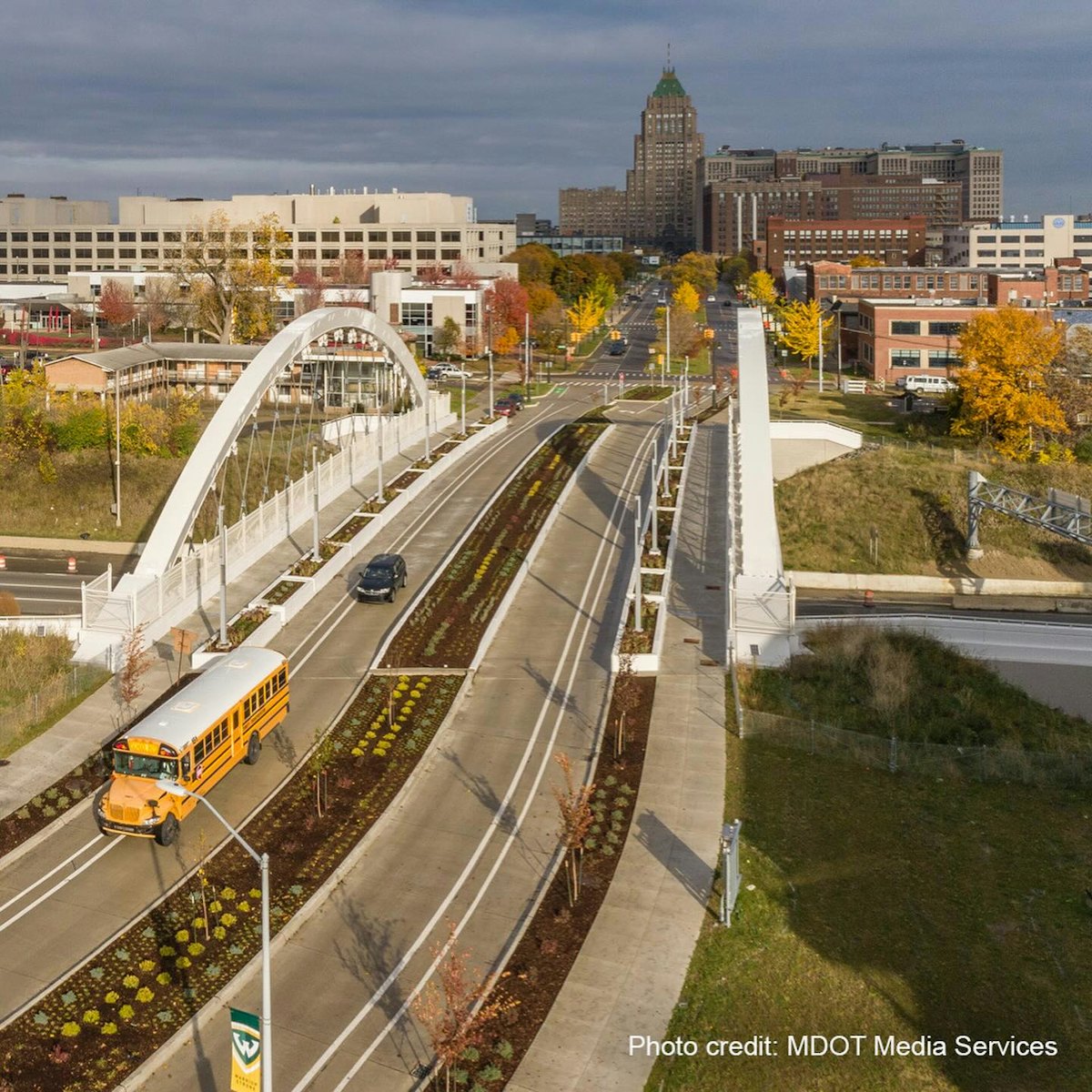 The first skewed, unbraced network tied-arch bridge in the United States has been officially opened.
The Second Avenue Bridge over the I-94 freeway in Detroit is an engineering marvel, according to the Michigan Department of Transportation, and represents the state's first network tied-arch bridge. The bridge's designer, HDR, says it is the first of its kind in the U.S.
Its construction was also an engineering feat. It was built near its new home and then slid into place after the original bridge built in 1954 was demolished. Check out this MDOT time-lapse video of the 5-million-pound bridge's move in July 2022:
It took two years to construct the bridge before its move. It is 245 feet long and 96 feet wide and was carried on four Mammoet self-propelled modular transporters. It took about five months to complete it after the move and open it to motor vehicles last December. Additional work, including lighting installation and landscaping, wrapped up last month, and the official opening was held October 27. 
Why It's Unique
Instead of vertical cables, the bridge consists of 30 steel cables in a diagonal, crisscrossed "network" configuration for each of the two arches. The bridge was designed that way for additional support because it does not have a center pier.
Other uncommon design features:
Tied arch – the ends of the arches are tied so they cannot spread laterally under the weight of the deck and traffic.
Skewed – the bridge is not a rectangle but has two obtuse and two acute angles at its ends.
Unbraced – there are no connections between the top of the arches.
The bridge is expected to last 50 to 60 years. The cables are replaceable.
The new Second Avenue Bridge is part of a more than $3 billion project to rebuild 6.7 miles of the I-94 freeway in Detroit. The bridge consists of one vehicle lane in each direction, as well as 9-foot-wide sidewalks and 8-foot-wide bike lanes.
The bridge was designed by TetraTech, and the tied-arch span by HDR.
"HDR designed the span to be skewed 18 degrees in plan view to fit within this highly constrained footprint," the company says. "A skewed structure, especially when located on a vertical curve, complicates design and fabrication because none of the connection details are square and each component of the bridge is unique."
The design also enables the bridge to withstand strikes from over-height vehicles, a common occurrence on this section of I-94. "To meet this requirement," HDR says, "our team designed an innovative post-tensioned concrete tie girder system that is not only redundant and repairable, but also has a specific shape that helps deflect vehicle impacts, lessening their severity." 
Z Contractors was the contractor for the $34.6 million bridge project. Money from the $1.2 trillion federal infrastructure law was used to help cover its cost.