Toro has released a line of narrow 30-inch attachments designed for indoor demolition and construction jobsites.
Compatible with all of Toro's Dingo models except the TXL 2000, the new attachments are tailored for the eDingo 500 compact utility loader that is the same width. 
Able to fit through a standard 3-foot-wide door, the attachment line includes a standard bucket, adjustable forks, a floor scraper, and a grapple bucket.
The adjustable forks, grapple bucket, and floor scraper are available now, and the standard bucket will be available in January 2024.
"This line of narrow attachments is going to quite literally open new doors on indoor jobsites," says Sam Dando, senior marketing manager at Toro. "With the success of the eDingo, indoor demolition and construction work can now be completed even faster with these new 30-inch versions of Toro's most popular and versatile attachments." 
Standard Bucket
Toro says the 30-inch standard bucket, with a capacity of just under 3 cubic feet, is a powerhouse when it comes to moving concrete, rock, dirt, sand, or any other materials around the jobsite. The narrow width makes for easier navigation through doorways and tight spaces.
The bucket is designed with a hardened steel cutting edge to provide cutting and digging capabilities.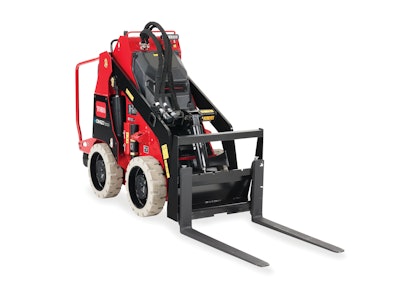 30-inch Adjustable Forks
Intended for the eDingo 500, these 30-inch adjustable forks are ideal for material handling in tight spaces during indoor construction and demolition tasks.
The easily adjustable, high-strength steel forks allow operators to move debris, pallets, and more around the jobsite with ease.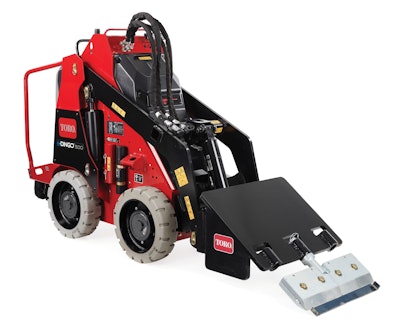 Floor Scraper
The floor scraper allows the scraping of floors for any kind of flooring removal and prep jobs. The attachment is ideal for removing vinyl, quarry, ceramic tile, carpet squares, paint, glue, asphalt and more. 
With a floating blade holder, the blades remain level even when the e-Dingo is traversing uneven ground. 
Also, the three-position arrangement allows the e-Dingo to remove material closer to a wall, and the four 31.8 lb. weights increase productivity by adding downforce and power for the attachment.
Different types and sizes of blades are available for varying stages of any job. A 24-inch blade holder is included with the purchase.
Changing the blades is quick and easy using the built-in quick attach mounting plate.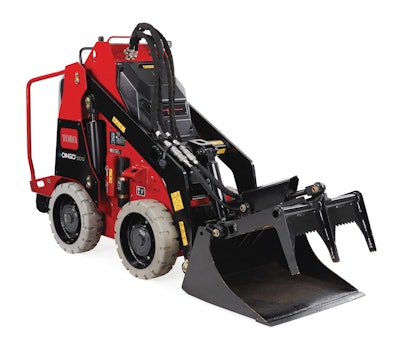 30-inch Grapple Bucket
The 30-inch grapple bucket is designed for contractors looking for a bucket to grab, drag, lift, and remove demolition debris and materials on residential, commercial and demolition sites.