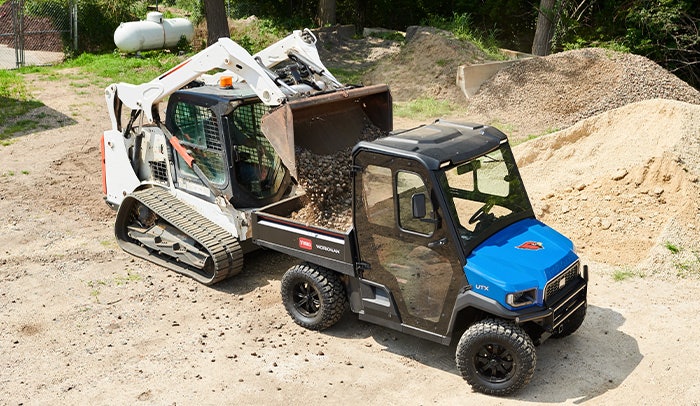 Rounding out its Workman Series, Toro has introduced the full-sized, 4-wheel-drive Workman UTX utility vehicle.
Designed to handle hauling, towing, plowing and more, the Workman UTX is equipped with standard commercial-grade components, a high-strength steel frame and oversized shocks, bearings and bushings. Power steering also comes standard, giving the UTX a tight turn radius.
Toro says the UTX has the highest payload in its class. It can tow 2,000 pounds and comes with two standard 2-inch receivers. The corrosion-resistant bed offers plenty of cargo space and optional bed-mounted steel racking helps secure any load.
The Workman UTX is road-ready with standard LED headlights, turn signals, hazards and brake lights. It also comes ready for snow removal with an integrated Boss plow mount and enough payload to carry a salt spreader on the rear. An all-weather cab with heat and air conditioning is also available to keep operators comfortable.
Available in gas or diesel power versions, the UTX features a proprietary speed control system designed to match the task at hand. Push-button 4-wheel-drive and selectable front and rear differentials help operators navigate any terrain. If more ground clearance is needed, optional 27-inch tires are available.
Two or 4-passenger models are available. Owners can add a supervisor key to lock and unlock custom settings for control over speed, sound and fuel consumption.