More than 850 exhibitors are set up at the Kentucky Exposition Center in Louisville for the 2023 Utility Expo this week.
Organizers have indicated that this year's show is on track to be the largest Utility Expo to date.
"The Utility Expo is the most important event for the utility and infrastructure construction industries," said Utility Expo show director John Rozum. "This year, the show will feature bigger exhibits from the top industry brands, a wider variety of equipment, and the latest utility and construction technology."
Most of the major manufacturers will be represented including Caterpillar, John Deere, Case, Vermeer, Ditch Witch, and many more.
"Whether this is your first Utility Expo, or you've been to the show before, I can guarantee you will find something new at the show that you'll want to incorporate into your business practices," Rozum said. "There will be so much to see and learn, and we're proud to bring this important industry back together again in Louisville."
The show runs from Sept. 26-28.
Below check out a few sneak peeks into what you can expect from a few of the exhibitors.
B2W Software Booth S-2933
B2W Software, a Trimble company providing estimating and operations software for heavy construction, will demonstrate the latest features of its unified platform.
The company also is expected to highlight expanded opportunities for contractors to integrate solutions from Trimble for takeoff, modeling and design, machine control, project management, financial management, and more. 
Trimble's acquisition of B2W Software was completed in 2022 to expand the portfolio of connected solutions.
Bobcat
Bobcat Company will showcase some of its latest machine and technology concepts in development for contractors at The Utility Expo 2023. 
Located in Lot K at booth K129, the company will have a comprehensive display of its electric innovations, portable power products, its Platinum package compact equipment, and attachments. 
Highlights will include the Bobcat S7X all-electric skid-steer loader and the lineup of Bobcat's light compaction equipment. Bobcat E19e battery-electric compact excavator.
Caterpillar Booth K335
Attendees at Utility Expo 2023 will have the first opportunity to demo the Cat 301.9 battery electric mini excavators.
Designed to run for up to eight hours on a single charge based on typical utilization and application at a 40 to 60% utilization rate. 
Additional machines available for demonstration will include a 302 CR mini excavator with a Cat Command console for remote control operation, a 304 mini excavator with a TRS4 tiltrotator, and a 432-backhoe loader featuring a side shift design.
Static displays at the Cat booth will include a 299D3 compact track loader with the MH316 XPS mulcher and a 420 XE backhoe loader.
Cat experts will be on hand to discuss the industry trends along with current product technologies, features, and benefits. 
CM Lab Simulations
CM Labs Simulations will unveil its new wheeled excavator training simulation, walkaround inspection and latest instruction operating station at The Utility Expo 2023.
Located at East Hall Booth 2227, the new training solutions offer the opportunity for organizations, employers, and line worker schools to address workforce safety, training, and recruitment issues. 
"With the ongoing need for qualified labor, now more than ever before, CM Labs' customers need the best possible operator learning outcomes," said Lisa Barbieri, VP of marketing and strategic relations. "The ultra-realism of our simulation and advanced reporting insights will future-proof utility training programs and recruitment needs by addressing long-term training needs."
Condux International Booth 
Condux International will display its full line of cable installation tools and equipment at the show. 
The company's line includes fiber optic cable blowers and pullers, power cable pullers, duct rodders, cable guides, pulling eyes, fishing, and rodding tools, and more.
Attendees will have the opportunity to see Condux's fiber optic cable puller and line of fiber optic cable blowers. 
In addition, the company says technical support personnel will be on hand to review product options and answer questions.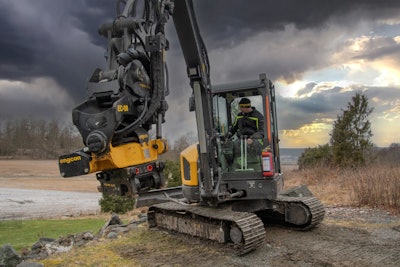 Engcon Booth E1219
The focus for Swedish tiltrotator manufacturer Engcon will be to showcase the benefits of its new EC206.
At booth E1219, attendees will be able to witness the EC206 tiltrotator in action on a John Deere 60G excavator.
It will be exhibited alongside a wide range of both hydraulic and mechanical attachments available from the company.
In addition, EC-Oil, which is engcon's system for the automatic coupling of hydraulic tools, will also be demonstrated on-site.
"With EC-Oil, you can safely change accessories in seconds, and you avoid hoses or electrical cables that move when connecting, which reduces the risk of crushing damage and wear and tear," says Austin Graham, sales director of Engcon North America. 
 Kato Compact Excavator Sales, Booth E1421 
Kato will be unveiling its newest mid-sized crawler carrier model, the IC70R. It is the first crawler carrier by Kato with a rotating bed, making it suitable for a wide range of construction needs.
Japanese-made and U.S. customized and distributed, the IC70R boasts a unique 360-degree upper body rotation with a boat-style bed, a comprehensive brush guard package, and an intuitive multi-function monitor displaying fuel levels, DEF tank status, rpms, and voltage.
Palfinger Booth E1417
Palfinger will present an array of crane and lifting products and solutions for contractors at Utility Expo 2023.
On display for the first time will be the P 570 Aerial Work Platform, which the company says offers flexibility at elevated heights.
In addition, Palfinger will also showcase its eDrive system, a hybrid technology that combines the benefits of a conventional bucket truck with a low noise level and emission-free working environment. Also, the booth will include a full range of bucket truck models.
The show will also include the PAL Pro 39 Mechanics Truck, which is designed for field mechanics.
Terex Utilities Booth E1533
Terex Utilities will be displaying a variety of new and upgraded utility booms, aerial devices, and electric bucket trucks at Utility Expo 2023.
Among the highlights will be the display of a pre-production Terex® Z-60 Substation Utility Boom (SUB). The unit has been undergoing field tests throughout the year.
Based on a Genie Z-60 FE, the Z-60 is an expansion of the company's SUB product line, joining the Z-45 SUB which was introduced in 2021.
The company says customers were asking for taller MEWPs as well as hybrid options for use in substations. The Z-60 SUB is designed for substation work and other applications where an insulated device is needed, and an articulating z-boom is a more effective option than a bucket truck.
Vanair Booth E911
Multiple new products are set to be unveiled publicly for the first time by Vanair.
The company will be introducing the Air N Arc® 330 Diesel ALL-IN-ONE Power System, which boasts a first-ever collaboration with Lincoln Electric.
"The Air N Arc® 330 Diesel underscores our unwavering commitment to meeting the evolving needs of our customers," said Greg Kokot, president of Vanair. 
He said the machine seamlessly integrates a diverse range of functions, delivering 60 CFM of air power, 10,000W of wave AC electric power, a 330A, 12V/24V battery booster, 50A, 12V/24V/48V charger, and a Lincoln Electric 330 Amp DC multi-process arc welder featuring Chopper Technology.
Among the upgrades is the Bolt-On-Frame (BOF) kit, incorporating fuel and a battery integral to the unit, attaching effortlessly to the base of the Air N Arc 330 Diesel. This enables the unit to stand alone and provides the option of leaving the unit behind at a job site.
Also at the Utility Expo, Vanair will be presenting the latest addition to its EPEQ Electrified Power Equipment line, the EPEQ Idle Management (IM) system. 
It allows vehicles to be automatically turned off while still powering equipment like air compressors at the job site, reducing noise, heat, emissions, and overall cost.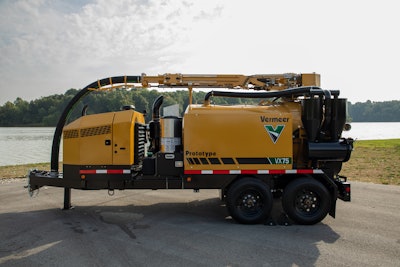 Vermeer Booth K225
Vermeer has introduced the first model of its next generation of new trailer vacuum excavators.
The Vermeer VX75 is equipped with a 1,500-cfm (42.5-m3/min) vacuum blower capable of generating 15 in Hg (381 mm Hg) of suction force. It is available with a 5-in (12.7-cm) hydraulic boom option for standard units and a 4-in. (10.2-cm) hydraulic boom option for air and jetter versions.
It is designed for utility work, including potholing, horizontal directional drilling (HDD) slurry management, and micro trenching dust containment.
"The new VX75 vacuum excavator combines all of the best qualities of the prior McLaughlin and Vac-Tron product lines, as well as many more improvements to create a new generation of Vermeer vacuum excavators," said T.J. Steele, product manager for Vermeer MV Solutions. "In addition to all of the performance-enhancing features that are sure to get contractors' attention right away, we also designed this unit to be lightweight, incorporated a CANbus control system throughout to simplify wiring and improve reliability, delivered operator-friendly controls, and provided more machine operating information."
Also, the company will be displa9ing the Mix Master HD (MXHD) reamers as a new solution for opening horizontal directional drilling boreholes in sandy loam, sticky clay, and other reactive ground conditions.
According to Vermeer, the new reamers have a unique design that directs fluid to the cutting teeth where it is needed, maintaining bore integrity, and hydrating the bore path. 
"The hydro distribution design of these reamer mixes cuttings with drilling fluid and discharges the resulting slurry out of the borehole with directional fluid control," said Cody Mecham, Vermeer's cutting-edge product manager.
Zeal Motors Inc. (Fat Truck)
A new line-up of off-road utility amphibious vehicles under the Fat Truck moniker from Zeal Motors Inc. is slated to be unveiled during The Utility Expo.
Five new Fat Truck vehicles will be unveiled at booth N929 on Wednesday, Sept. 27 at 10 a.m.
"Our vehicles display impressive capabilities with speeds of up to 25 mph on land and 3 mph (5kph) on water," said Amine Khimjee, vice president of sales and marketing at Zeal Motor. "Furthermore, they meet stringent safety requirements, providing a remarkable advantage that only the Fat Truck can deliver."
According to Zeal, even at maximum payload, the Fat Truck vehicle's footprint remains five times less than that of a human walking.