Note: This is the first in a three-part series of an extended test of Cooper's newest all terrain tire, the Discoverer Road+Trail AT.
Cooper Tires in August added to its 40-plus year old Discoverer lineup with the Road+Trail AT. 
In 2019 and into 2020 we tested a then-new-entry from Cooper, the A/T3 XLT. A lot has changed since then. One, there was a global pandemic. Second, rubber giant Goodyear acquired Cooper in June 2021.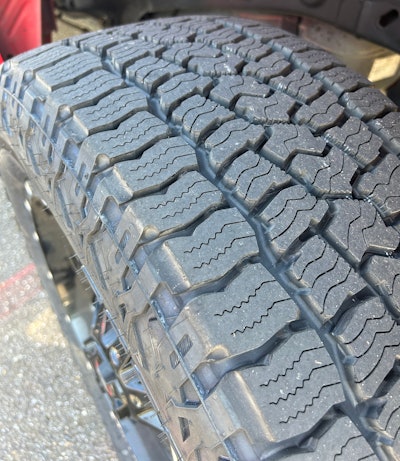 There are a couple of key differences between the Discoverer Road+Trail AT and the Discoverer AT3 XLT. First is sizing. Intended for SUVs and half-ton trucks, the Discoverer Road+Trail AT offers a larger variety (36 sizes ranging from 15- to 22-inch rim diameters), whereas the Discoverer AT3 XLT is designed for larger pickups and offers a number of flotation sizes for plus-sizing leveled or lifted vehicles (available in 29 sizes from 15 to 20 inches).
The second difference is in the performance, said Jenny Paige, senior product marketing manager at Goodyear.
"We know the customer for the Discoverer Road+Trail AT values versatility – regarding both weather and terrain — so this tire offers great dry, wet and snow traction while still providing off-road confidence," she said. "The Discoverer AT3 XLT is designed with our Durable Traction Technology which provides confidence when hauling heavy loads and tread that stands up to tough dirt and gravel. You could say they are sister products given that they both serve the all-terrain customer, but they cover different vehicle fitments, and the drivers of those different vehicle sets are looking for different attributes."
There is no size overlap between these two tire lines. For example, the Discoverer Road+Trail AT is offered in a 265/70R18 whereas the Discoverer AT3 XLT is offered in an LT265/70R18. The LT designation, Paige said, is important because it signifies the tire is designed for heavier load applications. The Discoverer Road+Trail AT in size 265/70R18 is capable of carrying up to 2,756 pounds, but the LT265/70R18 is capable of carrying up to 3,525 pounds.
Aside from load carrying capabilities, the different designs of these tires mean they are different in other characteristics too, like handling, comfort and noise. 
In September I mounted a fresh set of Cooper Road+Trail AT (275/55R20) on my 2017 Ford F-150 4X4 for an extended evaluation, which we will document in a series through the coming months. Over the duration of this test these tires will get a heavy diet of asphalt (both poorly maintained and slightly less poorly maintained) and rural Alabama dirt/mud/gravel roads. We'll also do a good bit of towing, so we can really load the rear tires down and see how tread life stacks up. This is my personal vehicle so it also does its fair share of family cruising, making on-road comfort and off-road capability equally important. 
I've already put 500 miles on this set and the most notable early return has been a substantial reduction in road noise. The tires I removed were about 60,000 miles into their 65,000 mile life, so they'd been whiny for a few thousand miles. However, these new Coopers are quieter off the rack than I expected. 
The Cooper Discoverer Road+Trail AT replaces the Discoverer AT3 4S with improved handling and wet performance, while still maintaining the Three-Peak Mountain Snowflake designation. Historically this is a tire feature that I've never been able to use during an extended test like this due to the the barely 30 degree depths of your typical Alabama winter. 
The new Cooper Discoverer Road+Trail AT features an aggressive tread pattern and a bold sidewall. The Road+Trail AT is among the first in the Discoverer line to get a refreshed design with a continuous tread pattern extending over 50% further down the sidewall than its predecessor. It is a good-looking tire if you're into that kind of thing. And let's face it, regardless of application, looks get at least some consideration. 
The integration of Cooper into Goodyear's tire brand portfolio has helped Cooper expand its offerings. Following the marriage of the Goodyear and Cooper brands in June of 2021, Paige said the company announced new sizes for the Cooper Discoverer STT Pro, a premium light truck tire, in November 2022.
"In line with Cooper's focus on the sizes that off-road enthusiasts prefer, Cooper also unveiled four newly developed flotation sizes," she added. "These 33- and 35-inch tires helped to meet the needs of customers looking to go off-road in particularly muddy conditions while also providing the curb appeal tire enthusiasts were looking for. While Cooper has a long-standing expertise in off-road tires, merging this expertise with Goodyear's expanded resources and capabilities has allowed us to diversify our product portfolio and ensure we are delivering tires that meet the needs of each unique consumer."
The Discoverer Road+Trail AT is backed with a 65,000-mile limited treadwear warranty.