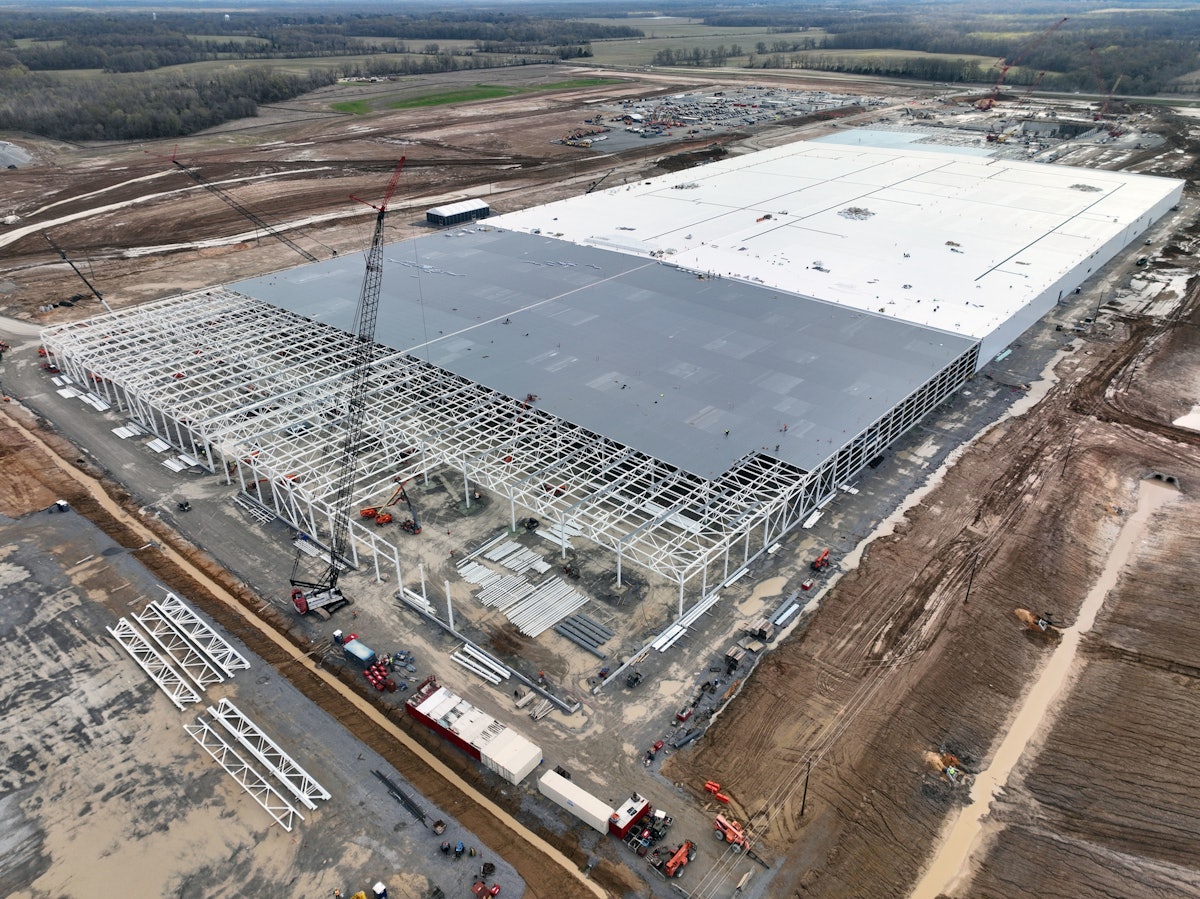 As the No. 2 EV brand in the U.S. in 2022, Ford is on track with construction at the BlueOval City mega-campus and poised to usher in a new era of American innovation and manufacturing.
The electric vehicle and battery manufacturing campus in West Tennessee begins production in 2025 and will be home to Ford's second-generation electric truck, code-named Project T3. The campus will be capable of producing 500,000 EV trucks a year at full production.
"BlueOval City is the blueprint for Ford's electric future around the world," said Bill Ford, the company's executive chair. "We will build revolutionary electric vehicles at an advanced manufacturing site that works in harmony with the planet, aligning business growth and innovation with environmental progress."
Ford and partner SK On are investing $5.6 billion in the campus and creating about 6,000 new jobs. Ford has launched a comprehensive education and training effort called BlueOval Learning to prepare future employees.
BlueOval City is designed to be Ford's first carbon-neutral vehicle manufacturing and battery campus as Ford works to power all Ford plants globally with renewable and carbon-free electricity by 2035.
"Project T3 is a once-in-a-lifetime opportunity to revolutionize America's truck. We are melding 100 years of Ford truck know-how with world-class electric vehicle, software and aerodynamics talent. It will be a platform for endless innovation and capability," said Jim Farley, Ford president and CEO.
"PJ O'Rourke once described American pickups as 'a back porch with an engine attached.' Well, this new truck is going to be like the Millennium Falcon – with a back porch attached," Farley continued. "The manufacturing process will be equally breakthrough, with radical simplicity, cost efficiency and quality technology that will make BlueOval City the modern-day equivalent of Henry Ford's Rouge factory. A factory of the future that people from all over the world will want to tour."  
BlueOval City also is a key part of Ford's plan to scale EV production and make them more accessible to customers; the company is targeting a production run rate of 2 million EVs annually across the globe by late 2026.
Project T3 and a new industrial era
Ford's Project T3 aims to further grow and reinvent the Ford truck franchise beyond last year's rollout of its first full-size electric truck, the F-150 Lightning.
Ford is developing its second-generation EV truck in tandem with the all-new assembly plant, resulting in efficiencies such as a 30 percent smaller general assembly footprint than traditional plants while delivering higher production capacity.
Project T3 is short for "Trust The Truck" – a code name that stuck after the development team made it its rallying cry. The team's single guiding principle has been to create a truck people can trust in the digital age – one that's fully updatable, constantly improving and supports towing, hauling and exportable power, the company says.
The assembly plant will use carbon-free electricity. For the first time in 120 years, Ford also is using recovered energy from the site's utility infrastructure and geothermal system to provide carbon-free heat for the assembly plant – saving about 300 million cubic feet of natural gas typically needed each year to heat similarly sized vehicle assembly plants.
The campus' new utility system will save 50 million gallons of water each year by reducing evaporation from cooling towers, the company says. Plus, the zero-waste-to-landfill site is designed to use no fresh water for its assembly processes. Ford also intends to develop a holistic stormwater management system separate from the water table to help protect the local environment.
The 3,600-acre campus also has a fully integrated BlueOval SK battery manufacturing site. On site, the team will build battery cells and arrays and assemble battery packs that will be delivered just across the site into the assembly plant, in less than 30 minutes.
In addition, BlueOval City is developing an on-site supplier park and will have an upfit center capable of adding in dozens of Ford trucks' most popular features – including robotically installed spray-in bedliners and integrated tool boxes – before the pickups are released to dealers and customers.
To help reduce traffic congestion and emissions, the campus also has an on-site Lowe's store supplying building materials, two construction equipment rental companies and three concrete batch plants.