As recently as three years ago, if you saw Mack on a job site it was probably one of a few things: a Granite dump, a Pinnacle (or maybe a Titan) dropping off a load, or a really, really old Freedom – or even older D Model. 
Mack re-entered the medium duty segment in early 2020 with a truck that was intended to dominate the local delivery scene. Upwards of 40% of the medium duty market is lease and rental, and 75% of the segment is a box truck with a lift gate. Thankfully, Jonathan Randall, president of Mack Trucks North America, said Mack's network of dealers had their own ideas for the MD and, he added, the model has since excelled in segments where it wasn't initially designed to fit.
[Related: Test drive of Mack's MD Series] 
Mack's MD has become a versatile vocational truck because, he said, Mack dealers have a knack to "Mackify" anything. "These things are now roll offs, grapple hooks, dump trucks, tow trucks, haulers…" 
When the MD6 and MD7 launched in March 2020, "the very next week the world shut down," Randall said. "A lot has happened since the launch of the MD. It was launched into a totally different market."
Mack's return to medium duty after a nearly two-decade hiatus has been impressive if not resurgent. 
Randall noted MD's medium duty marketshare hit 5.5% in just more than two years of production – a level the company planned to reach over the course of about 5 years. Against the backdrop of a global pandemic the timing of Mack's MD debut feels less than ideal, however, Randall said it was fortuitous in that "it gave our dealers something else to sell in what became a Class 8 constrained market."
Powered by a Cummins B-Series engine and Allison Transmission – a combination that is now ubiquitous in medium duty – Mack didn't face the same component shortage challenges during the pandemic that affected many of its competitors – namely sapping medium duty parts and resources to service heavy duty customers. Mack's heavy duty footprint includes mostly Mack engines, enabling its dealers to route Cummins parts – some of the most sought after of the pandemic era – to whichever customers needed them. 
Its debut also coincided with Fuso's exit from the market and Hino's ongoing inability to meet tighter emissions requirements – a shift the Toyota subsidiary ultimately spun as its shifting of priorities to focus on zero emissions.
The vast majority of MDs do indeed reach customers as box trucks, but the upfit flexibly enabled by its clear back of cab and clean frame rails – and added heft available in the Class 7 model – have made it a viable option for construction crews that might already have Granites in the fleet and have a need for a small dump truck, water truck or pretty much anything that requires a higher gross weight, but don't want to deal with adding a new manufacturer nameplate. The 25,995 pound Gross Vehicle Weight Rating (GVWR) MD6, and 33,000 pound GVWR MD7, are both exempt from the 12% Federal Excise Tax (FET) and the MD6 model slides in just under the cutoff for requiring a Commercial Driver's License (CDL) for non-hazardous payloads.
But I can get a Cummins B6.7 matched to an Allison from just about every medium duty manufacturer. It's basically the powertrain in this segment, so what makes Mack's MD so special?  Wisconsin-based Kriete Truck Centers President & CEO David Kriete said it all boils down to the local dealership network. 
"These trucks are sold, for the most part, to companies that aren't in the trucking business," he said. "To them, they just want to make sure when the driver gets in and turns the key that it starts… and when it breaks down, someone is available to support it. Any complicated repair leaves their facility and goes to a dealer, and we already have built in this full service model."
Having the same sales and service point for CDL and non-CDL trucks is certainly a convenience, and the Cummins B-Series has been around for 40-plus years so there's some familiarity there too.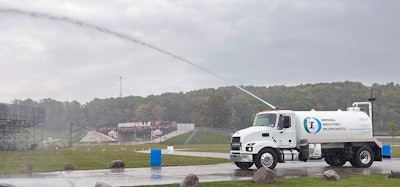 I took a MD7 water truck upfit through the paces at Road America in rainy Plymouth, Wisconsin this week. Equipped with 300 hp Cummins inline six and Allison's 2500 RDS transmission, there was ample power to drag all 32,000 pounds up some tall grades and through tight turns. This is a low-speed application, so startability (660 lb. ft. torque) was key. 
You'll note the short, sloped, stubby nose of the MD, and that's not for aerodynamics. It's for safety. The 103-inch BBC is the shortest in the industry. You can see a person standing in front of the truck from the driver's seat, even if they're backed all the way against the bumper. There are several sneaky safety features to be found on the truck. The passenger door is equipped with a standard lower peep window and full-width aluminum grated steps allow for easy entry and egress. They are horizontally offset for visibility. 
The MD is equipped with drum brakes (Meritor S Cam Q+), which provided plenty of stopping power when the water wanted to push, and drums perform somewhat better on dirt and rock surfaces anyway, where debris can get lodged between pads and rotors. 
Meritor front and rear axles complement the standard spring suspension. A rear leaf spring suspension is standard but Mack's Maxlite AirRide is an option on 206-inch wheelbases and longer. MD features an industry standard 34-inch frame width using 120,000 psi steel rails – a considerable bump from an industry standard 80,000 psi. It's a tight ride for sure, but the air suspended cab makes it a fairly comfortable one. And you won't find a spring seat in this truck (thankfully). The wraparound dash, tilt/telescopic flat-bottom steering wheel, fully adjustable air-ride seat are just a few small hints that driver comfort got design consideration. 
The wheels are a standard 22.5-inches but 19.5-inch wheels are available. Other standard features include the basics like power windows and locks, cruise control and air conditioning. An optional two-passenger bench seat allows for the deployment of crews of three, and a flip-up bottom grants access to a large bin for storage.
The art in the MD is how simple it is; not a lot of frills, but making no sacrifices for versatility and comfort. 
Mack didn't just re-enter the medium duty segment after sitting on the sidelines for 20 years; they kicked the door down. The MD6 and MD7 are available in eight wheelbases to accommodate short to long body lengths of various types. With a wide power and torque range that can fit applications that range from final mile delivery to construction and landscaping and everything in between, MD comes with a baked in dealer support network of 425 rooftops, just less than 10% of which are already certified for electric sales and service. 
The future is electrified
The MD's flexibility doesn't all lie behind the cab and above the frame. It will be the second Mack model get go battery electric, behind the Mack electric refuse truck, LR Electric. Production of the MD Electric starts in about a week.
"We've already sold out the Q4 run," Randall said. 
"This is one of those trucks that it actually could be a 1-for-1 replacement electric for diesel," added Kriete, whose Madison-based dealership is certified to sell and service Mack electric trucks. 
Jason Cannon has written about trucking and transportation for more than a decade and serves as Chief Editor of Commercial Carrier Journal. A Class A CDL holder, Jason is a graduate of the Porsche Sport Driving School, an honorary Duckmaster at The Peabody in Memphis, Tennessee, and a purple belt in Brazilian jiu jitsu. Reach him at jasoncannon@randallreilly.com.