Work trucks traditionally have been all about function over form, rarely getting the focus and attention to detail of their on-highway counterparts. A vocational tractor is a tool like any other, and tools don't have to be pretty to be effective. You rarely grab the hammer you want — you get the one you need.
The vocational market represents about 30% of all Class 8 truck sales, and about 70% of Western Star's truck sales are vocational trucks. But with the introduction of its newest model – the 49X in September – the company included a little ball gown with its ball-peen.
Western Star spent five years designing and engineering the all-new 49X from the ground up, agreeing that the new model had to meet seven benchmarks established from the start: Operator comfort, maximum uptime, best-in-class safety, a proven powertrain, purpose-built, durability and ease of upfit.
I was able to test those benchmarks on a test drive this week in Madras, Oregon, putting a few models through some very real-world paces: navigating loaded and unloaded dump trucks through a working quarry, and a heavy-haul tractor through about 50 miles of mountain passes.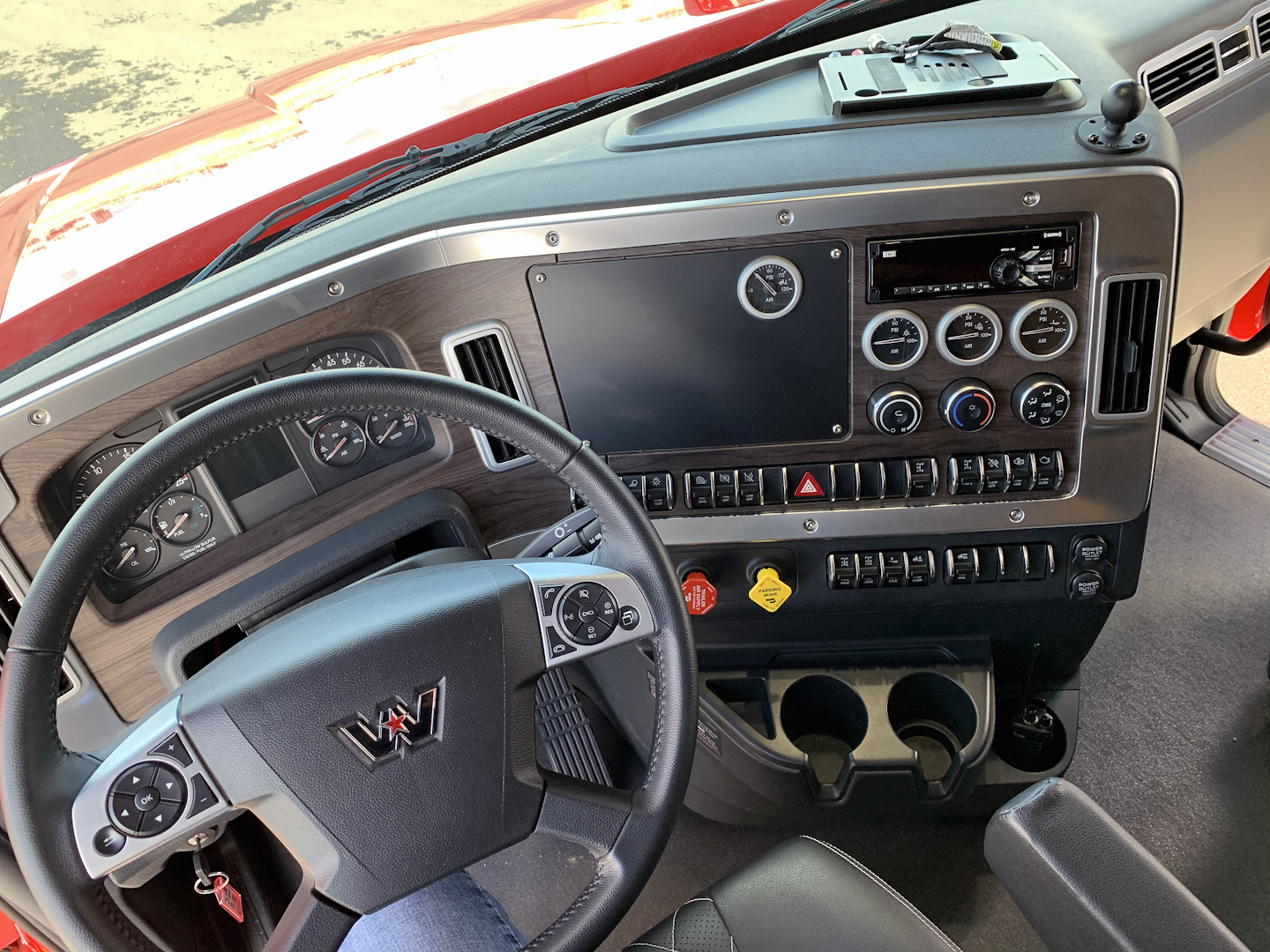 The 49X's dash is pulled forward and wings around the driver's right, a fairly common long-haul design feature that allows operators to keep their hands on the wheel and eyes on the road.
Operator comfort. Driver comfort and ergonomics don't get the same level of attention with work trucks as they do on their over-the-road counterparts, but Western Star went all-in. The 49X's dash is pulled forward and wings around the driver's right, a fairly common long-haul design feature that allows operators to keep their hands on the wheel and eyes on the road. All my switches – PTO, traction control, diff lock and a host of others – were within easy reach.
Western Star also beefed up the HVAC unit, which easily knocked off the upper 30-degree chill in the Madras stone quarry. The backlit controls enable improved visibility in the dark.
If you're in for an overnight stay, you'll find sleeper options in 36-, 48-, 60- and 72-inch low-, mid- and high-roof options. The trench-style composite low roof features a lowered center section for optimized packaging of overcab equipment, minimizing overall vehicle height while maximizing interior headroom and door openings.
The new Idle-Free Dual HVAC system can pump out up to 10 hours of cooling or 34 hours of heat when parked. The high-roof Stratosphere features a large insulated sidewall sleeper window that can be tilted out for venting.
There's ample cabinet space available – including large passenger- and driver-side storage cabinets and a wardrobe that features four inches of additional hanging length – and cabinetry for a refrigerator and a microwave. An optional operator's loft features a dinette/work table that can be folded flat to accommodate a mattress.
The 49X sleeper also is available with a new rear window option for added natural light.
While not exactly a comfort benchmark (but it certainly doesn't hurt), the 49X is also just a good-looking truck. There's just something about that boxy, angular body and its wide stance that's really striking for a vehicle that will spend the majority of its useful life caked in mud.
Uptime. The 49X unlocks access to Detroit Connect, which translates the performance data of any type of truck – log trucks, mixers, dump trucks, heavy haul and more – into real-time information that can drive decision-making that keeps those assets rolling.
When equipped with a Detroit engine, the Detroit Connect Virtual Technician remote diagnostics service will send an alert if a truck experiences a fault, notifying the back office of the fault's severity and when, where and how it can best be fixed. Virtual Technician also tracks fault code trends, providing advance warning of a failure and allowing fleets to plan service before the issue becomes critical. It also sends dealers email notifications, allowing them to order parts and have them on-hand when the truck arrives.
Safety. Practically every contact point inside the door – traditional grab handles, door pockets and even the steering column – can be used to slingshot the driver into the seat. Many drivers I know will use these spots anyway, but Western Star accounted for that and designed them to handle the weight.
For the first time, Detroit Assurance tags along for the ride in a Western Star. The driver assist platform features Side Guard Assist (SGA), Active Brake Assist 5 (ABA5), Tailgate Warning, Adaptive Cruise Control (ACC) to 0 mph, Lane Departure Warning, Video Capture, Intelligent High-Beam and Automatic Wipers/Headlamps.
Lane Centering, Lane Keeping and other features that can automate steering aren't available on the 49X due to the size of the steering gears needed on the 16K, 20K or 23K axles, but these trucks don't spend all their life on the highway, and it's not a feature that I missed on the drive. It's not like the quarry had lane markers anyway.
Detroit Assurance not only can tell when a driver is getting too close to an object, it also can detect pedestrians. Western Star Training Manager Tim Norton said the system looks for hip movement and body mass to determine that the object in the driver's blind spot is a person. I tested this feature, and it's clear just how critical a safety layer this can be in places such as a rock quarry or a crowded construction site, where people are shuffling from place to place.
A dual-stage LED headlight system features an internally printed heat grid and ambient air temperature sensor that can melt three millimeters of ice in less than 10 minutes at -40 degrees Fahrenheit or burn through condensation in warm, humid environments. Combined with a 45-degree light pattern, the headlight system provides uniform long and wide illumination.
One of the 49X's less technologically sophisticated safety features is a one-piece impact-resistant windshield that is 28% larger than the prior generation and is currently one of the largest windshields in its class.
Powertrain. Four engine options are available for the 49X, providing power output ranges from 350 to 605 horsepower and torque from 1,250 to 2,050 lb.-ft. Available are a Gen5 Detroit DD15, Detroit DD16, Cummins X12 and Cummins X15. The fifth-generation DD15 features a new piston design with increased compression and improved swirl combustion for greater fuel economy, while a new ball bearing turbocharger reduces friction to not only improve performance but also boost fuel efficiency.
A new aftertreatment system is smaller and lighter but provides greater performance, while an improved EGR design reduces emissions system complexity.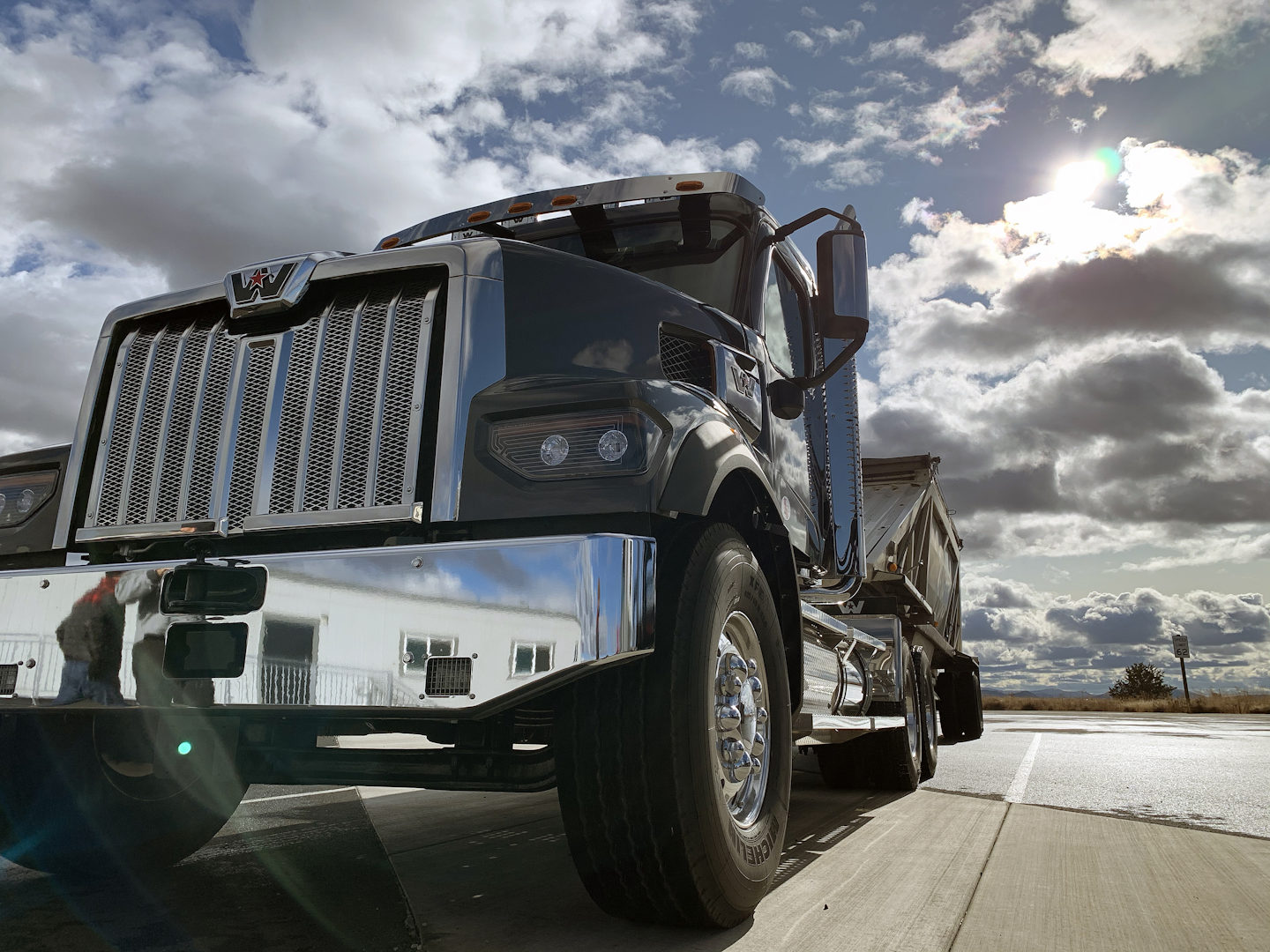 The 49X's combination of the Gen 5 Detroit DD15 engine and the vocational-spec Detroit DT12-V automated manual transmission handled many long and aggressive grades with ease, and with a belly dump of gravel in tow.
Four transmission options also are available, all with PTO capability: An Allison, an Eaton Fuller and two vocational-spec Detroit DT12 automated manuals. The DT12-V and DT12-VX each feature large robust gears, allowing for improved startability and low-speed maneuverability. A new planetary gear set design for greater input torque increases gross combination weight (GCW), with the DT12-VX GCW rated for up to 330,000 pounds. Either can be mated to either the Gen 5 DD15 or the DD16.
A handy feature of the PTO is that its parameters are customizable through the Driver Information Display, allowing the user to set the RMP range needed to handle whatever is being asked of the unit. In my case, it was dumping two buckets of gravel at 1,050 RPM.
On the highway, the combination of the DD15 (560 hp, 1850 lb.-ft. of torque) and the DT12-V plodded forward through the peaks and valleys of Central Oregon's highway system, handling many long and aggressive grades with ease, and with a belly dump of gravel in tow.
The DT12-V has different gear sets compared to the standard DT12, and the vocational spec is geared with deeper reduction, especially in the earlier gear ranges — first, second and third. The VX's planetary gear set features five gears instead of the four found in the V.
An off-road mode manipulates how fast the clutch engages, precisely controlling the shift mechanism (to speed up the shift) and the shift duration and to finely control it under load. Off-road mode allows the engine to rev to a higher RPM to minimize the overall number of gear shifts, because you want to shift as little as possible in sloppy terrain. I found that the DT12-V holds gears longer, and when it does have to shift, it does it faster so that I didn't lose torque when the shift happens.
Purpose built and durability. The 49X was engineered to be a bruiser. Its heavy-duty vocational frame was designed for severe-service applications, but it weighs in about 350 pounds lighter than the current 4900.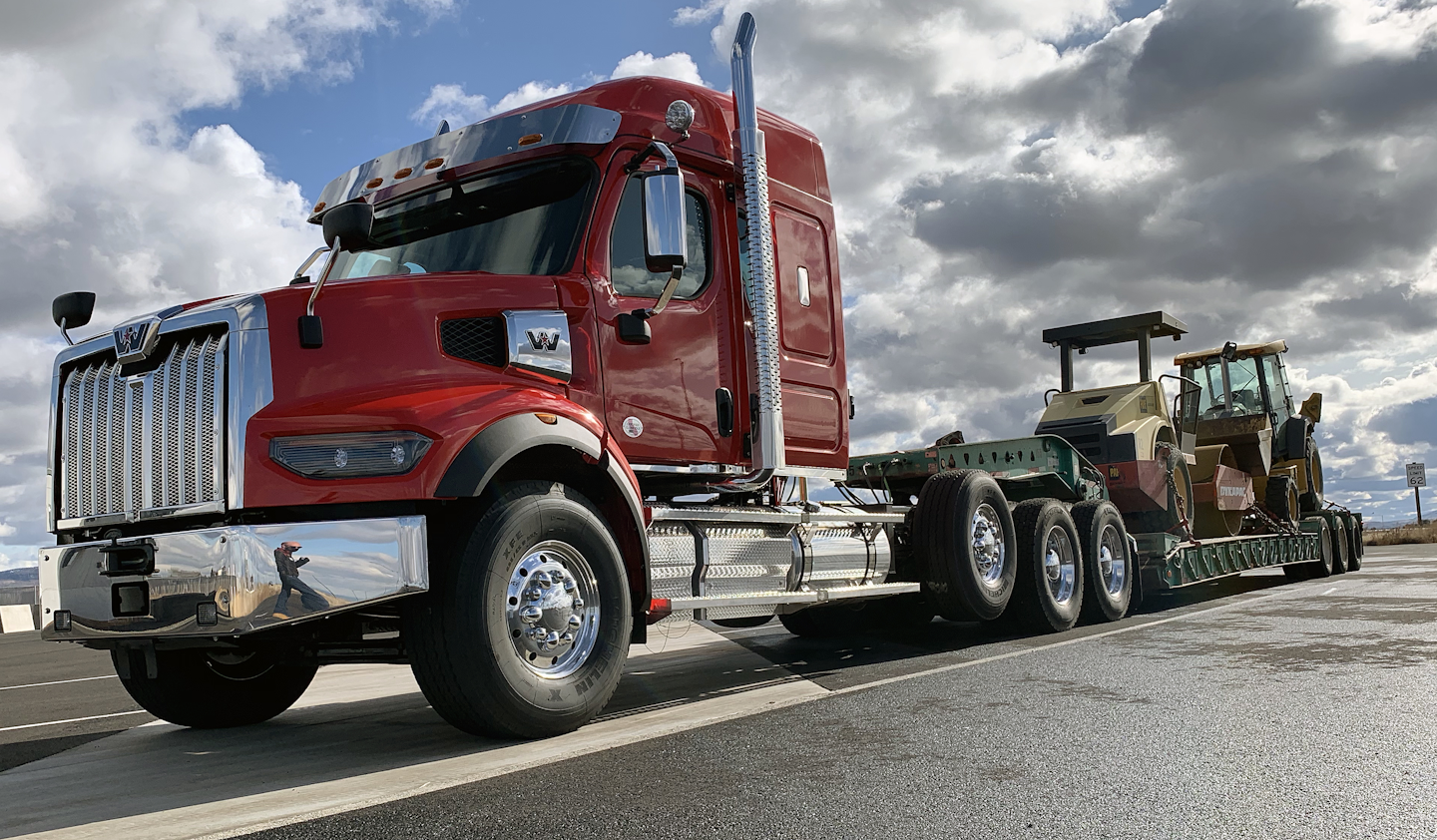 The 49X's heavy-duty vocational frame was designed for severe-service applications, but it weighs in about 350 pounds lighter than the current 4900.
The industry's first high-strength single-channel rail is splayed at the front, allowing for a lower engine and radiator packaging that optimizes the hood slope for better visibility and safety, as well as improved engine serviceability. All midship and suspension crossmembers are bolted, not welded, for greater durability and easier maintenance.
Straight frame sections begin directly behind the cab and feature a constant flange-to-flange dimension, making upfit easier. Frame rail stand-offs keep the wiring and air lines separated and away from the chassis to reduce corrosion, debris damage and diagnosis time.
Constructed from aerospace-grade aluminum and enhanced with steel reinforcements, the cab – the largest in its segment, offering 10%-13% more space than competitors and 8% lighter.  A "Quiet Steel" engine tunnel reduces engine noise intrusion into the cab, and the cab was one of the quietest of any truck I've driven in a long time.
The new molded resin hood is nearly 100 pounds lighter than the 4900's fiberglass hood and is stronger than steel and fiberglass in direct impact. Its suspension system keeps it from jostling violently while off-roading.
An expansive door opening area features a wide 70-degree opening angle to ease ingress and egress for the largest operators, and the grab handles have been relocated for safer and more comfortable entry and exit. The steps are made from corrosion-resistant aluminum with a lower step-in height and an improved volcano tread for safety.
Ease of upfit. The 49X's chassis was designed to make it easier to mount bodies for any application. The mid-chassis packaging includes features that deliver a clear back-of-cab to facilitate more efficient body integration. Key features include 8-, 13-, and 23-gallon DEF tanks mounted in the most forward position for consistent fill and fender gaps, as well as standard battery box mounting inside the cab and under the passenger seat to optimize open frame space. Battery boxes also can be mounted between the rails or frame-mounted.
Air tanks can be mounted below the battery box, inside or below the frame rail or perpendicular to the frame. Aluminum air tanks are available for additional weight savings.
Fuel tanks with a 25-inch diameter – with capacities from 60 to 150 gallons – can be mounted on either side, fore or aft. Fuel/Hydraulic Combo tanks are offered if frame space is critical.
An all-new QuickFit Interface System makes it easier to integrate truck equipment to the vehicle's electrical power sources and features an advanced multiplexed electrical system designed for easy Truck Equipment Manufacturers (TEMs) interface, programming and power access.
Western Star's proprietary CHEC Tool is the interface to the 49X's programmable controllers, enabling TEMs and dealers to view and modify electrical configurations. The CHEC Tool reduces upfit time and makes the customization process more user-friendly by allowing customers to customize inputs and outputs and change parameters in minutes. Standard templates can be created for an organization, enabling the selection of preexisting configurations based on different applications or customers. The CHEC Tool also increases customization possibilities, such as creating custom dash layouts.
The 49X is a sophisticated and comfortable truck in a segment where those characteristics previously didn't get a lot of consideration. Flush with tech-rich features and driver amenities, Western Star has not only reinvented the work truck, but also raised the game for hammers everywhere.
The 49X's mid-chassis packaging includes features that deliver a clear back-of-cab to facilitate more efficient body integration.