The all-new Ditch Witch RT70 ride-on trencher, introduced at the Utility Expo, gives you the option of switching from tires to tracks depending on what the jobsite requires.
The machine's modular design features a single base unit with the option to move from tires to tracks. "In the past, trenchers either came with tracks or tires," says Steve Seabolt, Ditch Witch product manager for heavy duty trenchers. "Now, if a customer decides later that they want to upgrade to tracks to work in different conditions, they can do so."
The tires-to-tracks switch is accomplished at the dealership by unbolting the tire assemblies, mounting the track assemblies and then changing the machine's software. (With the track assemblies each weighing 1,600 pounds, the switch is usually best handled at the dealership.) With different attachments and optional add-ons, operators can customize their machine throughout its lifecycle for specific jobsite needs.
Machine size was also a design driver, Seabolt says. "We wanted to put as much power in a small footprint to keep the weight and size down," he says. "Contractors want to be able to pull it behind a smaller truck and get into more confined spaces."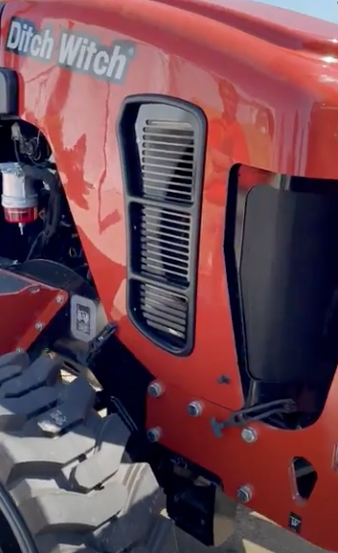 Ditch Witch's patented cooling fan simultaneously pulls air in from the front and off the rear, exhausting it out of both sides of the trencher.Equipment WorldDirecting heat away from the operator was also a design directive. "Most fans are typically pulling and pushing air through the radiator, which passes over the engine and ends up on the operator, making for an uncomfortable environment," Seabolt says.
Instead, Ditch Witch uses a patented cooling fan that pulls the air in the front, like normal, and then simultaneously pulls it in through the rear, off the engine and off of the operator, exhausting it out of both sides of the trencher. Daily maintenance points are grouped in one accessible location and covered with a single-piece, easy-open hood. 
An open layout and 90-degree swivel seat give you a full view of the machine from front tire to back tire and attachment. The enhanced visibility and ergonomics keep you comfortable for productivity over a long workday.
With a 72-horsepower Yanmar diesel engine and built with a 73-inch-wide footprint, the RT70 rubber-tire trencher can handle heavy-duty jobs. Steering is with a wheel rather than levers, and the trencher's crab steer enables you to maneuver around obstacles in tight spaces.
Track length is 104.4 inches. Top speed with tracks is 4.22 mph, while the rubber-tire option gets 6.52 mph. For slow-speed operation, the tracks get down to 0.79 mph,  while the machine with tires can creep along at 1.21 mph. The RT70 also comes with a 72-inch backfill blade.