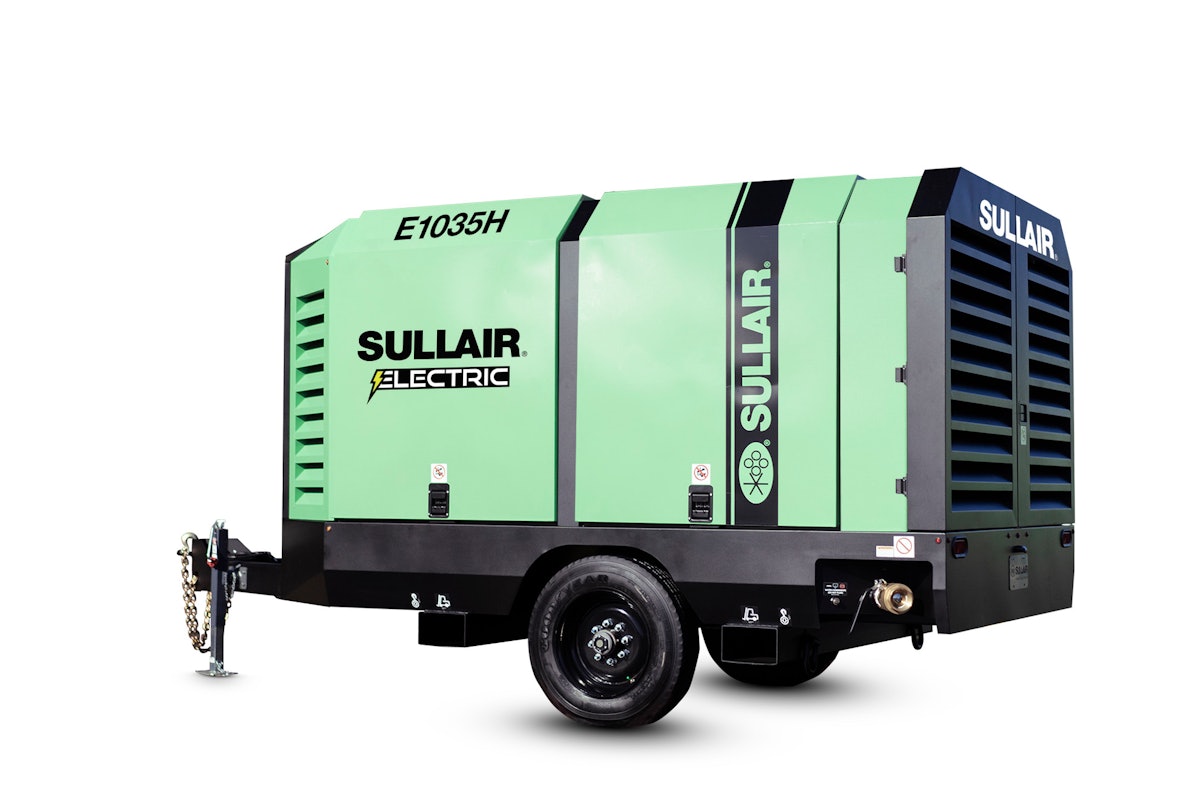 Sullair has introduced its next-generation E1035H electric portable compressor, designed to help save fuel costs while reducing customers' carbon footprint.
A 250-horsepower totally enclosed, fan-cooled (TEFC) motor with an auto lubrication system gives the E1035H equal power and efficiency to similar-sized diesel-powered compressors, the company says. It produces 1,035 cfm at 150 psi, and Sullair's proprietary Electronic Spiral Valve (ESV) provides high efficiency with up to 60% turndown.
Because of its emission-free design, it can be used indoors and wherever a 60 Hz power source is available. It also touts quiet operation, added safety features and a lower total cost of ownership than diesel compressors.
The E1035H is Sullair's first compressor to feature swing-out coolers. This patent-pending design allows users complete access to the front and back coolers for more thorough cleaning, which helps keep the compressor running optimally, the company says. Additionally, the E1035H offers condensate management technology, reducing the need for additional equipment to dispose of condensate.
In-depth compressor and package performance information can be found on the 7-inch Sullair Touchscreen Controller. The Sullair AirLinx telematics helps protect the unit from theft and provides important machine data, remote monitoring and troubleshooting.
Sullair says the new product is the next step in its commitment to a carbon-neutral value chain and aligns with Hitachi's long-term environmental targets. The initial development of the E1035H was driven by hands-on input from Sullair customer Ring Power Corporation.
"The development of the E1035H is the beginning of a new era for Sullair in driving industry-leading solutions that bring enormous value to our customers while promoting environmentally responsible innovations," said John Randall, president and CEO of Sullair. "The future of our industry – and our planet – depends on all of our commitment to investments in green technology. Our customers are expecting that commitment, and we are proud to play our part in the fight against climate change."
Roger Adkins, vice president and compressed air business manager at Ring Power Corporation, added, "Ring Power was excited to work closely with Sullair in the development of this new electric rental compressor that meets our customers' needs. The Sullair E1035H is a promising addition to its product lineup with versatility and functionality that customers will appreciate. It's wonderful to see Sullair investing in new technology and products that will transform the compressed air industry."