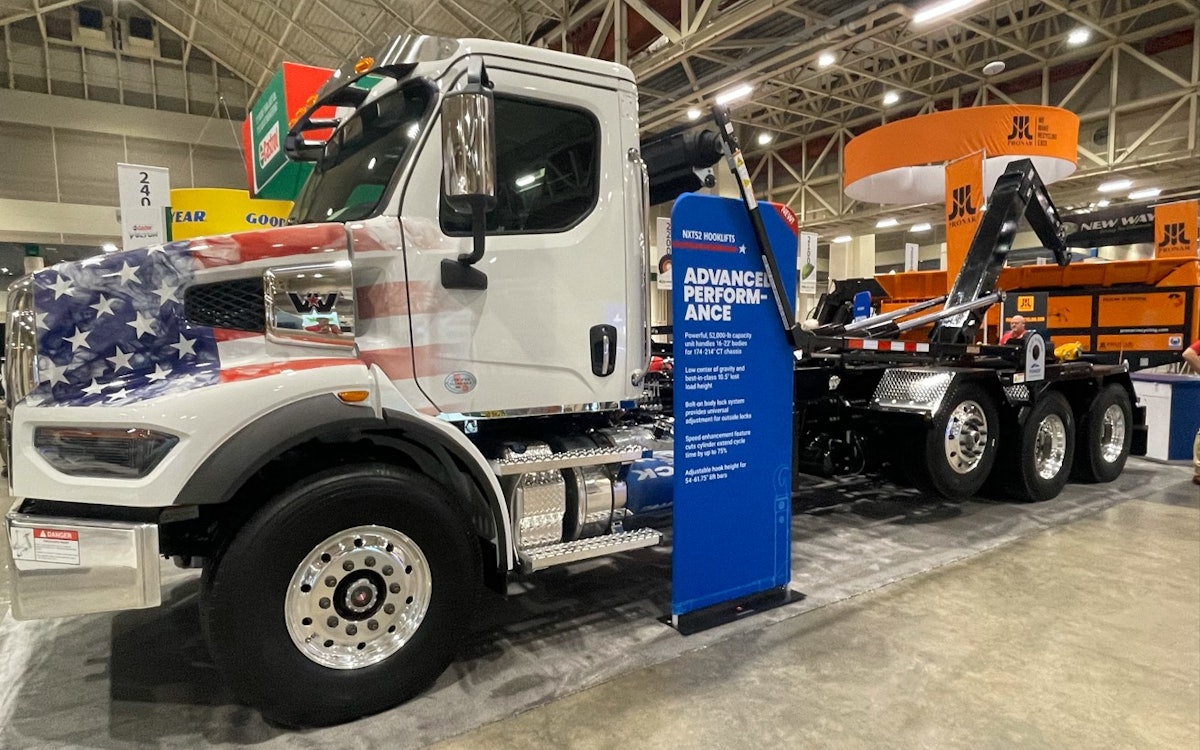 Stellar has introduced its latest telescopic hooklift in the NXT series, the 52,000-pound-capacity NXT52.
Capable of loading, unloading and dumping 16-foot to 22-foot bodies for 174-inch to 214-inch CT chassis, the NXT52 has a 54- or 61.75-inch hook height and rectangular style secondary jib. With approximately a 10.5-inch lost load height, the NXT52 provides a low vertical center of gravity and the ability to accommodate down to 6-inch subframe heights, the company says.
The unit features a pre-drilled Z-channel base design and a universal body latching system. This system has outside locks that can be moved, repositioned, and bolted back down, allowing operators to position latches anywhere along the frame. The versatility of this system eliminates the need to cut locks off, re-weld or repaint when changing truck bodies, Stellar says.
A universal mounting bracket also lets operators place the 25-gallon hydraulic reservoir in the most convenient location on the side of the chassis. This removes any workaround complications if there are chassis items that could interfere with the reservoir mounting.
Integrated speed enhancements and soft-stop features on the lift cylinder reduce the full extend cycle time by 75% and brings the body to rest gently on the body saddles.
Air controls or electronic radio remote controls offer proportional control operation to allow for precise metering of the manual hydraulic drive. Set to be released later this year, the radio remote control allows unit operation in either the chassis cab or outside the cab.
The NXT52 is Stellar's second hooklift in the NXT Series. The NXT18 debuted at the 2022 Work Truck Show.