There's been lots of speculation about the type of "landing" the U.S. economy will experience with the Federal Reserve's inflation fight, ranging from soft to crash.
But Ken Simonson, chief economist for the Associated General Contractors, has formulated his own metaphorical prediction.
"I think the term that fits best is 'touch and go,'" he said March 6 during AGC's Construction Outlook for 2023. "That's an aviators term for just touching the runway and taking off again."
Simonson has maintained since last year that there will be no recession in 2023. He repeated his prediction on the webinar and even made a point to change the name of the event's title "Recession or Resurgence?" by deleting the word "recession."
His reasons for the optimism include jobs being created at a fast rate, wages rising faster than in the past two years, Social Security recipients getting large bumps in benefits, like the 8.7% increase in January.
He acknowledged high-profile layoffs at large tech companies and others, but data still reflect big increases in sales and investments in plants and equipment. There's also the historic amount of federal infrastructure funding that will soon begin flowing more heavily to state and local governments, as well as federal funding to build up the U.S. microchip industry. That's on top of federal money that flooded in to help offset Covid's economic impact in 2020 and 2021.
"State and local governments have gotten huge amounts from federal pandemic relief funds, but also their own tax revenues have held up in a way that you don't see during a recessionary period," he said.
Construction's ups and downs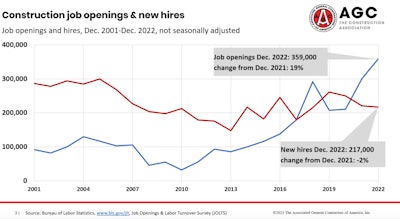 For construction, Simonson's prediction is more nuanced, with some sectors such as single-family housing contracting, but others like manufacturing plants continuing to grow.
The bigger problem for construction – as has been for years – is attracting and keeping enough workers to meet demand. He believes nonresidential construction growth would be even higher if contractors could hire more workers.
Hiring will only get more difficult as wages for workers in other sectors of the economy catch up with what Simonson calls the "wage premium," which compensates for construction's tougher work conditions and requirements. He noted that for construction, the wage premium for production and non-supervisory workers' average hourly pay was more than 20% higher for the past 20 years when compared to the overall private sector. But as other segments boost pay to attract workers, construction's wage premium has slipped to 15% and is now at 18%.
"That's not enough to get people to come to construction at a time when other industries are able to offer flexible hours, work from home or hybrid work," he says.
He also noted the ongoing trends of slower population growth and an aging workforce with growing retirements.
As for construction growth, Simonson points to multibillion-dollar manufacturing, auto assembly and electric-vehicle battery plants being planned or built. Manufacturers are also adding capacity to address supply chain problems, with the Build America Buy America Act potentially driving a resurgence in U.S. manufacturing. And then there's the $1.2 trillion infrastructure law.
"I think we will see huge growth in the next few months in infrastructure projects and in the manufacturing plants to serve those and also in the kinds of projects that will break new ground, literally and figuratively, in carbon capture and in battery-charging stations around the country."
The other meaning of "touch and go"
Despite the optimism, Simonson also pointed to the everyday, popular meaning of "touch and go" – as in, it could go either way.
"My expectation, as I said, is that the economic recovery will continue. But there is still quite a risk of recession," he said. "It's 'touch and go.'"
He outlined the risks, which will vary by region:
"Homebuilding, already deeply in recession and likely to stay that way for most of the year if not beyond. And then you have a bunch of vulnerable categories because of those rising construction and financing costs that are no longer being matched by rising rents. That would cover multifamily, warehouse, retail, office and lodging. And then I'd also put university construction at risk."
"On the positive side," he added, "data centers still going strong, manufacturing, infrastructure, power construction."
All of those positives in construction as well as in the economy as a whole should outweigh the risks of a U.S. recession, which is defined as a drop in gross domestic product by two consecutive quarters.
"Overall," he said, "I don't think the economy is going to stop adding jobs or stop adding to that overall measure, real gross domestic product."