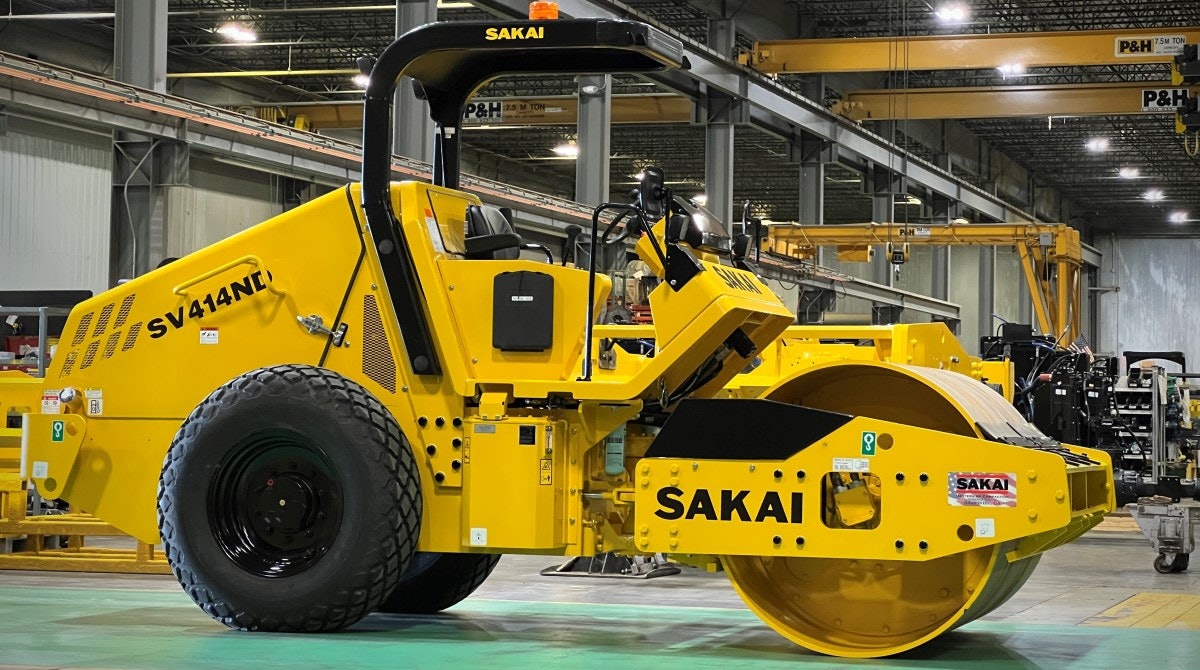 Sakai's new SV414ND soil compactor features user-selectable oscillation and vibration in the same drum, eliminating the need for separate compaction machines.
A 74-horsepower Cummins diesel engine powers the 8-ton class machine. Its oscillation is gear-driven instead of belt-driven, reducing downtime and belt servicing expenses. It has a 67-inch-wide smooth drum.
Oscillating soil compactors are typically used in regulated no-vibe areas due to soil type and in situations where compaction must be achieved but with reduction in felt vibrations, noise and damage to nearby structures, Sakai says.
"This is a product we have been testing in the field for quite some time and are excited to finally launch," said Brad Belvin, manager of sales and marketing. "We've had tremendous success with our asphalt ND line and heard no shortage of contractor requests to bring similar selectable oscillation/vibration drums to the soil side of the business."
For safety, the SV414ND comes standard with ROPS, a retractable seat belt, a horn, a backup alarm, operator deck handrails and an electric parking brake with interlock and foot brake.
All vibration controls are accessible on the instrument panel, and a shock isolation system reduces operator discomfort. Several amplitude and frequency setting combinations are available.
Optional features include lug or tractor tires instead of the standard diamond tread, an LED strobe light beacon, LED work lights, a cab with air conditioning and a mirror kit, automatic idle shutdown and a fire extinguisher.
The first units rolled off the assembly line in Adairsville, Georgia, this month and are now available for order from all Sakai U.S. and Canadian dealers.
Quick Specs:
Drum Width: 67 inches
Weight: 16,250 pounds
Gradeability: 63%
Oscillation Frequency: 2,160 vpm
Oscillation Centrifugal Force: 30,125 pounds
Oscillation Normal Amplitude: 0.041 inches
Vibration Frequency: 1,800 vpm
Vibration Centrifugal Force: 23,830 pounds
Vibration Nominal Amplitude: 0.05 inches
Engine: 74-horsepower Cummins QSF 2.8 (EPA-Tier 4)