All U.S. price indexes are currently experiencing deflation rates, according to the Ritchie Bros. August Market Trends Report.
Medium earthmoving equipment saw a decrease of 9% and large earthmoving equipment was down 3%.
The highest decline was seen in truck tractors at 19% year-over-year compared to the same time in 2022. However, this is still a 4% increase from the 23% decline the previous month.
Other categories experiencing declines in the U.S. include vocational trucks (-11%), and aerial lifts (-6%).
There was no sufficient data to make meaningful conclusions about the inflation rates in agriculture or agriculture tractors according to the report.
Most equipment indexes in Canada are also showing declining prices in the first half of 2023 compared to 2022. 
Truck tractors (-22%), vocational trucks (-16%), medium earthmoving (-2%), and aerial equipment (-2%) all saw price declines, while large earthmoving is at 0%.
To date in 2023, excavator sales have been steady in the U.S. and Canada, while average prices have declined.
"In 2023 we have seen large class excavator volumes increase across our marketplaces as many large civil and infrastructure projects have been completed or near end term," said Doug Olive, senior vice president RB Global. "We have also experienced an influx of mini excavator volumes as manufacturers have increased production and deliveries, resulting in many large rentals.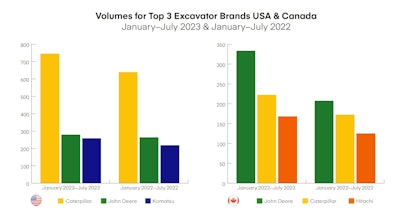 Over the past 90 days, close to 500 units had been sold in both the U.S. and Canada with median prices between $33,000 and $55,000.
Through its auction and online marketplaces, Ritchie Bros. sells nearly all makes and models of excavators.
The top sellers are Caterpillar and John Deere in both the U.S. and Canada, with Komatsu and Hitachi machines coming in third respectively.
Cat represents approximately 38% of all excavators sold in the U.S. and John Deere tallies about 32% in Canada. 
The retail market improved in July 2023 but also maintained an ongoing decline.
"We saw strong retail sales volume last month, with sales increasing approximately 31% compared to July 2022, while retail pricing declined 0.8%, continuing a nine-month downward trend," said Doug Rusch, senior vice president RB Global. 
Through the first seven months of the year, 2023 volume is running at similar levels to 2019 and 2021. Due to the COVID-19 pandemic, 2020 experienced markedly higher sales volumes.
Overall, retail pricing is currently 3% below the 2022 levels.
Trends for the month varied widely based on the type of equipment.
The report states that retail pricing declined substantially for aerial equipment (-1.7%) and lift trucks (-1.6%). Comparatively, pricing rose slightly for both telehandlers (+0.5%) and small/medium earthmoving equipment (+0.6%).