There's the usual cast of players when looking at auction results during the past 12 months.
Caterpillar dominated the wheel loader auction pricing for the 12-month period of Sept. 1, 2020 to Aug. 31, 2021, according to Randall-Reilly's Top Bid auction price guide.
In total, there were 428 wheel loaders sold at auctions tracked by Top Bid during this time. (This does not include any units that sold for less than $5,000.)
To make this a bit more interesting, we're including two charts that highlight which wheel loader models generated the highest prices on the auction block: one featuring the top Cat models and one showing the top non-Cat models.
For the Cat models, a 2019 Cat 966M with 730 hours had the top spot, selling for $370,000 at a Ritchie Bros auction in Denver, Colorado on Mar. 3.
The Cat wheel loader chart also shows a curiosity, especially in this day of equipment shortages: a 6-hour, 2021 Cat 926M that sold Aug.10th at a Ritchie Bros. auction in Carlsbad, New Mexico.
Equipment World
Looking at the non-Cat wheel loader chart, auction prices start at $196,000 and the models tend to have more hours — an average of 5,533 hours, compared with the 1,036-hour average of the top Cat models.
Two Volvo models garnered top prices: a 2018 L180H with 6,241 hours, which sold for $196,000 at an IronPlanet sale on Jun. 6th and a 2016 Volvo L250H with 5,702 hours, which sold for $180,000 at a Ritchie Bros. auction in Fort Worth, Texas, on Jul. 20th.
Deere models made the most appearances on the second chart, ranging from a $165,000 2016 Deere 624K at a Hunyady Auction sale in Meadville, Pennsylvania, to a 2017 Deere 844III with 7,632 hours that sold for $142,500 at the Ritchie Bros. Orlando sale in February.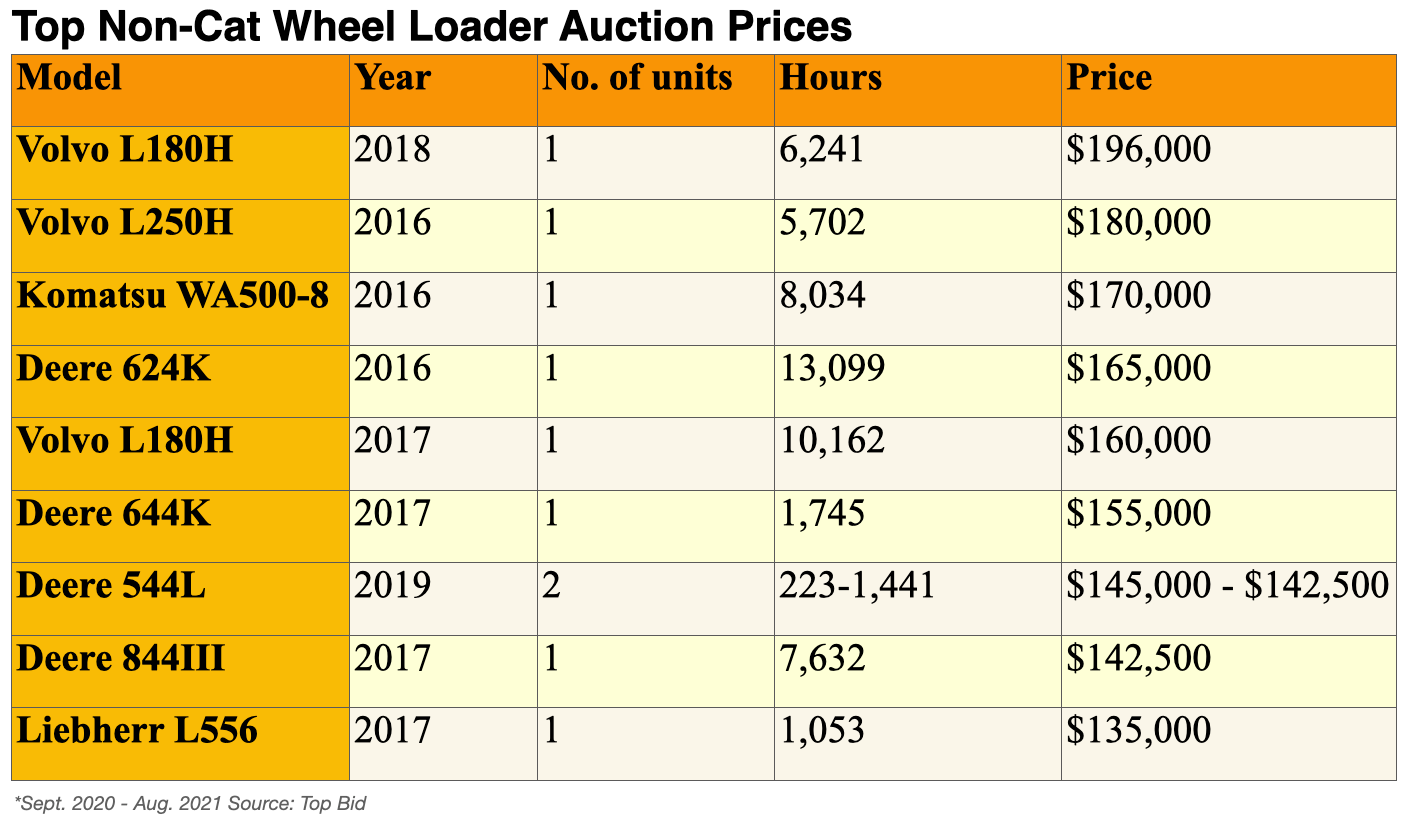 Financed used sales
Cat also took the top position in financed used wheel loader sales from Jan. 1-Jun. 30 this year, as reported by EDA. Approximately 31% of total loaders sold were Cat, followed by Deere (25%), Case (13%) and Komatsu (13%).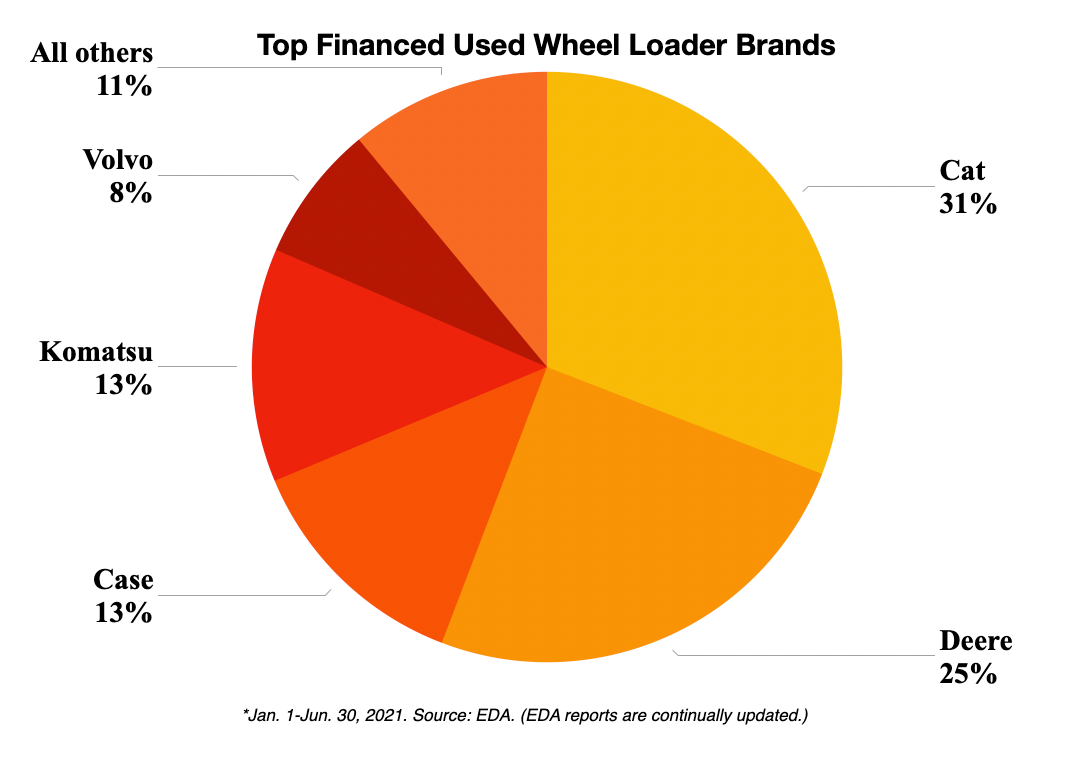 Equipment World
Top used unit financed sales went to the Cat 938M at 124 units sold, followed by the Case 921F (103 units) and the Deere 544K (also 103 units). EDA, a division of Equipment World's parent firm Randall-Reilly, tracks UCC-1 filings. This data is continually updated.