Quick Data is a snapshot of new and used skid steer sales trends from Randall Reilly's EDA equipment financing data, TopBid auction price service and EquipmentWatch market trend reports.
Sales of new financed skid steer loaders were down year-over-year from April 1, 2022 to March 31, 2023, according to Randall Reilly's EDA equipment financing data. Used financed skid steer sales were also down during the period.
Financed new skid steer sales dropped 21%, while sales of financed used machines fell 14% during the same period.
Bobcat sold the highest volume of financed new skid steers of all manufacturers during the period. Approximately 24.9% of total skid steers sold were Bobcat, followed by Kubota (19.5%) and Cat (17.5%). Topping the list of new financed sales were the Kubota SSV75, Kubota SSV65 and Bobcat S76.
Bobcat also snagged the top spot for the most financed used skid steers and commanded a higher percentage of total sales at 34.2%. Case joined the list in the second spot at 14.9%, and Deere came in third at 14.3%. At the date we examined the data, the top-selling used models were the Case SV280B, the Bobcat S650 and the Bobcat S185.
During this period, there were more buyers of new skid steers in Illinois than in any other state (794). Buyers of new skid steers were also prevalent in Texas (671) and California (589).
The top states for those financing used skid steers were Minnesota (1,011), Wisconsin (772) and Illinois (664).
EDA data is compiled from state UCC-1 filings on financed construction equipment. EDA continually updates this data as information comes in from each state.
Used Skid Steer Market
Used skid steer prices rose slightly during the 12-month period from April 1, 2022 to March 31, 2023, according to Randall Reilly's EquipmentWatch market trend data.
The average price tag for a used skid steer was $35,013 in April 2022 compared to $36,638 in March 2023. The average age of used skid steers decreased slightly during the period from 8.5 to 8.2 years. The average age and price were calculated on 73,139 resale listings during the period in the EquipmentWatch database. Over the last five years, average prices for used skid steers, in general, have increased, peaking at $36,638 in the first quarter of 2023.
"Skid steer loader prices are up 10.9% in April 2023 from April 2022. That makes it one of the top three equipment subtypes with the highest price growth, along with compact track loaders and crawler mounted hydraulic excavators. This could be correlated to the average age dropping during the period," said Sam Pierce, sales engineer at EquipmentWatch.  
According to Pierce, the top five brands of skid steer loaders sold between April 2022 and March 2023 were Bobcat, Caterpillar, Deere, Case and New Holland, in total accounting for 88% of the skid steer resale market.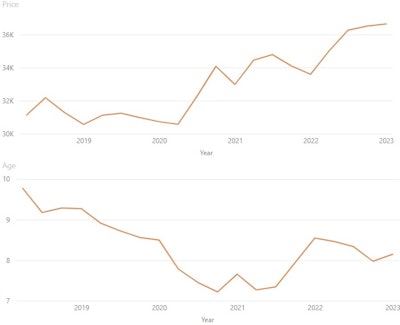 EquipmentWatch defines fair market value (FMV) as the monetary value of an asset that can be expected in a transaction with a single seller and single buyer, neither of whom is under any compulsion or time restriction to complete the transaction. FMV for heavy equipment is most closely associated with the private, resale market, as opposed to the public, auction market.
Skid Steer Auction Prices
Looking at the top 20 skid steers sold for the 12-month period of May 1, 2022 to April 30, 2023, in terms of auction price, we see a similar trend. Bobcat accounted for half of the top-20 price spots. Caterpillar, Kubota and Deere were the only other manufacturers to appear on the charts.
A 2018 Caterpillar 272D2 with 932 hours garnered the top price spot on the list at $56,000. It was sold at a Ritchie Bros. auction in Sacramento, California on September 29, 2022.
Three machines tied for the second-highest price spot, coming in right behind the 272D at $55,000:
A 2019 Caterpillar 262D with 372 hours was sold on February 2, 2023, at Ritchie Bros' massive five-day auction in Orlando, Florida.
Freije & Freije Auctioneers sold a 2018 Deere 332G with 2,944 hours in Clayton, Indiana, on April 6, 2023.
And a 2020 Kubota SSV75 with 309 hours was sold by Jeff Martin Auctioneers in Lima, Ohio, on December 13, 2022.
The third-highest price spot went to a 2022 Bobcat S66 with 737 hours. It was sold on February 8, 2023, by Alex Lyon & Son Auctioneers for $48,000.
In total, there were 147 skid steers sold at auctions tracked by Top Bid during this time, with an average price of $27,456. (This does not include any units sold for less than $5,000.)
EDA, Top Bid and EquipmentWatch are owned by Randall Reilly, parent of Equipment World.