Quick Data is a snapshot of new and used compact excavator sales trends from Randall Reilly's EDA equipment financing data, Top Bid auction price service and EquipmentWatch market trend reports.
Sales of new and used financed compact excavators fell year-over-year from June 2022 to May 2023, according to Randall Reilly's EDA equipment financing data.
Financed new compact excavator sales were down 5.2% to 31,998 units, while sales of financed used machines were down 6.8% to 10,367 units during the same comparative time period.
This is the second consecutive period that new and used financed sales have dropped for the product category. New compact excavator sales totaled 33,743 units from June 2021 to May 2022 and 34,562 units from June 2020 to July 2021. Used compact excavator sales totaled 11,118 743 units from June 2021 to July 2022 and 11,209 units from June 2020 to May 2021.
According to the Associations of Equipment Manufacturers' Q3 Equipment Outlook, agriculture and construction equipment demand has softened. However, the organization says,  "investments in infrastructure, energy and utilities point to better days ahead" for construction.
Of all manufacturers, Kubota sold the highest volume of financed new compact excavators during the period. The top-selling new models included the KX040-4, Kubota KX057-5 and Deere 35G.
Looking at used models, Cat sold the most units. On the date we examined the data, the top-selling models were the Deere 35G, Cat 305E2 CR and KX040-4.
During this period, there were more buyers of both new and used compact excavators in Texas than in any other state: 3,291 new machines and 833 used units were financed in the state. Buyers of new compact excavators were also prevalent in Florida (2,018 buyers) and California (1,857 buyers).
In addition to Texas, Missouri (531 buyers) and North Carolina (486 buyers) were the top states for those financing used compact excavators.
EDA data is compiled from state UCC-1 filings on financed construction equipment. EDA continually updates this data as information comes in from each state.
Used Compact Excavator Market
Used compact excavator prices rose 3.2% for the 12-month period from June 2022 to May 2023, according to Randall Reilly's EquipmentWatch market trend data.
The average price for a used compact excavator was $48,444 in June 2022 compared to $49,976 in May 2023. The average age of used compact excavators declined slightly during the period, dropping from 5.39 years to 5.21 years.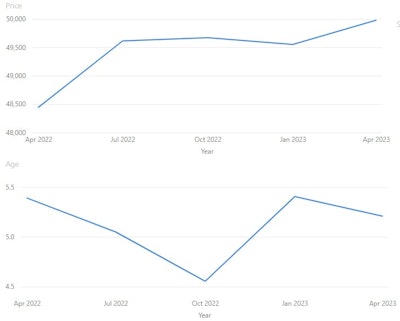 The average price and age were calculated based on 95,998 resale listings during the period in the EquipmentWatch database.
Over the last 12 months, prices for used compact excavators have, in general, increased, with the largest jumps in June 2022 (4.1%) and April 2023 (1.5%)
EquipmentWatch defines fair market value (FMV) as the monetary value of an asset that can be expected in a transaction with a single seller and single buyer, neither of whom is under any compulsion or time restriction to complete the transaction. FMV for heavy equipment is most closely associated with the private resale market, as opposed to the public auction market.
Compact Excavator Auction Prices
Looking at the top 20 compact excavators sold for the 12-month period of August 1, 2022 – July 31, 2023, in terms of auction price, Caterpillar accounted for 9 of the top 20 price spots, according to Top Bid. Other players – including Deere, Bobcat, Hitachi, Doosan, Takeuchi and Kubota – also topped the charts.
The top auction price spot went to a Cat 309CR with 377 hours. It sold for $136,000 at a J.M. Wood Auction Co. sale in Montgomery, Alabama, on September 20, 2022. The second-highest price paid was $130,000 for a Cat 308CR with 172 hours at another J.M. Wood sale in Montgomery, on March 21, 2023. Rounding out the top three was a Deere 35G with 27 hours. It sold for $112,500 at a Joey Martin Auctioneers sale in Carrollton, Georgia, on August 25, 2022.
In total, 1,368 compact excavators were sold at auctions tracked by Top Bid during this time, with an average price of $26,640. (This does not include any units sold for less than $5,000.)
EDA, Top Bid and EquipmentWatch are owned by Randall Reilly, parent of Equipment World.