Progress is being made on reopening a portion of I-25 near Pueblo, Colorado, where a train derailed October 15 on the bridge over the interstate, and the bridge collapsed.
The city of Pueblo reports that the southbound lanes are open with slower speeds and the northbound lane repairs are expected to be completed in the afternoon October 18.
A 9-mile interstate section between Pueblo and Colorado Springs was closed after the collapse on Sunday. The National Transportation Safety Board has issued a preliminary statement saying a possible cause of the derailment was a broken rail on the bridge. NTSB continues its investigation, which will likely take one to two years.
Thirty cars on the 124-car Burlington North Santa Fe Railway train derailed. Lafollette Henderson, 60, a tractor-trailer driver was crushed and killed in the incident.
No injuries or other fatalities were reported.  
The rail cars were carrying coal. During the cleanup and repairs, traffic has been detoured.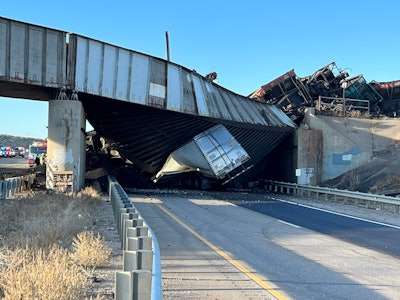 BNSF is handling the cleanup, response and reconstruction and was awaiting an all-clear from the NTSB before that could begin. NTSB investigators arrived on site October 16. BNSF estimated cleanup would take about two days following NTSB's clearance.
"All entities will work together to safely open the interstate in conjunction with the NTSB investigation," according to the Colorado Department of Transportation.
The rail bridge was built in 1958, reports The Colorado Springs Gazette. "Unlike highway bridges, government agencies don't catalog rail bridges and it's largely up to the railroads to inspect and maintain them. Federal officials monitor the inspection programs through audits but there is no inventory on the condition of the bridges."