A wide range of price changes was evident in key construction inputs in January.
Analysis of the producer price index by the Associated General Contractors of America and Associated Builders and Contractors indicate steep increases for fuel, concrete and gypsum products offsetting sharp declines in lumber and steel prices.
"Producer price indexes for construction inputs moderated over the past year, but many items increased again in January," said Ken Simonson, AGC's chief economist. "With demand shifting among project types, prices for many inputs are likely to diverge further in 2023."
He added that a lack of clarity from officials in Washington as to what materials may be used on federally assisted projects due to Buy America provisions is adding to price disparities and could delay projects.
Construction input prices rose 1.3% in January, according to an analysis of the U.S. Bureau of Labor Statistics Producer Price Index data. Nonresidential construction input prices increased by 1.1% for the month.
Simonson said the increase in January was driven by several inputs.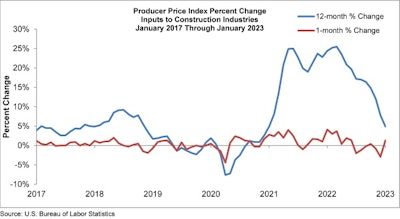 The producer price index for diesel fuel soared 7.1 percent for the month and 22.8 percent over 12 months. The index for cement leaped 7.7 percent in January and 17.8 percent compared to a year earlier. That, in turn, fueled an increase in the index for concrete products of 1.8 percent for the month and 14.8 percent year-over-year.
In addition, he said, the indexes for architectural coatings, such as paint, and gypsum building materials, such as wallboard, were flat for the month but climbed 15.8 percent and 11.1 percent, respectively, over the year.
"These increases more than offset several declining prices," Simonson added.
The producer price index for steel mill products slid 2.3 percent for the month and 30.1 percent over 12 months. The index for lumber and plywood was unchanged in January but fell 30.8 percent from a year earlier.
"Recent employment and retail sales reports indicate that the economy is not slowing nearly as quickly as predicted," said ABC Chief Economist Anirban Basu. "That is the good news. The bad news is that the economy remains overheated, a phenomenon neatly reflected in the January PPI data, which indicated that construction input price gains accelerated monthly."
For example, he said, construction equipment prices expanded 3.4% in January and are up more than 12% during the past year.
Overall construction input prices are 4.9% higher than a year ago, which is the smallest annual increase since January 2021. Nonresidential construction input prices are also up 4.9% since January 2022.
Simonson noted that the producer price index for inputs to new nonresidential construction, the prices charged by goods producers and service providers such as distributors and transportation firms, jumped 0.9 percent last month but rose by a relatively modest 4.3 percent from January 2022. 
He said falling demand for new homes drove the index for new single-family construction down to a year-over-year increase of just 0.2 percent.
Basu forecasts that the Federal Reserve will maintain higher interest rates longer.
"Ironically, it is the current strength of the economy that makes a recession more likely sometime during the next 12 months," he said. "At some point, higher interest rates will meaningfully affect economic activity. With the industry backlog high, many nonresidential contractors will feel little to no effect from higher interest rates in 2023. But in certain construction segments and locations, these dynamics could make the next two years more challenging."