Power Pavers calls its new SF-3404 the "most innovative slipform paver on the market."
With a paving width of 40 feet, the concrete paver has a variety of new technological advancements yet still maintains the company's trademark simplicity.
Width adjustments are made easier with the paver's fully telescoping frame. You can pave in widths of 12 to 24 feet with the dual-sided telescopic frame and sideforms, with no need for extensions. Width adjustments of 2 feet on each end are possible with the paver's optional telescoping endpans.
Operators get "complete visibility around the machine," the company says. That's achieved with the control panel and operator's platform being positioned directly above the paving pan. Operators have unobstructed views of the spread auger/plow, entire grout box, dowel bar inserter, oscillating corrective beam and final slab.
Power Pavers also gave the SF-3404 a smoother ride, thanks to vibration isolation on the operator's platform and the oscillating corrective beam (OCB) being "the largest in the industry," the company says. The optional OCB is 30 inches tall and has a 2-foot finishing length from front to back. It is designed to smooth out any imperfections in the slab's surface after dowel bar insertion.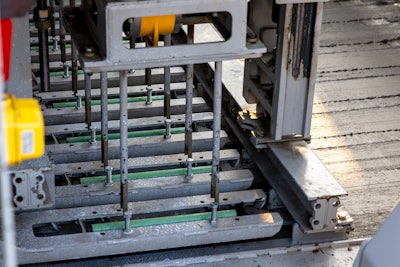 Customers can choose the optional compact dowel bar insertion (DBI) system. Its hydraulic floating floor is designed "to maintain the integrity of the initial slab and improve reconsolidation around dowel bars after the insertion process" for paving a wet or dry slump, according to Power Pavers.
"Each bar is held and guided into the concrete to prevent skewing, even while crowning. When running DBI, the machine utilizes a collision avoidance system to prevent center tie bars and DBI from inserting at the same location."
The DBI is mounted behind the operator's platform for direct bar loading and placement visibility.
Another innovative feature on the paver is "vibrator cruise control," which automatically adjusts the vibrators for consistent speed even during changes in concrete slump and fluctuations in oil viscosity.
"For super-elevations and intersections, an exclusive crown-distance compensation feature provides automated crown transitions between the mold, DBI and OCB," the company says.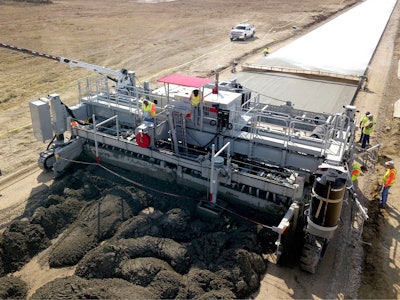 The four-track paver runs on a 310-horsepower Cummins engine. It is equipped with TrackSmart crawler propulsion for positive traction and speed control at slow speeds.
The paver gets a new onboard diagnostics system that does not require a laptop to view fault codes. The paver is equipped with common bolt sizes and color-coded wiring for simpler maintenance. A wraparound walkway provides access to both engine compartments. The canopy top folds for transport.
The company offers optional 3D machine control readiness for stringless paving with Topcon, Trimble or Leica Geosystems.
Quick Specs
Tractor net weight: 87,000 lbs.
Max paving width: 40'
Engine: 310-hp Cummins B6.7 diesel
Speed: 120 ft/min
Min tractor transport LxHxW: 35' x 8.17' x 7.33'