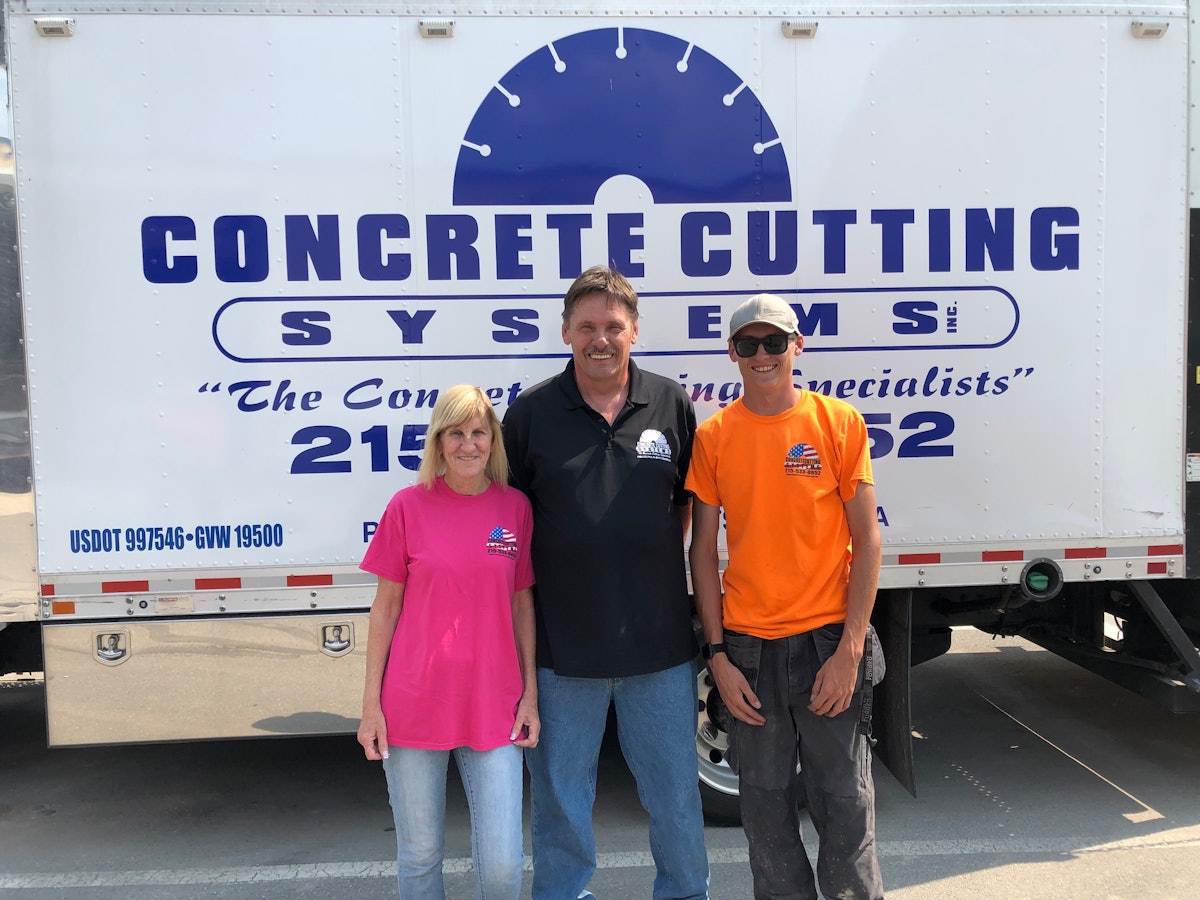 Concrete Cutting Systems of Pennsylvania has been named the winner of the 2021 Safety Award, presented annually as part of Equipment World's Contractor of the Year Award program.
David Nevrotski started Concrete Cutting Systems in 1995 in the basement of his house in Philadelphia. Today, it is an $11 million to $13 million company with 75 employees, including a branch office in Pittsburgh. Along with being the safety award winner, Nevrotski is one of 12 Constractor of the Year finalists for 2021. The awards were presented September 25 at a ceremony at the Wynn hotel in Las Vegas. Presenting the safety award was Hiro Tongu, marketing manager at Caterpillar, a sponsor of the Contractor of the Year program for 21 years.
Specializing in difficult concrete cutting and drilling projects – with blades as large as 66 inches in diameter – the company makes safety a top priority so its workers go home each day injury-free.
Despite the dangers of the job, the company has experienced no lost-time injuries, no OSHA violations and has an experience modification rate of .73.
All of its workers have been certified to meet stringent federal silica dust requirements that took effect in recent years. All workers also have OSHA 10 certification, and many are cetified to OSHA 30.
Concrete Cutting regularly brings in a safety consultant to perform training. It also offers employees CPR instruction. Every month, a company-mandated stand down occurs to discuss  various safety topics.
Workers are also encouraged to bring up any concerns or suggest improvements. The company has offered incentives for workers who follow safety practices.
Often working at night on road projects, their trucks can be seen from far away by motorists, with lights underneath, on top and a strobe on the back. The company demands that the prime contractor have an attenuator truck on the jobsite and that when possible Jersey barriers and other safety structures are in place. Their workers can also be seen wearing lighted hard hats for additional protection.
"We try to get as much of the newest and best safety equipment out there," Nevrotski says.
During the pandemic, the company policy was one person per truck. Each truck was also sanitized every day after returning to the office. Employees were provided masks, hand sanitizer and followed social distancing practices.
"They are extremely safety oriented," says Mark Bastian, senior vice president of CTX Infrastructure. "We do work for natural gas utilities, which have some of the more stringent safety requirements. We have never had an issue with using them as one of our subs on the jobs."
Adds another contractor client, Bryan Fleming of James J. Anderson Construction, "Their safety practice is one of the best around in the industry."