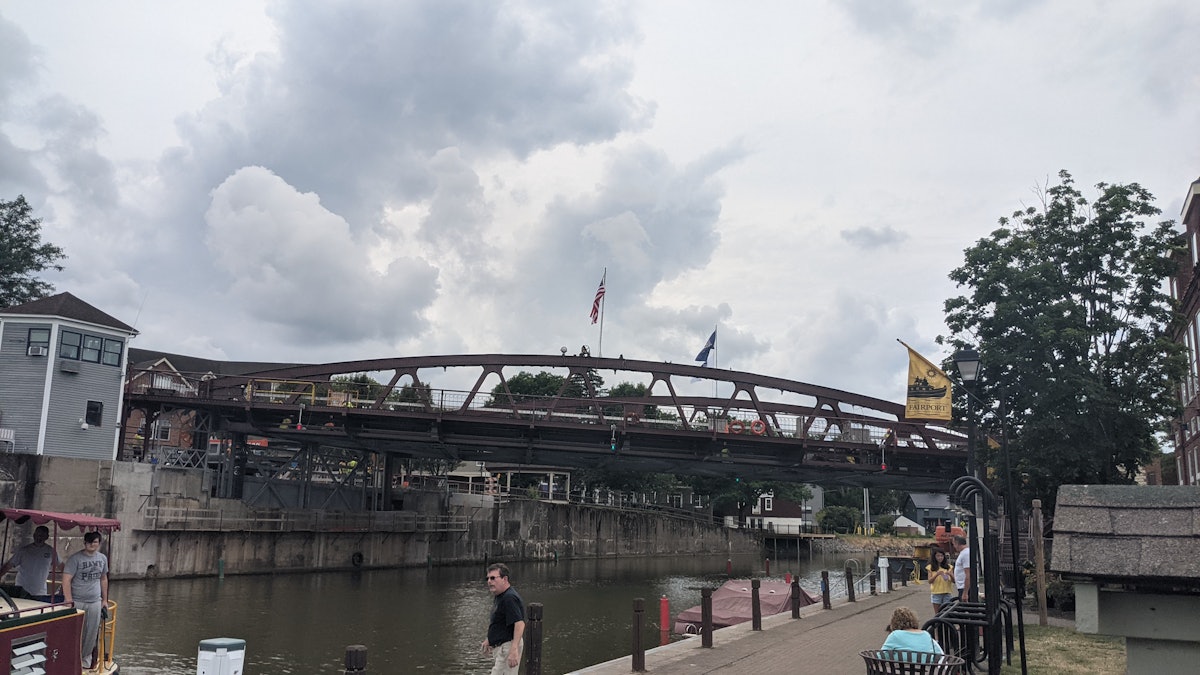 A 107-year-old bridge – called one of New York state's most unusual bridges – has been reopened after a two-year closure for renovations.
The lift bridge in Fairport over the Erie Canal closed in September 2019. The New York State Department of Transportation undertook a $16.8 million project to replace the bridge deck and upgrade the bridge's lift mechanisms and control tower. The funding also included the nearby Spenceport canal bridge, which has also reopened.
The bridge on Fairport's Main Street was named "one of the most unusual bridges in New York State" in a 1976 study by the Landmark Society of Western New York.
The bridge was completed in 1914 at a cost of $75,000. The 139-foot bowstring truss bridge was designed with an irregular 10-sided design with no square corners on its deck. No two angles on the bridge are the same.
Because of restraints engineers had to deal with, one side of the bridge is steeper than the other. The deck has a 4% slope. It also crosses the canal at a 32-degree angle.
The west truss, instead of being a through truss, was shortened about 25 feet, according to a 1914 article by engineer Charles R. Waters reprinted in 2014 in the Perinton Historical Society's Historigram newsletter. A 20-foot extension girder with a triangular roadway shelf spans the remaining distance, the article said.
The original deck was made of yellow pine but was replaced years ago with steel grating. The bridge lifts 10 feet 7 inches. It was originally operated with two 37-horsepower motors. An operator controlled the motors from the two-story operator cabin on the bridge's southeast corner. The motors, linked to an operating shaft, raised and lowered the bridge with two cables. The bridge was later run with a 40-horsepower electric motor, according to The Erie Canal website.
It used to be that car traffic was so light, that the bridge remained in lift position and was only lowered for a vehicle to cross. Stairs enable pedestrians to cross the bridge when it is lifted. As time passed, the bridge remained in down position and was lifted for boats.
The lift bridge was scheduled to reopen in November 2020, but the pandemic created supply chain backups, causing delays in the fabrication of the specialized parts for the lifting apparatus, according to the New York State Department of Transportation.
The bridge officially reopened July 2.