Despite some fear of a potential recession, construction spending and employment have increased, according to separate analysis of federal data by the Associated General Contractors of America and Associated Builders and Contractors.
Construction spending, not adjusted for inflation, totaled $1.9 trillion at a seasonally adjusted annual rate in April, 1.2% above the March rate and 7.2% year-over-year.
Analysis showed that gains in nonresidential and multifamily construction spending offset an ongoing plunge in single-family homebuilding.
From an employment perspective, the construction industry added 25,000 jobs in May, as the sector's unemployment rate dropped from 3.8% in May 2022 to 3.5% today.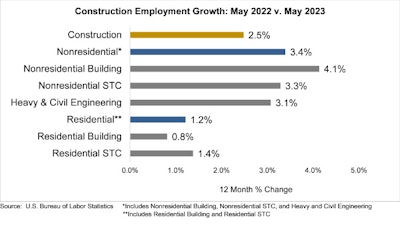 On a year-over-year basis, industry employment has increased by 2.5% or 192,000 jobs.
"There has been no letup in most categories of construction despite worries about tighter credit and a possible slowdown in the broader economy," said Ken Simonson, AGC chief economist.
ABC Chief Economist Anirban Basu, who has been predicting a recession for some time now, admits that despite a slew of headwinds, including higher interest rates, prominent bank failures, a near-miss debt ceiling crisis, and pervasive fears of recession, money continues to flow into the U.S. nonresidential construction segment.
"Manufacturing-related construction spending growth continues to lead the way, but even segments that had been weak such as lodging are picking up steam," he said.
Spending strength was broad-based, rising in 13 of the 16 nonresidential subcategories monthly and was up in every category year-over-year.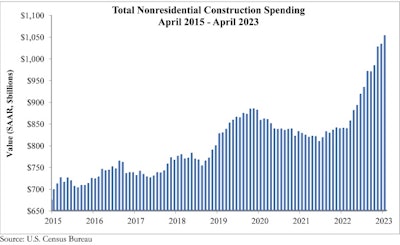 Private nonresidential spending was up 2.4% from March and 31.2% from a year earlier, the largest year-over-year gain in more than 15 years.
Similarly, the public nonresidential construction market also set a steep year-over-year increase of 16.8%, the steepest in the 30-year history of the data. Month-to-month, the public nonresidential spending increased by 1.1% in April.
As Basu noted, manufacturing construction jumped 8.6% in April and more than doubled over 12 months, rising 103.8%. 
Commercial construction, which is composed of warehouse, retail, and farm structures, climbed 0.7% for the month and 23.7% year-over-year. Highway and street construction rose 1.2% and 21.4%, respectively.
There was some increase in residential construction as well. 
Analysis showed private residential construction spending climbed 0.5% for the month but fell 9.2% for the year. 
Conversely, spending on new multifamily construction rose 0.6% from March and 24.9% from April 2022, the largest rise since 2016. 
However, total residential spending was dragged down by single-family construction, which declined for the 12th month in a row, falling 0.8% from March and 24.7% from April 2022.
Both economists appear to agree that the top concern for most contractors is finding qualified workers and not projects to bid on.
"It appears that the optimism that ABC contractors have been expressing about their prospects is proving justified," Basu said. "Backlog is stable and there is still evidence of significant pricing power, helping to support contractor profit margins. Moreover, public construction spending stands to remain strong even if the economy enters recession later this year, with considerable sums of money lined up to drive road, bridge, and other work during the years ahead."
Construction employment in May totaled 7,928,000, seasonally adjusted, an addition of 25,000 or 0.3% from the month prior.
Nonresidential construction firms — nonresidential building and specialty trade contractors along with heavy and civil engineering construction firms — added 22,100 employees in May with growth in all three categories. Heavy and civil engineering added 10,700 positions, while nonresidential specialty trade and nonresidential building added 7,200 and 4,200 jobs, respectively.
Meanwhile, employment at residential building and specialty trade contractors only grew by 0.1% or 2,500 jobs.
A related government report showed that new hires in the construction industry at the end of April totaled 460,000, growing 3% year over year. The data does not consider the number of workers who left the industry during the same timeframe.
Maintaining his position that an economywide recession later this year remains a possibility, Basu warned that 2024 may not be as fruitful as 2023.
"Momentum is especially apparent in the nation's nonresidential construction segment," Basu said. "The construction industry unemployment rate is now below the economywide unemployment rate, and there are plenty of available, unfilled construction jobs."
He and Simonson again appear to agree that wage increases will continue to be a pressure on construction firms.
Average hourly earnings for production and nonsupervisory employees in construction—covering most onsite craft workers as well as many office workers — jumped by 6.0% over the year to $34.07 per hour. Construction firms in May provided a wage "premium" of nearly 19% compared to the average hourly earnings for all private-sector production employees.
However, Basu suggests there remains a weakness in the economy with manufacturing specifically appearing to be in its recession and several state economies showing evidence of a commonplace definition of recession.
"The combined impacts of growing weakness in consumer spending, tightening credit conditions, lag effects associated with prior Federal Reserve rate increases, and uncertainty stemming from high-stakes elections could eventually catch up to the broader economy and certain construction segments," Basu said. "The onset of a developer-driven construction activity is especially at risk of a sharp downturn at some point over the next year."