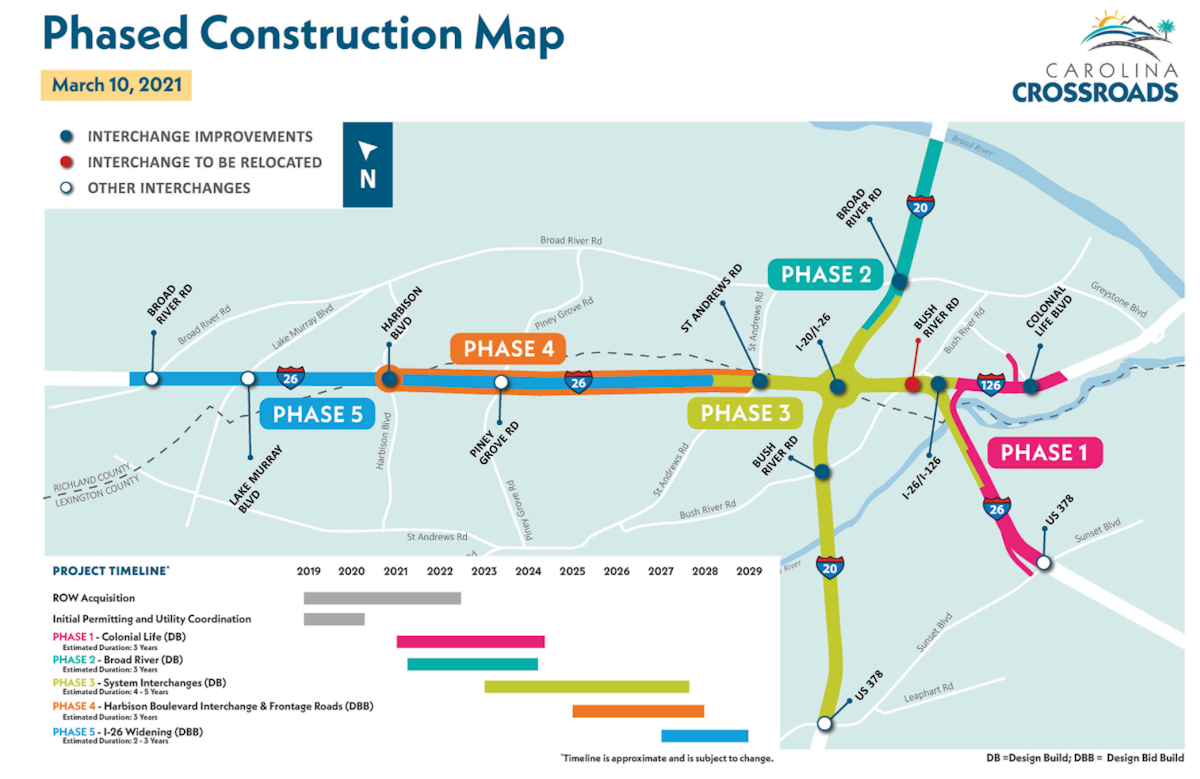 The S.C. Department of Transportation is ready to tackle Malfunction Junction, a confusing, traffic-jammed, unsafe interchange where three interstates converge in the Columbia area.
Called Carolina Crossroads, the first phase of the $1.7 billion project is pending contract approval with a joint venture of Archer Western and United Infrastructure Group. Construction on the $210 million first phase, which includes reconfiguring the Interstate 126 interchange at Colonial Life Boulevard and improvements on I-26 toward U.S. 378 is set to begin in Spring 2022 and be completed by the end of 2024, according to SCDOT.
The agency says that after the contract is approved, Archer-United will immediately begin work to finalize the design and perform other pre-construction duties. The design-build project is on "an expedited time frame," the DOT says.
"The upgrade and modernization of the intersection of I-20, I-26 and I-126 is critical to our economic vitality and will enhance the daily commute for thousands of South Carolinians," says S.C. Secretary of Transportation Christy A. Hall.
The three-interstate interchange is traveled by more than 134,000 vehicles each day, SCDOT says, causing more than 112 hours of traffic delays each year due to congestion.
The entire Carolina Crossroads project will consist of five phases to be finished by the end of 2029. The contract for the second phase is expected this summer, according to SCDOT, with the remaining phases awarded in ensuing years.
The entire project includes the following:
Widen 14 miles on parts of I-26, I-20 and I-126.
Reconstruct seven interchanges, including replacing outdated cloverleaf loops with modern ramp designs.
Create safer interchange exits that are farther apart and separated from other interstate traffic for better traffic flow.
The project is funded 90% federal and 10% state, according to SCDOT. 
The interchange area's roadways are outdated, built in the 1950s and 1960s with the last updates in the 1970s and 1980s, according to SCDOT. The region is also expected to see a 70% population increase by 2024, causing even more traffic congestion. The agency says the interchange sees a higher crash rate than other freeway-to-freeway systems in the state.