Hamm plans a slew of premieres at the upcoming ConExpo, with new models of compactors, including electric, pivot-steered, compact and pneumatic-tire models.
The company's display will be part of the joint John Deere-Wirtgen Group booth in the Silver Lot. The Wirtgen brand will also be showcasing its namesake cold milling, recycling, soil stabilization and concrete paving products, and Vögele asphalt pavers and screeds will be on exhibit.
(Click here to see more of what OEMs have in store for ConExpo 2023 on our show preview page.)
Hamm
Hamm plans to introduce the following:
Battery-powered tandem rollers under the HD CompactLine series. Hamm says the rollers' performance is equal to their diesel counterparts and can run for a full workday on one charge. Hamm plans to roll them out to the U.S. market toward the end of the year.
Soil compactors ranging from 12 to 27.5 tons under its new HC series, which was unveiled at Bauma 2022 in Germany. This will be the compactors' North American debut. They have 84-inch-wide drums and feature integrated Eco mode, 20% increased tread and 30% more space with more storage in the new Easy Drive cabs that are designed to be more comfortable. The rollers come ready to be used with Hamm's new Smart Doc, a free app for Android smartphones and tablets that shows compaction progress and links machine data to GNSS position data for self-monitoring, the company says.
Soil compactors in the 5.5- to 7.5-ton range under the HC CompactLine series. They will also be introduced to North America at the show. The company says the new compactors are more comfortable than their predecessors and have increased traction and gradeability. They, too, come ready for Smart Doc.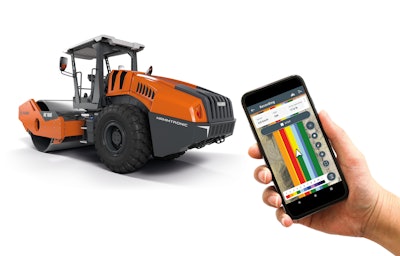 HP 100i articulated pneumatic-tire roller. The 6.5-ton asphalt compactor is making its world premiere at ConExpo. Its operating weight can be increased up to 11 tons with different ballast kits. It has five wheels on the front and four in the rear and a working width of 68 inches. Features include a three-point articulation joint and speed control based on the steering angle for taking curves safely at its higher speeds. Options include a water-sprinkling system and various scrapers. Hamm says it is ideal for chip seal and asphalt compaction on smaller construction sites.
Pivot-steered tandem rollers under the new HX series. Hamm calls the HX series its new flagship lineup for asphalt construction. They range in size from 7.5 to nearly 10 tons and are "designed for high-quality compaction," Hamm says. Customers can choose models with split and non-split vibration and oscillation drums, as well as combination rollers. They feature "automatic reversing," in which operator's seat automatically turns toward the direction of travel. Hamm says the system delivers quick yet smooth braking and acceleration. The seat also adjusts electrically. The window extends to the cabin floor for a view of the drums.
Remote-control HTC 15 articulated trench roller. It has two 32-inch-wide padfoot drums and uses infrared remote control, which keeps the signal from interfering with other radio links nearby. The roller stops as soon as it is out of the operator's sight. It weighs 3,307 pounds with a low center of gravity to prevent tipping, Hamm says.
HD+ 120i VIO-2 HF articulated tandem roller. The drums can oscillate or vibrate, which the operator can control from the cab. Hamm also gave the drums automatic functions, with vibration in front and oscillation in the rear. When traveling in reverse, the drums automatically switch modes. Hamm says this gives the roller high compaction power while keeping operation simple. It also achieves "homogeneous asphalt surface courses even at high driving speeds," Hamm says. The 13-ton roller compacts at over 4,000 vibrations per minute. It is scheduled to hit the market at the end of 2023.
Wirtgen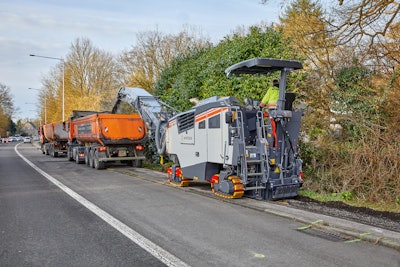 The Wirtgen brand plans to show the following products at ConExpo:
W 50 Ri half-meter cold milling machine with rear loading.
W 120 Fi front-load cold milling machine for working widths up to 4 feet 3 inches.
W 210 Fi cold planer for uses such as surface layer rehabilitation, complete pavement removal and fine milling work.
W 250 Fi, Wirtgen's most powerful large milling machine.
W 380 CRi cold in-place recycling and full-depth reclamation machine.
WR 200 XLi and WR 250i all-wheel-drive cold recycling and soil stabilization machines.
SP 15i offset slipform concrete paver. It can be operated by remote control.
SP 94i inset slipform concrete paver.
Wirtgen will also display the following technologies:
Mill Assist machine control, which "automatically adjusts the engine speed and the milling drum speed to deliver the actual power required for each situation," the company says.
AutoTrac satellite-based steering system for Wirtgen WR-series recyclers.
AutoPilot 2.0 machine control system for stringless concrete paving.
Vögele
Wirtgen Group's asphalt paver arm, Vögele, will exhibit several of its products designed specifically for North America:
Super 700i Mini Class paver with AB 220 screed, with paving widths of 3 feet 11 inches to 7 feet 3 inches.
Super 1300-3i Compact Class paver with AB 340 screed, which features a maximum laydown rate of 385 tons per hour and a pave width of up to 16 feet 5 inches.
Super 1703-3i Universal Class paver with VF 500 screed. It features pave speeds of up to 250 feet per minute and pave widths of 8 feet to 19.5 feet, with extensions.
Super 2000-3i Highway Class paver with AB 600 screed, which has a maximum laydown rate of 1,540 tons per hour and max paving width of nearly 28 feet.