Astec rolled out two new highway-class pavers at ConExpo, completely redesigning the Roadtec RP175 and RP195 models.
Along with a sleeker design and the updated branding, logo and color schemes instituted two years ago by Astec, the new rubber-tracked pavers are quieter and produce less vibration and heat to make life easier for operators and nearby workers.  
A redesign for the pavers had been a long time coming.
"We knew the machine needed a complete redesign facelift-wise," said Tom Travers, director of technical sales, from Astec's ConExpo booth. "So we went from steel doors and hood to fiberglass. You get a very streamlined design. We removed any visual obstacles of the operator in order to increase safety and visibility around the machine."
Travers adds, "It's probably the most visible machine in the industry when it comes to line of sight from either side." The operator has 270 degrees of visibility. Seats on the pavers hydraulically swing out for increased line of sight.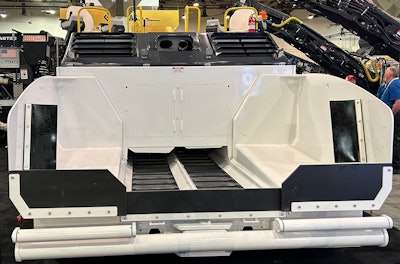 Travers and Astec engineers took a deep dive into the design. The pavers get a new undercarrieage with fewer moving parts to increase life and reduce maintenance costs.
One of the big design changes was moving the generator off the screed and putting it in the engine compartment. That reduces noise significantly. The generator is also no longer running off the paver's hydraulics, which gives the paver more power. The generator's size was also increased for more power for running lights when paving at night.
The cooling package was redesigned and relocated to the engine compartment, as well, so all heat comes out the front of the machine instead of blowing out the sides onto workers. The change also reduces noise. In all, decibel levels have been cut 20%.
The new Roadtec pavers are all equipped with Carlson screeds. Carlson is also an Astec Industries brand.
On hydraulics, Astec engineers reduced the number of hoses by 20% to curtail potential maintenance issues. The engine compartment has lots of room for maintenance as well as for performing prechecks.
"Our customers asked for as much access to everything, not only for maintenance, but for walk-arounds to catch things prior to failure," Travers said. "So that's what we did. When you open both doors, you can see right through this machine, and if you open the hood, too, it's almost 100% exposure. That's pretty rare in this industry. But it was a driving force behind our design."
Moving the generator off the screed also makes it easier to change screed plates or perform other screed maintenance.
The screeds offer efficient, consistent heat, Travers says. Astec added proportional valves for screed extensions to give operators more control and smoothness.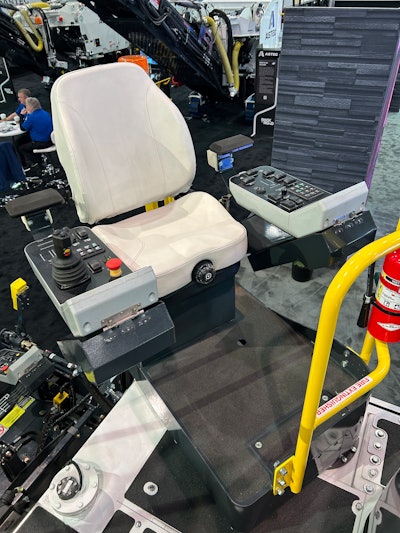 The operator controls are ergonomically designed for comfort and simplicity. The pavers come with a free year of Astec's Guardian two-way telematics system. Software updates can be automatically installed remotely without owners having to lose time on the job. Guardian even has a weather station to give real-time updates by Doppler radar.
"We've really gone the extra mile to put as much information in the customers' hands as possible to limit downtime and increase lifecycle value," Travers says.
The RP175 is scheduled to hit the market in the third or fourth quarter of this year. The RP195 should start full production in August. It is currently undergoing testing.
Quick specs
Roadtec RP195
Weight: 39,220 lbs.
Standard paving width: 10 ft. – 19 ft. 6 in.
Max paving width: 30 ft.
Engine: Cummins 230 hp Tier 4 Final (European Stage V)
Max paving speed: 210 ft./min.
Roadtec RP175
Weight: 32,500 lbs.
Standard paving width: 8 ft. – 15 ft. 6 in.
Max paving width: 24 ft.
Engine: Cummins 173 hp Tier 4 Final (European Stage V)
Max paving speed: 210 ft./min.