Displaying its products at ConExpo for the first time in 12 years, New Holland Construction leaders announced a renewed focus for the brand.
Despite its heavy agriculture presence and larger sister company Case Construction Equipment offering some similar construction products, they stressed that they see a bright future for the New Holland brand in construction equipment and spoke of gaining market share among its core segments – no longer competing with Case, but cooperating.
"Our brands are going to cooperate to gain market share," said Scott Wine, CEO of New Holland and Case parent company CNH Industrial.   
The two brands have clear customer targets.
"The mission for the New Holland Construction is to truly have customers coming from the agricultural and landscaping segment. So, the mission of the machine is very well defined," said CNH North American Construction President Leandro Lecheta. "The Case brand is more oriented … to the general construction segments. So a kind of a slightly different mission for the machines, for the brand and also for the dealer supporting each of our customers."
To that end, New Holland Construction unveiled its new C330 compact track loader; its first stand-on mini track loader, the C314; and its first electric compact excavator, the EX15. (We'll take a look at those a little later in this article.)
"Are we staying in construction?"
Speaking during a press conference at ConExpo in March, Wine noted that Case IH and New Holland Agriculture are each $7 billion brands in the farming sector.
The construction equipment brands overall represent about $3.6 billion of CNH's $23 billion in annual revenue for 2022, he said, with Case being a larger percentage of the company's construction segment than New Holland.
Wine acknowledged that some may have questioned CNH's commitment to New Holland Construction in the past, and he sought to counter that sentiment. "I will tell you that anybody that asks, … 'Are we staying in construction?' The answer is a resounding 'yes.'"
Wine noted that just over a year ago CNH split from Iveco Group, which produces on-highway heavy trucks and buses and FPT industrial powertrains, freeing up resources for its construction brands.
"That business consumed a lot of our capital, and we couldn't always invest as much as we wanted to invest in construction," he said. "And now we have the opportunity."
CNH generated over a $1.5 billion in cash last year, he added. "And we can spend a lot of that expanding the portfolio for both New Holland and Case. We think that gives us a great opportunity to grow."
He said he sees much opportunity for growth in New Holland and Case's respective markets.
Wine, who joined the company in January 2021, also noted CNH's acquisition of Italian construction equipment manufacturer Sampierana as playing a role in that strategy.
"The acquisition of Sampierana was in my first year. And I think it really showed the board of directors of CNH, how committed they are to the construction business. And as we look at it, really the opportunity for further penetration of the Ag segment, through the New Holland brand is just really, really exciting. And I'm looking forward to being part of it over the next several years."
New compact track loader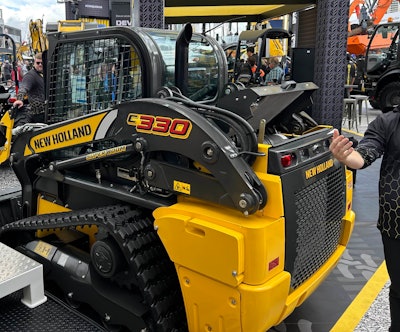 Now let's take a look at the new rollouts from New Holland Construction at ConExpo.
The new C330 compact track loader is expected to hit the market at the end of this year, according to Ryan Anderson, North America product marketing manager.
Landscaping and residential contractors are some of the primary customers being targeted because of its compact size at 68 inches wide, yet its 67-horsepower engine and 3,000-pound rated operating capacity.
"Landscapers are working in environments which are getting smaller and smaller," Anderson said. "Properties, lot sizes are getting tighter and tighter. … They need machines to get in there but also have the strength to lift those loads."
Residential contractors can also benefit from its maneuverability as well as its ability to handle rocks, timber and other materials, the company says.
Anderson said the CTL was designed specifically for New Holland's customers. "A lot of time and effort has gone into developing this and to make sure it's exactly what it needs to be."
The C330 has vertical lift and features New Holland Construction's Super Boom, which has "low shoulder positioning and small towers to enhance operator visibility and worker safety," the company says. It has higher vertical and longer horizontal reach for loading trucks.
"Operators have an unobstructed view of attachments and a large visibility panel in the cab roof for a clear view of overhead attachments," the company says.
Other features on the loader include electro-hydraulic controls and the ability to switch between ISO and H-pattern controls. EZ E-H allows the operator to customize speed and sensitivity settings.
The cabs are the same as other New Holland 300 series compact track loaders and have an 8-inch color display, which the company says is the largest on the market mounted on a CTL.
New mini track loader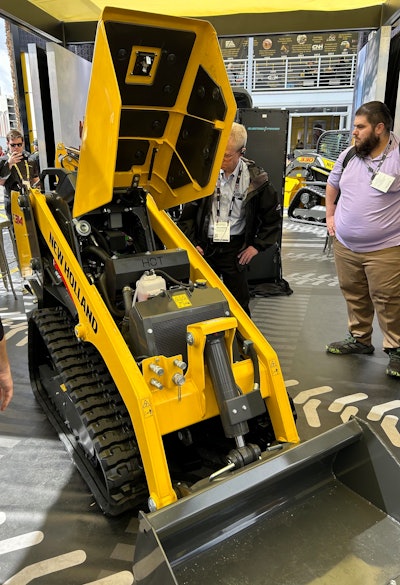 Both Case and New Holland have added a new category to their lineup, the mini track loader.
New Holland Construction's version, the C314, is scheduled to launch in early 2024. It is designed to be lightweight and narrow, at 35 inches wide, and a "jack-of-all-trades machine," able to dig, drill and load, among other things.
With its ability to run a wide range of attachments, its uses include paving patios and walkways; moving cut pieces of brush, trees and shrubs; erecting foundations and decks; laying footings for a small building; fence line work; and irrigation or drainage tasks.
The radial-lift loader has a 25-horsepower Kubota engine and rated operating capacity of 1,000 pounds at 35% of tipping load. Auxiliary hydraulic flow is 15 gallons per minute. Operators are positioned forward and close to the center of the machine for increased stability. Controls are designed for ergonomics and ease of use.
"A lot of focus was placed into the operator's position and ergonomics," Anderson said.
More details are expected to be revealed later this year or early next year.  
New electric compact excavator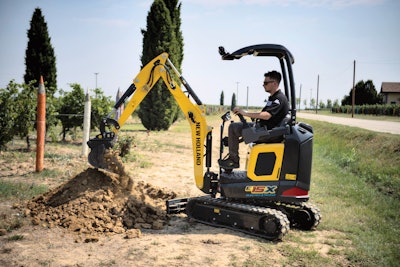 The EX15 is New Holland Construction's first all electric machine. The compact excavator has a battery runtime of 4 to 8 hours, depending on its use.
Time to reach 100% charge is 10 to 12 hours in a 110-volt outlet. New Holland also offers a fast solution for 2- to 3-hour charges, Anderson says.
The company says it is equal in power to its diesel counterpart, the E14D, and the cobalt-free lithium battery is equivalent to 29 horsepower.
"It has the same overall functionality you would get from a regular mini excavator," Anderson said. He cited its extendable tracks for a wider stabilizer, a two-way blade for backfilling and a variety of couplers and buckets.
Dealers began placing orders for the electric EX15 about a month before ConExpo, with arrival expected to have started in April. Target customers include general contractors doing indoor work such as for hospitals and schools where noise and emissions are an issue and the do-it-yourself rental market. "It's very easy to start, very easy to refuel, very easy to service – no more engine to worry about," Anderson said.