Automation has now come to road striping, with the newest invention from Civ Robotics, the CivDash.
The company, which introduced autonomous surveying robot CivDot last year, has rolled out a new device to automate marking roads that it says is faster and safer than manual processes.
"CivDash can mark up to 16 miles … of lines in a single workday," the company says. It claims a precision of 3 centimeters and does not require any tape or stringlines.
Along with speed, CivDash can be operated remotely up to 100 feet away in a safety truck to protect workers from traffic dangers.
The robot is battery-powered with 8 hours of runtime for striping roads, parking lots, airports and similar projects, the company says. It also has an obstacle-detection sensor to avoid collisions.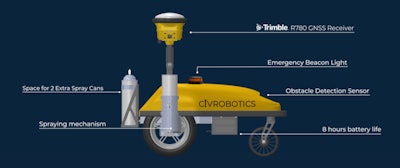 The operator can choose between solid or dash lines. The preinstalled CivPlan software provides the operation data for the CivDash and will even alert the operator when it's time to change the paint spray can. The device can carry two extra spray cans at a time.
CivDash is compatible with Trimble's R780 GNSS receiver and can connect to Trimble base stations, VRS and RTX correction services to deliver "centimeter-level accuracy," the company says. Trimble is an investor in Civ Robotics, a San Francisco-based tech startup.
Civ Robotics founder and CEO Tom Yeshurun started his career as a site engineer in road construction and sees CivDash as the company's first foray into the road construction market, with more inventions to come.
"We aim to redefine precision and efficiency in road marking by providing striping and road construction companies with a tool that sets new industry standards," he says. "This is just the beginning of our journey into this exciting new market."
CivDash weighs 25 pounds and is also compatible with other major manufacturers' base stations. Its CivPlan software can generate detailed reports of marked coordinates with time stamps, tolerance level and ground elevation, the company says.