When Cat first announced the switch from the D6K2 to the D4, the name change did not indicate a new machine. "We literally just pulled off the old sticker and put on the new," Sam Meeker, Cat product application specialist, told Equipment World last year. 
That is no longer true. 
Now it's the D4's moment to shine in Cat's new dozer lineup, and the improvements over the former D6K2/D4 are notable. These include an up to 30% increase in visibility to the area in front of the blade. Cat says these shorter sight lines mean the visual distance between the blade and the material pile is shortened by about 40% so operators spend less time backing up.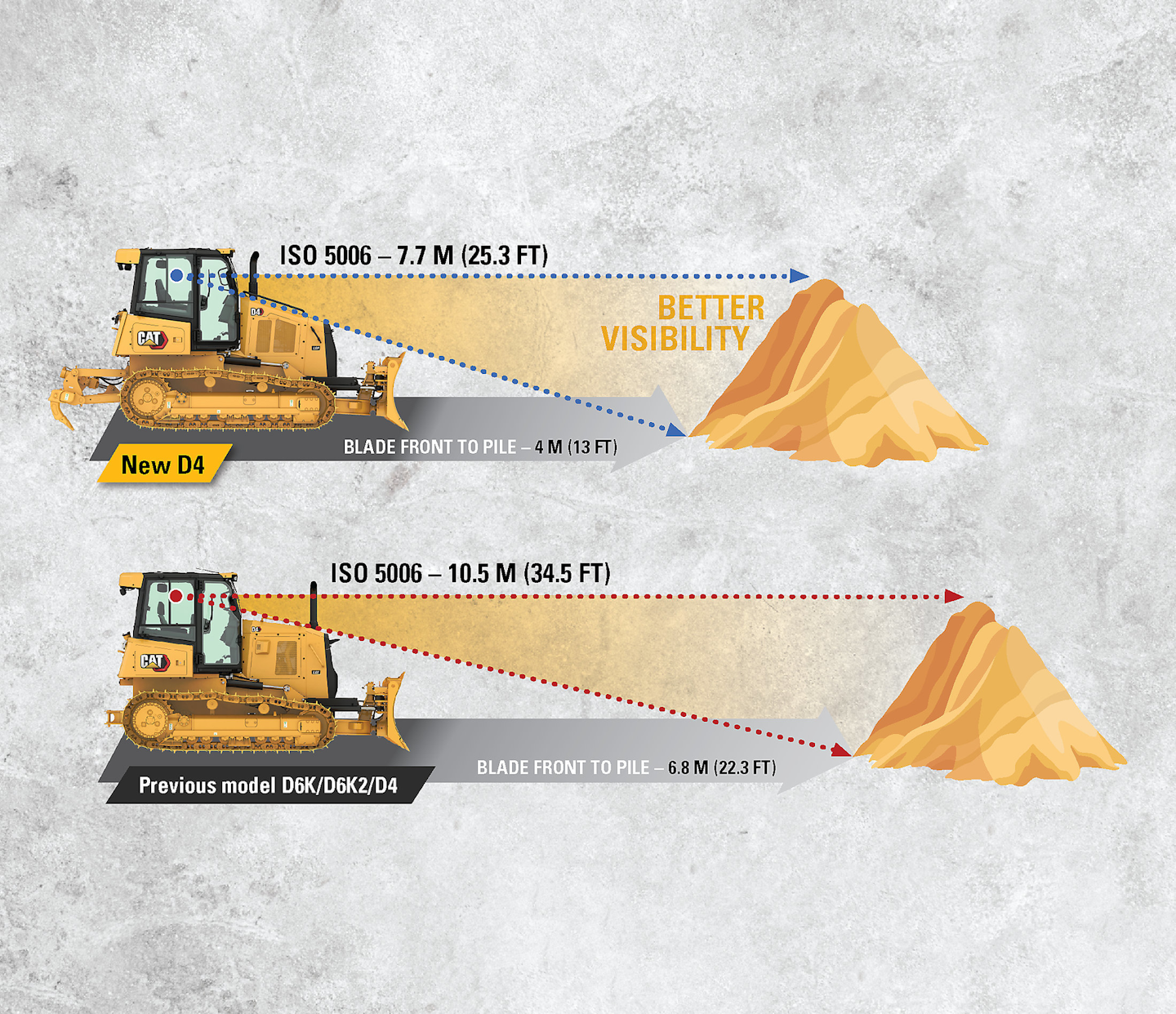 Visual distance between the blade and the material pile on the Cat D4 is shortened by about 40%.Caterpillar
The 130-net-horsepower D4 now also shares the 10-inch touchscreen main display that's common in much of Cat's dozer lineup. In-cab features include a standard high-definition rearview camera.
[Related: Check out our video on why Cat renamed the Cat D6K2 the D4.]
If you opt for Cat Grade with 3D, the 10-inch Grade operator interface is designed to work like a smartphone. And you can install custom Android OS platform apps.
Standard technology features include:
Slope Indicate shows machine mainfall and cross-slope on the main display. 
Stable Blade works with operator blade inputs for smoother surfaces.
Traction Control automatically reduces track slip to save time, fuel and track wear.
Optional technology on the D4 includes:
Cat Grade with Slope Assist provides basic blade positioning assistance without added hardware or a GPS signal. 
Factory Attachment Ready Option (ARO) provides mounting locations, brackets, and hardware, designed to simplify installation of any brand of grade control system and allow easy assimilation to your preferred grading technology. All Cat Grade systems are compatible with Trimble, Topcon and Leica Geosystems radios and base stations.
Cat Grade with 3D uses a GPS signal to automatically adjust lift and tilt blade movements as an operator follows a design plan. The low-profile roof-mounted spoiler houses the system's antennas and receivers. The system also includes Cat's AutoCarry, which automates blade lift, designed to get more consistent blade loads on each pass and reduce track slip.

Caterpillar
Longer service intervals —1,000 hours on engine oil and filter changes with Cat's Scheduled Oil Sampling program — contribute to a 7% decrease in maintenance costs. Service intervals have also been extended on the air cleaner and the diesel exhaust fluid pump filter. And LED lights offer up to six times the life of halogen. 
You can opt for either a low ground pressure or standard track configuration. The standard Variable Pitch Angle Tilt blade also comes with a foldable option to reduce transport width. 
Forestry and landclearing contractors can choose specialized guarding that protects against impacts and airborne debris. An impact-resistant cab with polycarbonate windows is also available.