Case Construction Equipment promises a new attitude and new equipment at ConExpo-Con/Agg 2023, as the 180-year-old manufacturer kicks off what it's labeling as "The New Case" at the industry's largest North American trade show.
"A focus on innovation is extremely important, but it isn't enough to support our industry in 2023 – our dealer network, our equipment and our team will build on our legacy and turn heads as we make moves to greatly enhance equipment users' productivity," says Terry Dolan, Case vice president, North America. "2023 will be a year where we reshape the industry and help businesses and equipment owners do better in all facets of their work. ConExpo is just the start."
Located in West Hall, at booth W405800, Case will highlight more than 30 new machines, attachments, technology and educational sessions with tips on best practices around technology, equipment, fleet management and more.
You can see more of what OEMs have in store for ConExpo 2023 on our show preview page by clicking here.
The company also promises numerous new product introductions including some entirely new categories, business solutions and brand partnerships. New product presentations will be held in the booth Tuesday through Friday at 10 a.m., 1 p.m. and 3 p.m.
"These are just some of the ways Case is digging deeper, pushing harder and reaching higher to help contractors and business owners win," says Brad Stemper, director of product management, North America. "We are focused on delivering swift, smooth and smart machines with an operator-first focus and industry-leading hip-pocket support from field staff and dealers throughout North America."
He said the company is making moves with the speed and agility of a startup — all anchored in 180 years of experience in the earthmoving business. 
Last year, Case launched the Case Minotaur DL550, creating an entirely new equipment category: the compact dozer loader. The DL550, which will be showcased at ConExpo, is designed for landscaping, tight jobsites and forestry applications, with Case noting that many of the pre-ordered units are going to landclearing customers.
"We're moving forward with that same hustle on innovation and practical solutions that will make a difference for businesses throughout North America," Stemper said.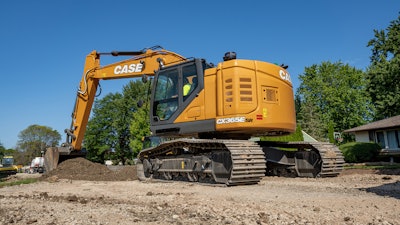 Among the highlights will be the new Case E Series excavators. The fall rollout of the series featured seven new models, including two entirely new excavators, the CX190 and the CX365E short radius, whose designs are focused on enhancing the total operator experience. New models are set to be shown at the show.
Contractors were given a sneak peek at one of the new machines, the Utility Plus backhoe loader, at the ARA Show in Orlando, Florida, last week. The economic model drops some of the bells and whistles found on a standard loader, resulting in a 15%-20% lower purchase price. While no official specs are available, it shares similarities with the Case 580N EP backhoe.
Rebecca Bortner, Case director of marketing, noted that all great companies and great brands evolve. "'The New Case' marks the next step in our evolution as a brand, and we're looking forward to making some waves in the industry."