A recent study by Travelers Companies Inc. shows time on the job and age can play a significant role in the chance of employees being injured on the job.
In today's economy, most construction firms continue to have difficulty finding "new" skilled laborers. 
Travelers 2023 Injury Impact Report, which examined more than 1.2 million workers' compensation claims from 2016 to 2020 leans into the importance of experience, meaning those first-year employees tend to be the ones that are injured.
"The data highlights two populations to watch when it comes to workplace injuries: new and aging employees," said Rich Ives, vice president of business insurance claim, Travelers.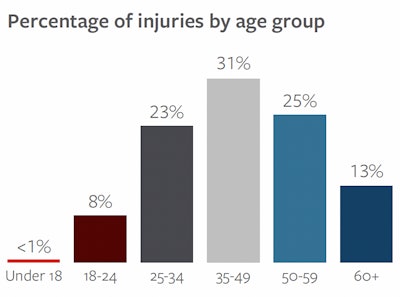 According to the report, employees in their first year on a job, regardless of their age or industry experience, represented more than one-third, 34%, of all claims and accounted for nearly 7 million missed workdays due to injury. 
Industries referenced in the study included construction, wholesale, small business, and manufacturing.
A list no industry wants to be at the top of, construction led the way with the highest average number of lost workdays, 99, per injury.
Comparatively, the average across the four industries was 71 missed workdays.
Injured employees from small businesses missed an average of 79 workdays, while wholesale and manufacturing netted 69 and 66 workdays, respectively.
The data showed that, within the construction industry, 47% of injuries were to first-year employees, which also drove more than half, 51%, of all construction workers' compensation costs. Restaurants were the only industry higher than construction in this section.
In addition to time on the job, age also was found to be a considerable factor.
Those in the middle age group of 35-49, had the highest percentage, 31%, of injuries when compared to other groups. 
Though they were injured less often than most other age groups, employees aged 60 and older had higher average costs per claim, totaling nearly 15% more than employees between the ages of 35 and 49 and approximately 140% more than those ages 18 to 24.
The U.S. Bureau of Labor Statistics projects the number of people in the workforce aged 65 and older will account for 60% of the growth in the labor force in the next decade. Depending on the industry, that increase could be costly in terms of insurance claims.
Across all four industries, overexertion accounts for almost a third (29%) of the claims. In the context of the report, examples of overexertion include twisting, reaching, lifting, wielding, or using machinery, among others.
The remaining top five types of injuries were slips, trips, and falls 23%; being struck by an object 13%; motor vehicle accidents 5%; and caught-in or caught-between hazards 5%.
While overexertion remains at a quarter of the claims, it was slips, trips, and falls at 27% that took the top spot for construction workers. From that point, claims from those struck by an object made up 14%;  cuts and punctures at 7%, and motor vehicle accidents at 6%.
At 38%, strains and sprains accounted for most injuries, followed by fractures at 13%; contusions at 8%; inflammation at 7%; and dislocations at 7%. 
According to the researchers, dislocations were the costliest of the most common injuries, coming in at almost three times the average cost per claim. Slips, trips, and falls were among the most common causes of injuries and cost 35% more than the average claim, closely followed by motor vehicle accidents at 33%.
The injury breakdown for construction workers generally mirrored that of other industries, with sprains and strains accounting for nearly a third, fractures at 21%, dislocations at 10%, cuts and puncture wounds at 7%, and contusions at 6%.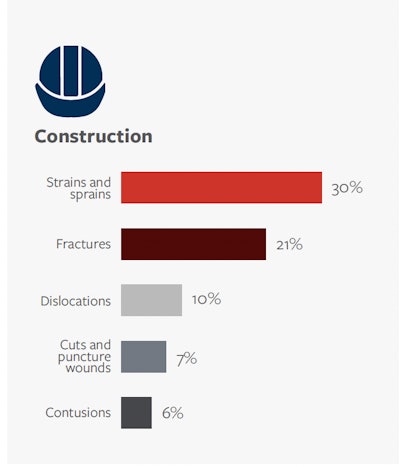 In addition, again nearly duplicating other industries, lower back, shoulder, and knee injuries each represents about 11% of the total All four industries had those as the top three in some fashion, except manufacturing that slipped finger injuries as its third instead of knee.
Data shows that slips, trips, and falls caused employees to miss an average of 83 workdays, followed by motor vehicle accidents (79 workdays); overexertion (71 workdays); and being struck by an object (67 workdays).
As for the outliers, amputations led to some of the most expensive claims, costing nearly five times the average, followed by electric shock and multiple trauma injuries, such as breaking multiple bones at once. Together, these injuries accounted for slightly more than 1% of claims.
"After an injury, an employee's road back to work can be difficult, and the longer they remain out, the harder it can be for them to return," Ives said. "Especially if they're dealing with a psychosocial barrier, such as fear or worry. That's why a holistic approach to recovery is so critical, and why we recommend employers promptly file claims after an incident so that injured workers can immediately receive the help they need."