JLG has launched a new SkyTrak telehandler, the 6034, and redesigned its 6042, with both featuring 6,000 pounds of lifting capacity and lighter operating weight for easier transport.
The company says the new 6034, which replaces the 6036, is light enough at 14,500 pounds to be hauled with a standard pickup and trailer. The 6042 weighs 19,100 pounds, two of which can fit on one flatbed trailer.
The 6034 has a lift height of 34 feet and forward reach of 23 feet. The 6042 has a 42-foot lift height and 29-foot forward reach. They are narrower, at 95 inches wide, and get smaller tires for a tighter turning radius.
JLG says they are ideal for handling, loading and unloading bulk materials on a variety of jobsites. They both run on a 74-horsepower Deutz diesel engine that doesn't require diesel exhaust fluid to meet Tier 4 Final emissions standards.
The cab gets a new design and has a larger LCD screen for displaying more data and larger single-page load charts. The telehandlers also get a new advanced control system that can handle such options as load stability indication, which senses forward load capacity and displays it with color coding; seatbelt engagement and operator presence; and improved diagnostics, the company says.
Boom speed has been increased 8% over previous models, and JLG reduced the number of hydraulic hoses and connections on the telehandlers by 30%. "The top-mounted telescopic cylinder provides easier access for service, and the rear access door on the frame has been replaced with a bolt-on panel for added durability," the company adds.
Standard Features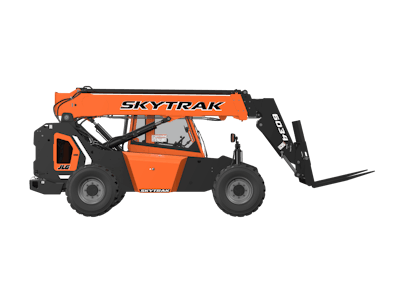 Other common standard features on the telehandlers:
Two

-wheel,

four

-wheel and

four

-wheel crab

steering modes.

Hydrostatic transmission.
Inching functionality, which allows operators to run the boom at high speeds without shifting the transmission into neutral.
Single electric

–

over

–

hydraulic joystick

, which includes

auxiliary hydraulic function and attachment tilt.
Common coupler for use with all JLG and SkyTrak attachments.
Auxiliary hydraulic connections on

t

he side of the boom head

for quicker attachment change.

Boom-mounted lifting lug

to

handle a suspended load.
Integrated tow hitch on the rear counterweight

.
Available Options
A variety of options are also available:
M

ulti-reverse camera system

that displays

multiple views from behind the machine to the left, right and rear.

It

can be used day

or

night and

consists of

l

eft and right-side backup cameras, a

R

ear backup camera and a tri-view monito

r.

R

everse sensing system

that sounds an

alert

when

the telehandler approaches

rear obstructions

.

W

hite

–

noise backup alarm

that sounds

as

the telehandler

travels in reverse.
Quick Specs
Operating weight: 14,500 lbs. (6034); 19,100 lbs. (6042)

Engine: Deutz 74 hp

Rated capacity at 24" load center: 6,000 lbs.

Max lift height: 34'5" (6034); 42'4" (6042)

Capacity at max height: 4,000 lbs. (6034); 6,000 lbs. (6042)

Max reach: 23'2" (6034); 25'6" (6042)

Capacity at max reach: 1,000 lbs. (6034); 1,200 lbs. (6042)

Width: 95"

Ground clearance: 15"

Max travel speed: 15 mph