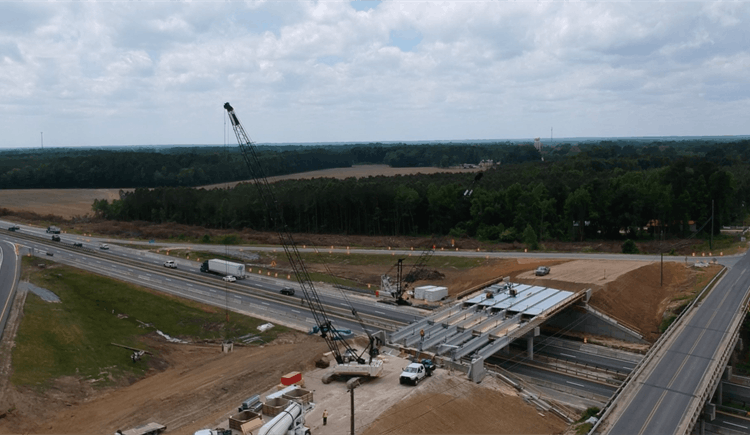 A new $236.5 million contract has been awarded to continue widening Interstate 95 in eastern North Carolina, part of the highway's first overhaul in the state in 60 years.
The project will widen and upgrade a nine-mile section of the interstate, which first opened in 1959, according to the N.C. Department of Transportation. The widening from four to eight lanes extends from north of Exit 71 in Harnett County to the I-40 interchange in Benson.
Along with widening, the joint venture of Flatiron and Fred Smith Co., will also do the following, according to NCDOT:
Replace two culverts with single-structure bridges to improve water flow underneath the interstate in a section that was flooded and closed due to recent hurricanes.
Rebuild Exits 72, 73, 75 and 77 to modern standards with taller, wider bridges, longer acceleration lanes and realigned service roads.
Retain the N.C. 50 bridge at Exit 79 and construct roundabouts at the on- and off-ramps to improve safety and traffic flow.
Construct a new overpass connecting South Market Street and Cub Road. The new overpass will not have interstate access and is designed to alleviate congestion in downtown Benson, NCDOT says.
Work is set to begin after August 30. The contractor has a deadline of Summer 2026. The widening and upgrade between exits 55 and 71 is scheduled to be completed in the summer of 2024.
The project is similar to widening, bridge replacements and other upgrades already underway on 15 miles of I-95 in Cumberland County, scheduled to be completed in 2024. That work, estimated at $404 million, began in 2019.
Over 56,000 vehicles travel the highway each day, NCDOT says.