The construction site for the future world's largest data center for Meta, formerly known as Facebook, has become a national testing ground for electric and hybrid construction equipment.
Turner Construction is the general contractor for the two-building expansion project that began in 2021 on 200 acres in Altoona, Iowa, where hundreds of workers are on site daily. The campus will span 5 million square feet when completed in 2025 and become Meta's largest data center in the world.
Turner has partnered with Meta and Sunbelt Rentals on reducing the construction site's carbon emissions. The contractor has also set a goal of cutting in half greenhouse gas emissions and water consumption on its construction sites by 2030. Sunbelt supplies the site with rental electric and hybrid equipment. 
"The purpose of the pilot was to figure out who's going to be the first to test some of this equipment in a real-world application," said Mike Bahr, Turner sustainability engineer, during a panel discussion May 3 at the Advanced Clean Transportation (ACT) Expo in Anaheim, California.
Reaching their goals has required a different type of contract structure. Rather than the traditional method of project owner and general contractor working out the contractual details and those trickling down to subcontractors and equipment suppliers, Turner, Sunbelt and Meta all worked together as partners, each seeking to achieve their own carbon reduction goals. Working directly with the rental company helped speed up the process, Bahr said. "They have contacts and knowledge and information that we nor Meta would ever have on (our) own. So this allowed us to quickly assess the market, understand what's out there, and start looking at ways to roll it out."
Some of the equipment used on the project include a JCB electric mini excavator, Kobelco hybrid excavator, Polaris electric UTV and a Cat hybrid dozer. The project has also used a hybrid light tower, an electric forklift and on off-grid energy storage system. It was the first time the equipment had been tested on a remote jobsite, Bahr said.
The equipment reduced carbon emissions on the site by varying degrees. The all-electric machines achieved 100% carbon reduction, while the Kobelco and Cat diesel-electric hybrid machines achieved about 20% reduction, according to Bahr. The hybrid light tower yielded a 77% reduction, while the energy storage system had a 73% reduction. Both the light tower and storage system came with a rental premium, which was offset by savings on fuel, operations and labor.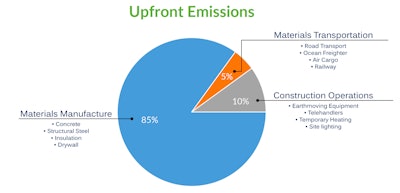 Another aspect of the project involved getting feedback from operators of the electric and hybrid equipment.
"Part of what I think makes this pilot so unique is that a lot of our feedback are operators who've been operating diesel excavators and equipment for 15 or 20 years, and then we're putting them in the seat of some of this new equipment and asking them what do they think? Do they like it? Is it safe?" Bahr said. "And a lot of times we've actually been able through Sunbelt to provide that feedback directly back to the OEMs we're working with."
Each piece of equipment was evaluated on its strengths and weaknesses on the job. Some of the strengths of the electric equipment were reduced operating, mechanical and labor costs, less noise and vibration, improved air quality and reduced operator fatigue, according to a Turner report. By the end of the project, which is scheduled for 2025, about three dozen different low-carbon machines will be used on the jobsite, Bahr said. Those include electric telehandler, compact track loader, scissor lift and full-size excavator. 
Battery charging has been a challenge.
"In a lot of instances, we need more power from the utility than we're able to get," he said.
To prepare for the project, Turner purchased chargers before it knew exactly what equipment would be on the site. It also has targeted equipment by battery usage to prevent downtime for charging.
"We have been trying really hard to target equipment that has an expected runtime equal to a full day's worth of work. We're running 10-hour days a lot," he said. "So we're looking for equipment that can run 8 to 10 on its own usually and then charge overnight."
For machines like a mini excavator, which has 4- to 5-hour runtime, power can be provided at the digging location, and the operator can plug it on work breaks. "You can leave the unit where they're going to pick up, plug it in for 30 minutes or an hour, and then they come back, and it's given it enough juice to get it to the next break."
Overall, Bahr has been pleased with the results of the electric equipment.
"It makes for a better jobsite, from noise, from safety, from the smell of running diesel equipment in a building envelope that's not finished," he said. "It's just better for people. And that's what sustainability is here for."
Another big advantage has been lower maintenance costs, thanks to telematics and also that you're not dealing with diesel engines and aftertreatment.
"The biggest advantage is a lot of it can be done remotely; so you're not calling a tech waiting for him or her to drive from 45 minutes away, get on site, diagnose it," he says of telematics. "You can do it within a couple of minutes remotely. And it provides a lot of additional uptime."
"For the project manager of that subcontractor who's paying the maintenance costs," he adds, "it makes his profitability better and his job better, that he has less maintenance to do."