As space gets tighter on jobsites, particularly in urban areas, Manitou has responded with three new compact telehandlers that are only 6.5 feet wide by 6.5 feet tall, yet still able to lift 3 tons up to two stories high.
The new fixed-boom MT 730, MT 930 and MT 930 HA are made for rough terrain as well as interior work on residential, small commercial building and renovation projects. They have ground clearance of 13.6 inches, which Manitou says is best in their class, and a tight turning radius of 10 feet 8 inches, thanks to their rear-swing axle. (A video of the telehandlers in action is at the bottom of this article.)
The MT 730 reaches up to 23 feet high. The MT 930 and MT 930 HA extend 29 feet 5 inches up. The HA model has a three-person work platform.

Along with squeezing between tight spaces, the telehandlers' compact size makes them easier to transport. Manitou designed the fork mounting system to fold inward, to make the machines even shorter for hauling and storage.
Manitou has also added a host of innovative cost-cutting, safety and performance features.
The telehandlers can be equipped with an optional automatic Stop & Start feature to prevent their engines from running when stopped. The idle time can be set from 1 to 30 minutes. Once the time is up, the engine will stop. When the accelerator pedal or joystick is enganged, the engine will restart without having to turn the ignition.
This automotive-style feature not only reduces fuel consumption, but leads to reduced noise, emissions and engine hours for lower cost of ownership and higher resale value, said Juliette Coinet, global product manager for telehandlers, in announcing the new machines.
Another cost saver comes with Manitou's new hydraulic oil analysis system. The comany has made it easier to collect, drain and recondition the hydraulic oil with two caps under the boom. "This is quick, this is cheap, this is simple," Coinet said. "And you take care of your oil recycling issues that are always a nightmare on jobsites."
With the auto stop and start and hydraulic oil analysis system, Manitou says the MT 930 telehandler has an hourly operating cost of about $23, "the lowest cost on the market for this segment."
When it comes to performance, the telehandlers are equipped with 75-horsepower Stage V engines. (Stage V is the new European emissions standard, which also meets U.S. Tier 4 Final standards.) Their hydrostatic transmission, Coinet says, "offers you smoothness, precision, control and simple gear shifting while driving."
They have three steering modes: two-wheel, four-wheel and crab mode. A new boom with built-in cylinder provides increased operator visibility and additional safety when loading and unloading.
Manitou focused on ease of use and simplicity with its dashboard, which is universal among the Manitou machines. The intuitive Harmony display is available in 22 languages and provides real-time usage and maintenance information.
"These interfaces literally coach the operator on its use, on its maintenance and safety," Coinet said. "And we all know that simplicity means safety. That's why all controls are clearly identified with symbol and color codes."
Manitou says the telehandlers have best-in-class JSM joysticks. The joysticks have been fitted with a new sensor that automatically detects the operator's hand to allow movement and "avoid inadvertent movement of the machine," the company says.
Manitou offers a Safety Pack that automatically warns the operator and those on the jobsite of unsafe operations, such as moving the machine with the boom raised, unfastened seat belt, temporary activation of movement cutoff, among other situations. When one of these incidents occurs, sensors automatically set off flashing lights on the dash, a red beacon outside the cab and send data to the fleet manager.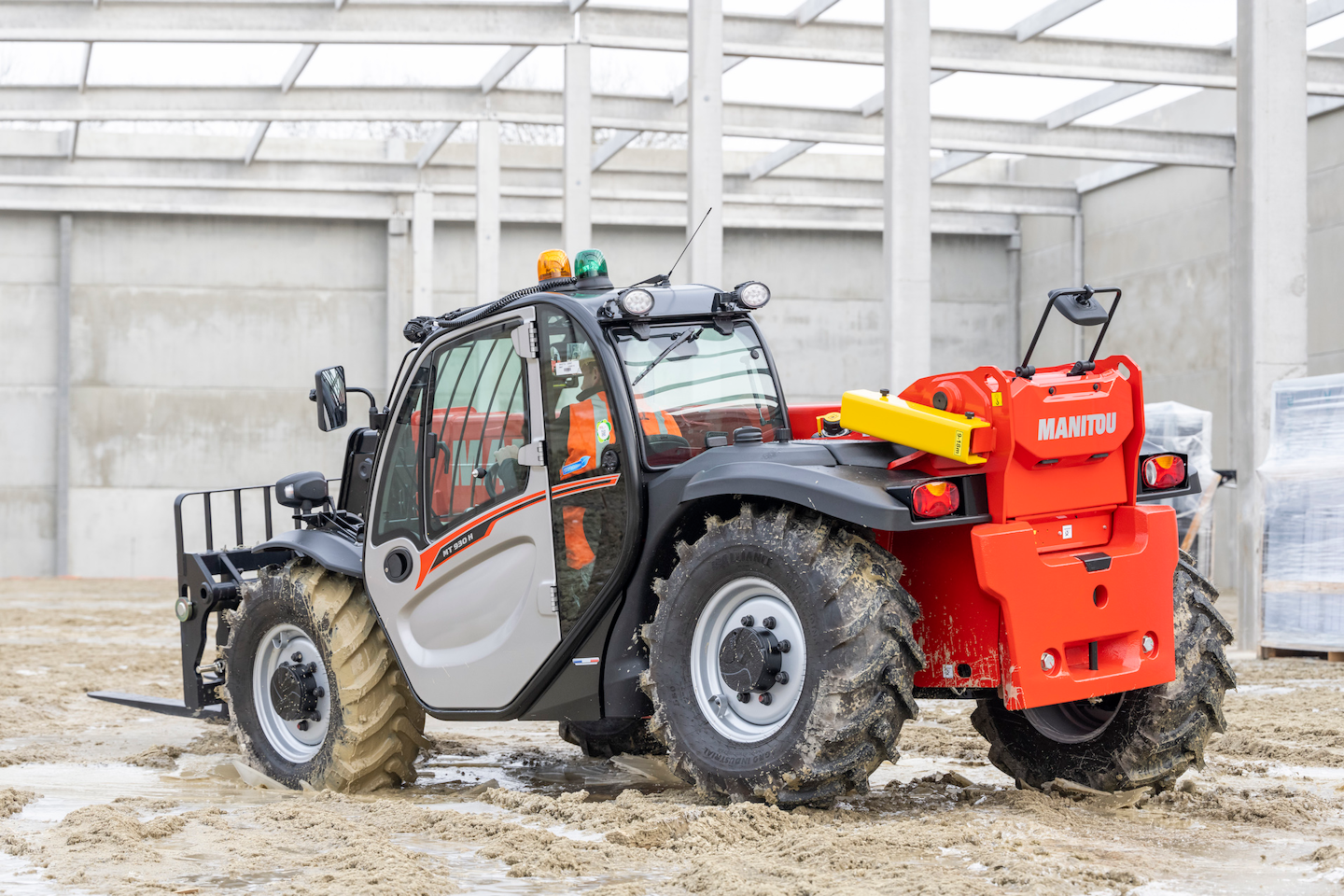 The new Manitou MT telehandlers feature a compact design for fitting in tight spaces.ManitouThe cab entrance has been designed low to the ground to enable an operator to enter without a step, which helps prevent falls and reduces fatigue, the company says.
Other safety features include a reverse alert if someone is behind the telehandler, an automatic parking brake with hill-start assist, tilt lock, automatic rear axle lock to secure handling on slopes and an orange safety belt.
Manitou also designed a new 1-cubic-yard bucket for the telehandlers for high-capacity moving of sand, dirt and gravel. Other available attachments include floating fork carriage, materials basket, jib with hooks, and a sweeper with a 32-gallon water sprayer.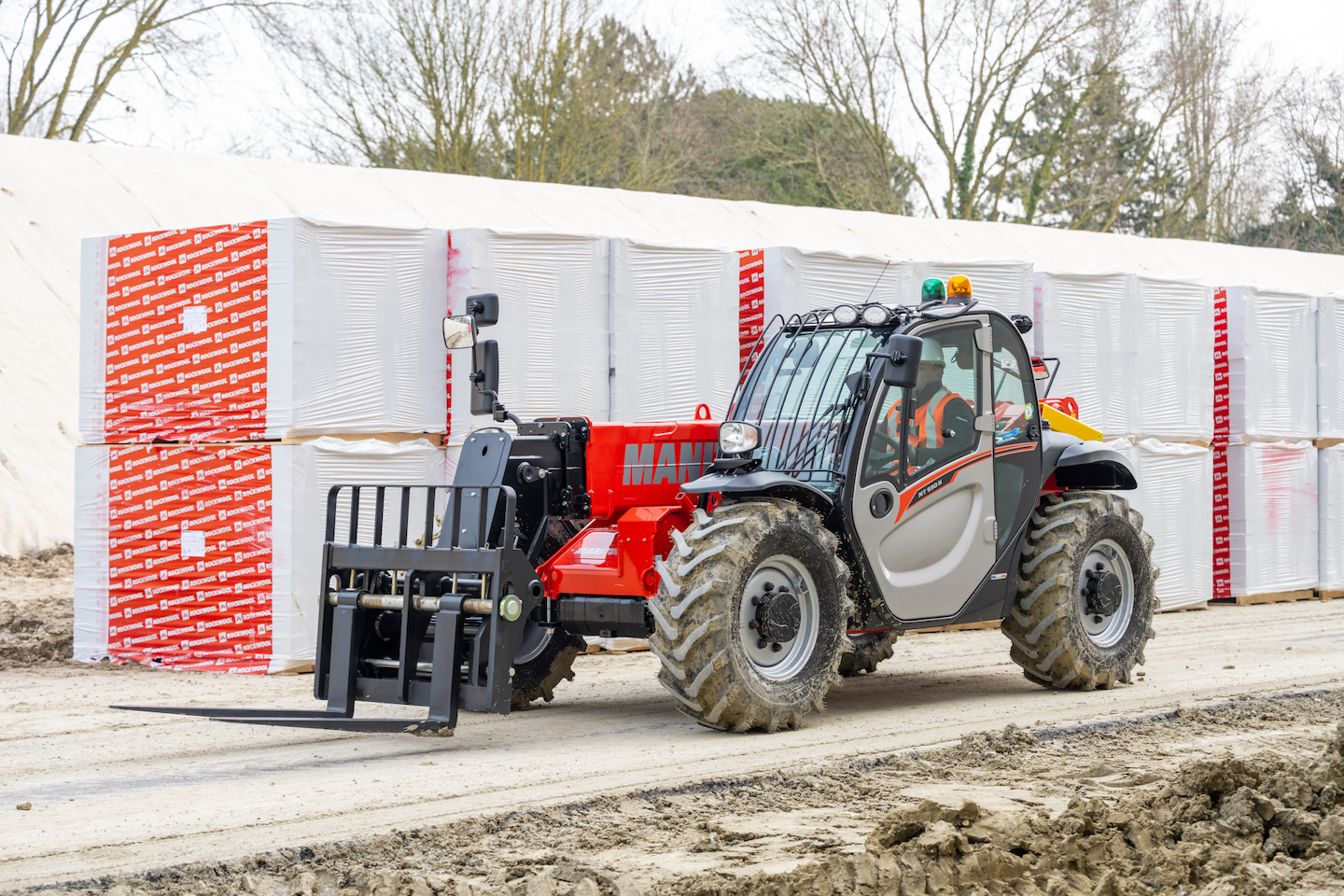 The telehandlers come standard with an ECS, or easy connect system, that allows the hydraulic line to be decompressed rapidly for replacing attachments. An optional hydraulic locking system is available for changing non-hydraulic attachments from the cab.
Orders are being taken now for the new telehandlers, with deliveries expected to start in September through Manitou's dealer network and to rental shops and key accounts, the company says.
All of Manitou's telehandlers come standard with telematics that allow remote fleet management and provide maintenance alerts and performance data. As an option, operator authorization can be enabled to prevent unauthorized people from accessing the machine.
Check out this Manitou video of the new telehandlers: