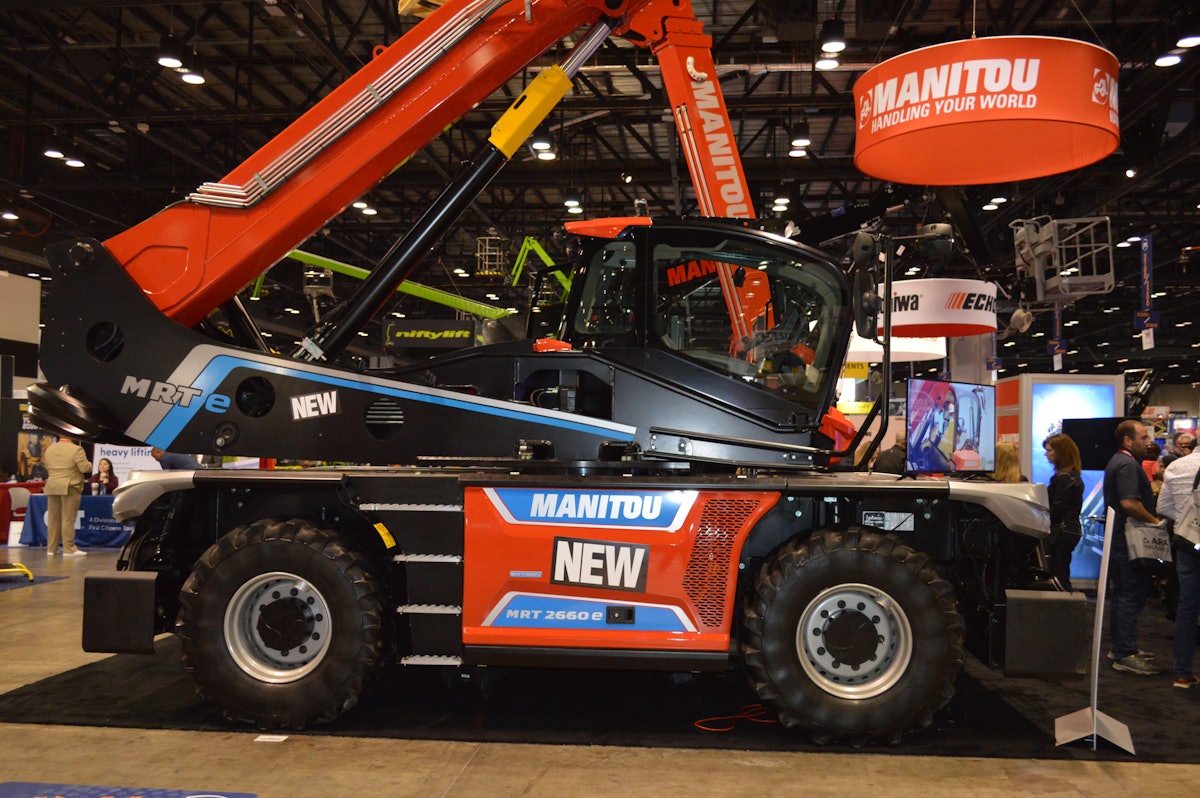 While there are still many uncertainties ahead, Manitou Group Executive Vice President Laurent Bonnaure says he's sure of two things: the transition to electrified equipment and strong global demand in 2023.
During a media briefing at the recent ARA Show, Bonnaure announced that the company would invest in its manufacturing capabilities to meet that demand, especially in the U.S.
"We've been suffering like a lot of OEMs across the globe in 2022 with issues in our supply chain," Bonnaure said. "We're not yet back to our normal situation and remain uncertain, but what remains sure is that the business in the U.S., Latin America, Middle East, Africa, Asia Pacific and Canada remain solid."
In addition to its recent acquisitions of the intellectual property of ATN Platforms and battery manufacturer easyLi, Bonnaure highlighted several areas where Manitou Group would beef up its capital spending in the coming years.
"We're doubling the size of our U.S. plants and investing heavily in our IT systems, R&D and people. Digital and services investments will be key. Demand is going to be pretty strong."
Manitou expects to reach 20% growth in 2023, but Bonnaure says they aren't stopping there. "Our ambition is to reach 25% market share in the U.S. thanks to the brand-new design of our telehandlers."
Originally unveiled at Bauma 2022 in October, Manitou used the ARA Show to officially release its new range of electrified telehandlers to the North American market. 
"We strongly believe the shift to electric is going to happen," Bonnaure said. "We're a European company, but even in the U.S., we do see a lot of traction on the electric-powered machines." (Take a first look at the machines in the video below!)
MRT 2260e and MRT 2660e Rotating Telehandlers
The new electrified lineup includes the MRT 2260e and MRT 2660e VISION+ rotating telehandlers and the MT 625e compact electric fixed telehandler — all part of the manufacturer's "Oxygen" line of low emissions equipment.
The machines offer a lower total cost of ownership than their diesel counterparts, the company says, while also improving the quality of life on the jobsite — including less noise and low/no emissions in close working environments.  
"We've retained the performance and specs of the diesel models while reducing emissions, lowering noise on the jobsite, and making lifetime owning and operating costs significantly less," says Steve Kiskunas, product manager, telescopic handlers, Manitou. "Telehandlers are perfectly suited for electrification due to their varied use throughout the day, their ability to charge relatively fast and the importance of less noise impacting verbal communication in many material handling applications. And the elimination of service and support operations and costs around the diesel engines will have significant lifetime cost savings."  
The MRT 2260e and the MRT 2660e are an extension of the manufacturer's Vision+ line of rotating telehandlers. Both units deliver 13,200 pounds of maximum capacity in a 100% electric machine.
The 700 V/65 kWh lithium-ion battery comes standard, and an optional second battery doubles the battery capacity available for work. Charging times vary based on conditions. An optional on-board fast charger can charge the machines in less than an hour, and an optional E-Xtra Generator offers hybrid capabilities to supplement the electric power. A "plug-in" mode allows the machine to operate while connected to the main energy supply when the stabilizers are extended.
"We've focused on delivering an electrified solution that meets all critical use cases without sacrificing any performance capabilities of the machine, and we've accomplished that with these machines," says Kiskunas. 
MT625e Fixed Compact Telehandler
The MT 625e is a 100% electric fixed compact telehandler with a maximum capacity of 5,500 pounds, max reach of 19 feet 2 inches, and a max outreach of 11 feet 1 inch.
Outfit with either a 25 kWh (standard) or 35 kWh (optional) lithium-ion battery, Manitou says, the machine can achieve a full charge in just over two hours when equipped with the optional 9kW on-board charger (3kW standard).
At 6-feet, 4-inches tall and 5-feet, 11-inches wide with a 10-foot, 10-inch turn radius, the compact machine can work indoors and in tight spaces while still delivering substantial reach and capacity. 
"Between sound regulations and quiet hours in urban areas and the elimination of emissions for indoor work, plus the broad range of attachments, the MT625e is one of the most dynamic all-around pieces of equipment on any jobsite," says Kiskunas. "It can be run day and night without disturbing neighbors and delivers a whole new level of versatility to indoor work." 
According to Manitou, each of the new electrified solutions is available with all of the options and attachments featured on the diesel-powered models, as well as all current advances in controls, connected services and machine support. 
More to Come
The new telehandlers are part of a bigger push by Manitou Group into electrified and hydrogen-powered equipment, with more releases likely to be unveiled at Conexpo-Con/Agg 2023. With a target of reducing greenhouse gas emissions by 34% per hour of use of its machines in 2030, Manitou says it is exploring multiple power options. 
Other products launched by Manitou at the ARA Show included an all-new generation of rough-terrain forklifts available now in North America and an all-new flotation tire setup for the company's line of mobile elevating work platforms.
The company also previewed its new construction telehandler line that will officially launch at ConExpo.