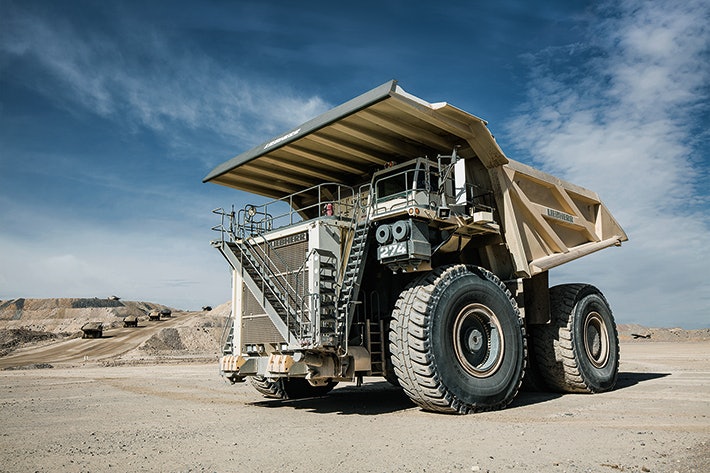 Liebherr's new 305-metric-ton T 274 mining truck is designed for fast cycle times, higher production rates, low fuel consumption and reduced cost per ton, says the company.
Liebherr says the new truck uses the same base design as the T 284, benefitting from its decades of field experience.
Powered by a 3,650-horsepower Liebherr engine and using the Liebherr Litronic Plus AC Drive system, the T 274 has an advanced hydraulic design that enables the T 274 to move more material in less time, Liebherr says, and it has the largest payload capacity in its class.
The Liebherr Litronic Plus AC Drive System provides continuous uphill speed as opposed to mechanical drive trucks that require shifting gears. The T 274 is equipped with 6,035-horsepower dynamic braking power for downhill hauls.
Pass match
The T 274 can be paired with the Liebherr R 9800 hydraulic excavator for a four-pass load. It's also compatible with the new R 9600 excavator, which succeeded the R 996B.
Liebherr says the T 274 is based on the Liebherr T 284, which has more than 20 million operating hours in the field. The two trucks share frames and components.
The cab has tinted safety glass windows and is certified for roll-over and falling-object protection. The integrated HVAC system provides comfort in all temperatures.
The T 274 uses a double A-arm suspension, which keeps tire ground contact within the whole suspension stroke, reducing tread wear. 
Liebherr offers specific solutions for working in extreme environments, which help customers operate machinery in low temperatures and altitudes between 11,500 and 16,500 feet above sea level. A sound attenuation package reduces noise emissions and gives customers the flexibility to run operations day and night without disturbing nearby residential areas.
The Liebherr Trolley Assist System is available as an option on the T 274. This uses an overhead pantograph to connect the electric-drive system to an electrical network to either increase truck fleet productivity or reduce the fleet size while still maintaining yearly production. Liebherr says this significantly reduces diesel fuel consumption and truck fleet CO₂ emissions. There are currently 38 T 284 units fitted with the Trolley Assist System already in operation on two different sites.