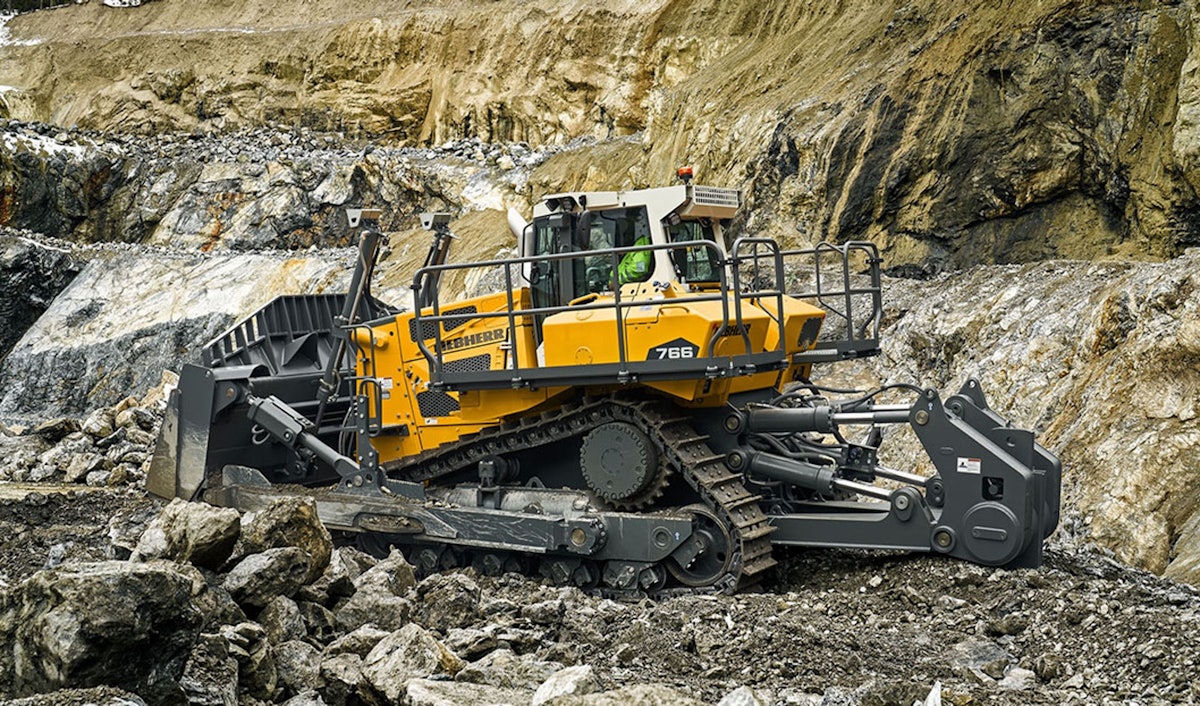 Less than a year after unleashing its largest dozer on the U.S., Liebherr has followed up with its new PR766 model, which carries many of the same features in a smaller, 60-ton machine.
The new Generation 8 dozer was launched for the U.S. market at last month's ConExpo, with the company saying it is the "only hydrostatic drive dozer in its class."
The company describes the PR766 as "multifunctional dozer for material handling and mining operation."
Similar to the PR776, its largest dozer at 71 to 80 tons, the new model gets Liebherr's High Drive running gear designed for mining. High Drive enables the dozer to better absorb shock and maintain traction on rocky terrain. The final drive is also in a raised position, which reduces wear on sprockets and bearing bushings and protects it from damage and dirt, the company says.
The dozer runs on a Liebherr 8-cylinder, 490-horsepower diesel engine. Combined with variable hydrostatic drive, engine speed remains constant within the most fuel-efficient range, Liebherr says. It also comes with Eco mode as standard, and when maximum power is needed, the operator can switch to high-performance mode. There is also an automatic Power Boost.
Blade capacities range from 17.8 cubic yards with a semi-U blade or 22 cubic yards with a U-blade.
In the cab, Liebherr gives operators a single joystick for operating driving and steering. Controls are placed in a central location, and a 9-inch display screen gives access to operating modes, reverse camera, key machine parameters and other functions. The seat automatically detects the operator's presence and sets the safety lever.
The company says it increased storage, space and visibility for the operator with rounded body edges, sloping sides and panoramic glass. The platform is designed to provide easy access to the cab, which is ROPS and FOPS protected, and to service points and fluids. Maintenance points are centralized. The cab tilts and an optional cooling fan can be swung out for cleaning. Ground-level service stations are in the rear.
Liebherr's telematics system, LiDAT, comes standard. It sends warning messages and lets the operator and technicians know its current consumption data and fluid levels and the machine's position. An automatic alarm can be set up for high-priority notifications, such as when the dozer  leaves a predefined zone or when it enters a critical operating state.