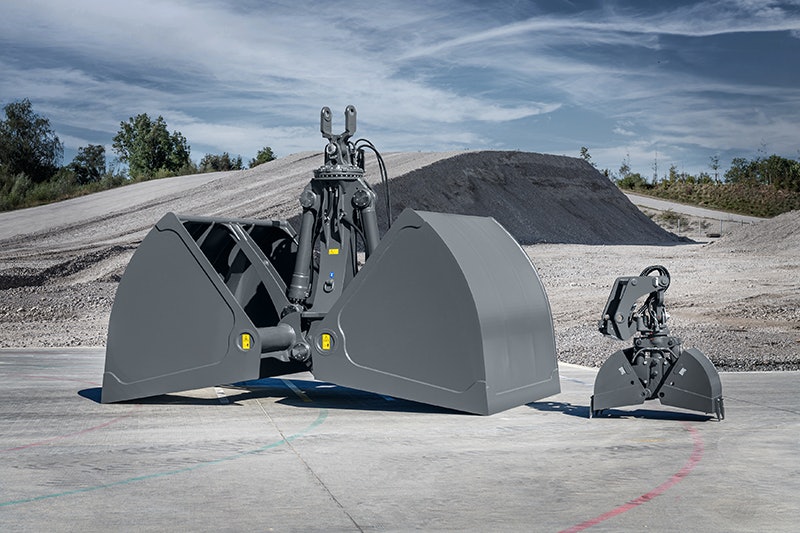 Liebherr has produced its largest clamshell attachment, the GMZ 180B, for use with large crawler and material handling excavators.
The massive clamshell weighs 18,739 pounds and has a 21-cubic-yard capacity for "fast handling of bulk material," Liebherr says. The clamshell has an opening width of nearly 16 feet.
The company's decision to produce the massive clamshell was prompted by a coal mining company in Indonesia for high-capacity use with its Liebherr LH 150 C Port Litronic material handlers, which have operating weights of 341,717 to 385,809 pounds and a reach of 98 feet 5 inches.
The clamshell will enable the company to load 441,000 pounds of coal into trucks equipped with large dump trailers within 14 minutes, Liebherr says.  
Liebherr says the new clamshell is compatible with its R 976 to R 9200 crawler excavators and LH 60 to LH 150 material handling machines weighing between 176,370 and 440,925 pounds.
Features on the GMZ 180B include a hydraulic low rate of 39.6 gallons per minute, sealed bearings on the cylinders for use in dirty environments and under water, floating bearings to reduce friction in the bearing points, and wear-resistant steel construction.
Options for the clamshell include a piston rod guard and a central lubrication system.