LeeBoy has unveiled its first commercial-class electric asphalt paver, the 8520C E-Paver, as a prototype machine.
Based on the company's best-selling 11-ton heavy-commercial 8520C, LeeBoy has replaced the 125-horsepower Kubota diesel engine with a General Motors electric-drive system. The company collaborated with GM on the prototype, along with Powertrain Control Solutions, which provided engineering support.
Aside from the powertrain components, everything else on the paver is the same as the diesel model, said Brian Hall, LeeBoy asphalt training specialist, during the paver's debut at ConExpo in March. That includes the hydraulics, the control panels and the screed.
"The only thing that's different is there's a place on the control panel screen where you turn it on; you actually have to engage the battery like you would a starter, and it tells you that it's on," Hall said. "… All the components, all the part numbers will be exactly the same, with the exception of the engine components."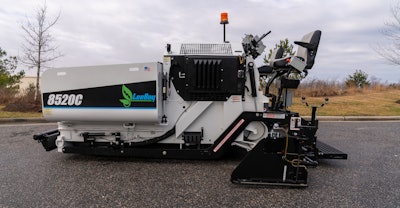 The paver has been tested, but details about battery life and charging time are still being determined.
It runs on a 48-kilowatt-hour battery pack and a 150-kilowatt electric-drive motor. It can be charged by a 120- or 240-volt AC on-board charger, with rapid charging available.
Hall says that when it is hooked up to a 240-volt outlet, it will get 10% charge per hour, which would be equivalent to a full charge when left plugged in overnight.
"What we don't know right now is how long that charge time is," Hall said. "When we find that out, we've got to make sure that charge time equals what the commercial contractor calls for."
Runtime is also unknown, or how fast the battery will drain at full load. Though a paving crew works at least eight hours a day, the paver won't likely need to have that long of a runtime, Hall says. That's because there will be times when it is not paving during a job.
"On the electric paver, contractors won't be wasting fuel while idling," says Chris Broome, senior product manager at LeeBoy. "Any time you put the machine in neutral, the paver powers down, so you're not wasting energy waiting on trucks."
Along with zero carbon emissions, it's quieter than diesel.
Standard features on the paver include a Legend HD Screed that extends up to 15 feet wide, a 9-ton hopper, 12-inch-diameter quick-change auger assemblies and heavy-duty conveyor chains and flight bars. It also has the same LeeBoy operator station as the diesel model.
LeeBoy doesn't have a time frame yet on when the E-Paver will come to market, but Hall says it has already gotten interest within the industry as well as from the California Air Resources Board and the U.S. Environmental Protection Agency.
"This is the way our industry is going," Hall said. "We've got cities, we've got large contractors that say, 'We need an electric machine. We need something that … makes us a better steward of our environment.'"